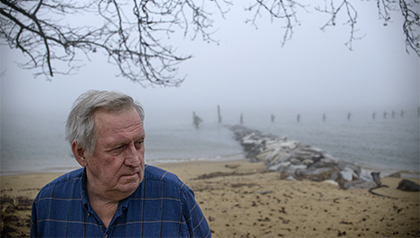 By Effie Dawson

Bill and Christine Cable, of Annapolis, know firsthand the importance of articulating end-of-life medical wishes.

A close friend who had bone cancer designated the couple to make medical decisions for him if he became unable to make them on his own. The Cables and their friend also sat down with a doctor and completed a form with very specific decisions on whether to use CPR, feeding tubes and other treatments to extend his life.

"It was all very well managed by professionals at the assisted living facility and the hospice where he died," said Bill Cable, an attorney with the Office of Congres­sional Ethics. "He was very happy to have his wishes known."

In 2011, Maryland passed legislation creating Medical Orders for Life-Sustaining Treatment (MOLST), a standardized form that translates a patient's wishes on life-sustaining treatments typically included in an advance directive into binding medical orders. More than a dozen other states have similar treatment forms.

"It is a way to clarify complex medical decision-making," said Del. Dan Morhaim (D-Owings Mills), who cosponsored the legislation that created the state MOLST program.

Morhaim, the only physician in the 188-member Maryland General Assembly, coauthored a 2010 study that showed more than 60 percent of Maryland adults had specific wishes about end-of-life medical treatment, but only a third had completed a living will or other paperwork articulating those preferences.

A MOLST form is more than a statement of preference, said Ted Meyerson, chair of the State Advisory Council on Quality Care at the End of Life. The form is for those with existing health concerns and carries specific directives, allowing patients to make one decision about a blood transfusion, for example, and another on dialysis.

Instructions can change

The form allows a person to choose whether or not to be hospitalized near the end of life. It is supposed to be altered as a person's condition changes, and individuals don't have to decide on every treatment listed.

Like an advance directive, it can be completed when people have time to reflect on their options, values and the impact of treatments on them and loved ones. Unlike an advance directive, a MOLST form carries the weight of a physician's orders. One copy is usually kept with the person's primary care physician; another copy stays with the person and should be kept in an accessible place in case of emergency or with a designated relative or friend.

Meyerson said Maryland expects to have an online MOLST registry later this year. But today, those with MOLST and advance directive forms should take both to medical appointments.

Maryland's MOLST program passed unanimously with support and input from AARP Maryland, medical organizations and patient advocacy groups.

By the end of 2014, everyone in Maryland living in a nursing home or other long-term care facility will be required to have one on file. MOLST officials have conducted 27 train-the-trainer programs for close to 2,000 health care providers who in turn trained the personnel in their programs, facilities and agencies.

AARP Maryland is helping to spread the word about the value of MOLST by sharing information about it at chapter meetings.

"Doctors want to know what their patients' wishes are," said Tammy Bresnahan, AARP Maryland associate state director for advocacy.

MOLST forms and worksheets can be downloaded at marylandmolst​.org or obtained by calling 410-706-4367.

Morhaim said he has seen families torn apart over difficult decisions they had to make for loved ones who had not made preferences known. But he's also seen patients enjoy a sense of accomplishment and relief after making their own decisions.

"This is a gift to the people around you," Morhaim said. "If you really love the people you say you love, give them some clarity on what you want."

Effie Dawson is a writer living in Arnold, Md.