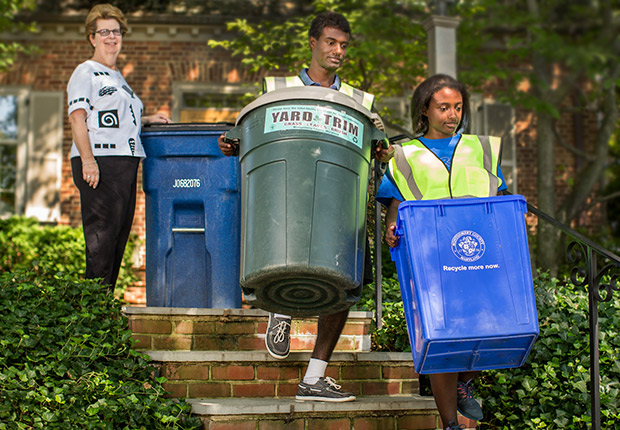 By Christopher Gearon

Ruth Hartmann, 68, and her husband, Robert, 67, have lived in their Bethesda home for 27 years. They want to stay in their hillside abode as long as possible. Yet some household chores are getting harder for them, like lugging their trash and recycling bins down to the curb.

Luckily, the Hartmanns have Addisu Dempsey as a neighbor.

"I was really wrestling with the trash" one day last winter, said Ruth Hartmann. "The stairs down to the curb are very daunting."

Dempsey saw his neighbor having trouble and ran to help. He and another student, Justin Gaffney, 15, have been helping her since then.

"It's an enormous weight off my shoulders," Hartmann said.

His older neighbor's struggles gave the Bethesda-Chevy Chase High School senior an idea. Besides helping the Hartmanns each week with their refuse bins, he created a program, Nobody's Alone Here (NAH), which engages teenage volunteers to help their older neighbors.

"All it takes is for someone to see and care," said Dempsey, 18. He named his effort NAH to counter the common teen refrain—"nah"—to parental requests to do things. Dempsey also recruited his twin sister, Tirhas. "Generations need each other," he added.

Dempsey received training and advice to grow his community service project from the Bethesda-based Julius and Dorothy Lazarus Foundation. Little Falls Village, a nonprofit membership organization that helps older residents age in place by providing assistance and social programs, signed on as NAH's sponsoring organization.

The Dempsey twins got their school to allow students volunteering in NAH to count those hours toward satisfying their service requirements.

"We have about 20 kids working," helping about 30 residents in the 20816 zip code, Dempsey said. He wants to make sure the program continues when he and his sister go to college. He also plans to advertise for more volunteers at school and hopes the idea will spread.

Village movement
"NAH is providing a valuable service," said Todd Smith, executive director of Little Falls Village, which counts 120 members in the Little Falls section of Bethesda. He likes NAH's "intergenerational" connection, which is stimulating community service among youth to help older residents to remain independent in their homes.

The service is available to anyone in the 20816 zip code, not just members of Little Falls Village.

"We are helping to promote NAH in the community and beyond," Smith said. Little Falls Village is part of the national village movement to help adults age in place.

The village created a logo and neon safety bibs for volunteers, and Smith is spreading the word about NAH and the concept to other village affiliates. "When one neighbor helps another neighbor, the community grows stronger," Smith said.

Smith also alerted officials in Montgomery County, where 13 percent of the 1 million residents are 65 or older. The county is one of the few jurisdictions nationally that budget resources to support and expand the village concept, said Pazit Aviv, village coordinator in the county's Aging and Disability Services office.

The county is home to 14 villages, and nine more are under way, with an estimated 2,500 households participating in an aging-in-place village. Some villages charge membership fees, and all provide services such as transportation, light chores, simple bookkeeping and computer assistance.

Little Falls Village's website is littlefallsvillage.org, and the website for the national movement is vtvnetwork.org.

Aviv said NAH helps "build bridges between neighbors and between youth and older residents."

This month AARP Maryland plans to recognize the Dempsey twins for their service at the organization's Andrus Awards luncheon. Ruth Hartmann is grateful for what they began. "They are the kind of kids who help make people's lives better," she said.

To contact Nobody's Alone Here volunteers, email n.a.h.member@gmail.com.

Christopher Gearon is a writer living in Derwood, MD.