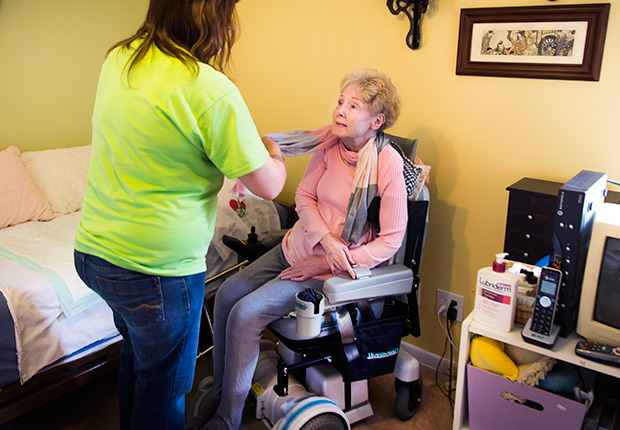 By Rick Haglund

Ann Pappas, a single woman with multiple sclerosis, would be living in a nursing home had it not been for a Michigan program that allows her to get daily care at home.

Pappas, 62, receives nursing care and services such as bathing, assistance getting in and out of bed, and transportation through MI Choice, a program that helps qualified older and disabled people remain in their homes and communities.

"It's been a wonderful program and one we could not have existed without," said Pappas, who lives in Howell with her mother. "I have the independence to be able to go to functions. I go to church twice a week. I never would have had that opportunity in a nursing home."

MI Choice is just one of several health and long-term care programs Michigan offers under Medicaid, which observes its 50th anniversary in July.

"Older adults are living longer, and they're healthier than they've ever been," said Lisa Dedden Cooper, AARP Michigan advocacy manager. "That can be attributed in large part to the health services we provide for people in Michigan."

Medicaid serves low-income people. It is administered by the states, but funding is shared; for every dollar Michigan spends on traditional Medicaid, the federal government contributes $1.90.

Michigan is spending about $15.6 billion on Medicaid this year, 90 percent of the Department of Community Health's budget.

Older adults and the disabled make up slightly more than 20 percent of the 2.3 million people receiving Medicaid services in the state but account for 60 percent of Medicaid spending. One of every five elderly and disabled people in Michigan receive health care through Medicaid.

Michigan is one of 29 states and the District of Columbia that have expanded Medicaid eligibility to cover adults with incomes of up to $16,240. AARP Michigan was a strong advocate for the expansion.

Approximately 600,000 people are covered by Healthy Michigan, the state's expanded Medicaid program that began on April 1, 2014. Of those, more than 80,000, or about 14 percent, are adults between 55 and 64, said Richard Miles, deputy director of the state's Bureau of Medicaid Policy and Health System Innovation.

The federal government currently pays the full cost of those covered by the expansion, declining to 90 percent by 2020.

Exceeding expectations
So far, enrollment has exceeded the state's projection for the first two years by more than 100,000.

Experts say the state's Medi­caid expansion has been particularly beneficial for older adults who lost health insurance during Michigan's decade-long economic downturn but weren't old enough to qualify for Medicare.

"Before the expansion, if you were 50 years old and had no income, you didn't qualify for Medi­caid unless you had one other qualifying factor," such as having dependent children, said Jan Hudson, senior policy analyst at the Michigan League for Public Policy, a nonpartisan advocacy group.

Michigan also has been stepping up efforts in recent years to provide long-term care services to adults like Pappas through home- and community-based programs, rather than more costly nursing homes.

There are about 10,600 people receiving home care through MI Choice, while about 27,000 Medi­caid recipients are getting care in nursing homes, Miles said. It costs an average of $5,702 a month to provide nursing home care, compared with $3,037 through MI Choice.

MI Choice is so popular that there were about 4,000 people on a waiting list in late March, Miles said.
The state appropriated an additional $9 million this year to trim the MI Choice waiting list. Gov. Rick Snyder (R) has vowed to make Michigan a "no-wait state."

Hudson, who also chairs the state's Medical Care Advisory Council, said that over the past 50 years Medicaid has provided an invaluable safety net for the less fortunate in Michigan.

"For many, many people, particularly those in nursing homes, Medi­caid has been their only option," she said. "I can't imagine what life would be like for them without it."
Rick Haglund is a writer living in Birmingham, Mich.