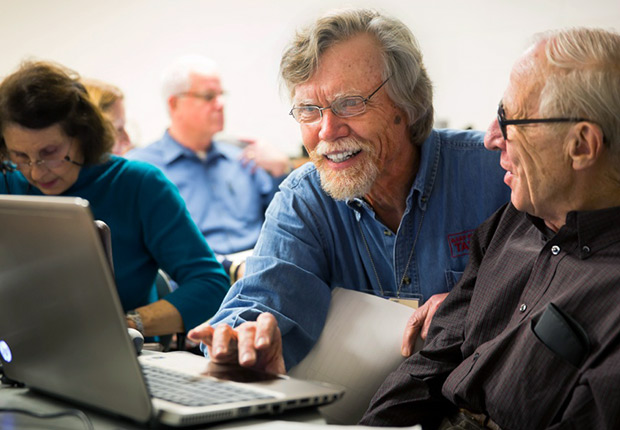 By Melissa Preddy

Don Tinson was leafing through a magazine one evening when he spotted a tiny ad seeking volunteers for AARP's tax preparation service.

The retired automotive engineer thought it sounded like a good cause and signed up. Now, 11 years later, Tinson is a technology specialist for the AARP Foundation Tax-Aide program, which last year helped 70,000 Michigan residents prepare their income tax returns at no charge.

This month, Tinson and a statewide network of more than 1,000 volunteers are revving up for their busiest four months of the year, serving filers at over 160 sites such as libraries and community centers from Detroit and Grand Rapids to the far-flung corners of the Upper Peninsula.

They are scheduled to open the first week of February.

"I'll say one thing: It sure makes these Michigan winters fly by," said a chuckling Tinson, 66, a Howell resident. Like others who give their time to the program, he likes the practical aspect of Tax-Aide.

In 47 years it has helped nearly 50 million filers, making it the nation's largest free, volunteer-run tax assistance and preparation service.

"You can tell it takes a burden off their shoulders—that's what keeps me coming back," Tinson said.

Lisa Mitchell has paid as much as $300 for tax services in past years, but the fees were hard on the retired travel agent's budget. Now the Westland resident has her returns done at no charge by a Tax-Aide volunteer at the Friendship Center community hall, where she works.

"I just couldn't believe it was free," said Mitchell. "There are people here who wouldn't file without this because they couldn't afford to."

About 2,000 returns were filed from the Friendship Center in 2014, said Barbara Marcum, director of senior resources for the city of Westland. "It is tremendously important," she said, noting that cash-strapped younger people are using Tax-Aide services as well.

Security a top priority

Tax-Aide employs IRS-provided preparation software, and volunteers undergo substantial training on the technology and recent changes in tax law, said Bob Crews, Tax-Aide state coordinator and a volunteer since 1995.

Security is priority one, he said, noting that no personal information is stored.

Another volunteer will do a line-by-line accuracy check. "That second preparer will go through every piece of paper the first preparer saw, for quality control," said Crews, 68, of Canton.

Just about anyone can use Tax-Aide, he said. Though low- and moderate-income older adults are the program's focus, there is no age limit. Some situations are a bit too complicated for the service, but Tax-Aide can handle federal and state returns, including itemized deductions, sales of stock or property, and small-business forms such as Schedule C.

Tax-Aide removes more than just the economic barrier to getting tax help, said Samuel Johnson, an AmeriCorps staffer at the NorthWest Initiative community services nonprofit in Lansing. His area formerly was served by a different volunteer group, which recently decided to consolidate to a few major sites.

So last fall, Johnson became a newly minted site coordinator for AARP Tax-Aide, scurrying to recruit volunteers and retain tax help in the neighborhood that NorthWest Initiative serves.

"Keeping it local is critical for us," Johnson said. "We have people who count on walking here to get their taxes prepared."

Volunteers are always welcome, no tax-prep experience necessary. "After all, I built cars all my life and here I am," said Crews. "We provide a lot of training. And if they really don't want to do taxes, there are plenty of other things. If we had more volunteers, we could help more people."

To locate a Tax-Aide site, go to aarp.org/taxaide.

Melissa Preddy is a writer living in Plymouth, MI.