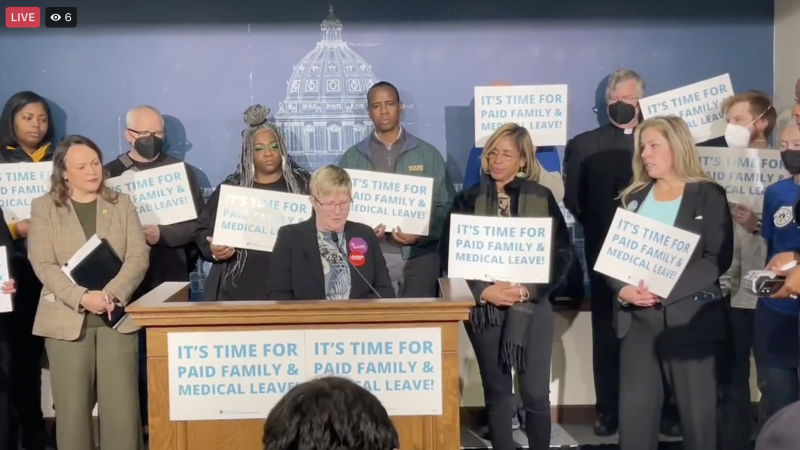 AARP in Minnesota has called on lawmakers to pass a Paid Family and Medical Leave program, which would provide up to 12 weeks of paid leave to care for a seriously ill family member or a worker's own serious health condition. The Paid Family and Medical Leave Act (HF2; Richardson/SF2; Mann) would allow working family caregivers in Minnesota to take time off from their paid jobs without the fear of losing their paycheck.

If passed, a paid family and medical leave program would provide up to 12 weeks of partial wage replacement (up to a maximum of $1,000 per week) during leave for pregnancy and medical leave as well as up to 12 weeks for family leave for bonding with a new child or care of a seriously ill family member. Caregiving demands may lead to effects felt across years or a lifetime due to lost jobs, missed raises, and reduced Social Security benefits. One in five (19%) Minnesota residents age 45+ are currently providing unpaid help to an adult relative or friend. Currently, only 13 percent of workers have access to paid family and medical leave through their employers, allowing them to take time off to care for a loved one. Yet, one-third (33%) of Minnesota residents age 45+ feel extremely or very likely to face serious financial hardship if unpaid leave from work is needed.
MN Paid Family Medical Leave - Testimony from Tony Mangskau
Here in Minnesota, more than 640,000 unpaid family caregivers provide critical assistance to help their older parents, spouses and other loved ones live independently in their homes; many do so while also juggling full or part-time jobs. Family caregivers help their loved ones with a range of daily activities, such as managing medications, providing complex medical care, bathing, dressing, preparing meals, and much more. Caring for mom, dad or spouse can be expensive, isolating, and stressful enough without the fear of losing your paycheck—or job.

"We must do more to support unpaid family caregivers, who are the backbone of our long-term care system," said Cathy McLeer, state director of AARP, which serves more than 620,000 members age 50 and older in Minnesota. "Without paid family and medical leave, caregivers can suffer financial setbacks, emotional hardships, and dire health consequences. AARP supports a paid family and medical leave program to keep workers on the job longer and help reduce reliance on high-cost nursing homes often paid for by taxpayers."

Recent research by AARP found that if employers and governments enacted more supports for working family caregivers aged 50 and older, not only would the productivity of these workers increase, but the policies could also cause the U.S. gross domestic product (GDP) to grow by as much as $1.7 trillion by 2030. Paid Family and Medical leave benefits workers, employers, and the economy by helping family caregivers remain at their jobs. The economic contribution of unpaid family caregivers in Minnesota is estimated to be $8.6 billion. Unfortunately, working family caregivers often risk their own financial security to provide care for their loved ones.

The COVID-19 pandemic has shown what's always been true: families want to care for each other. As we recover, we should ensure that every working Minnesotan has paid time off to care for themselves and their loved ones.