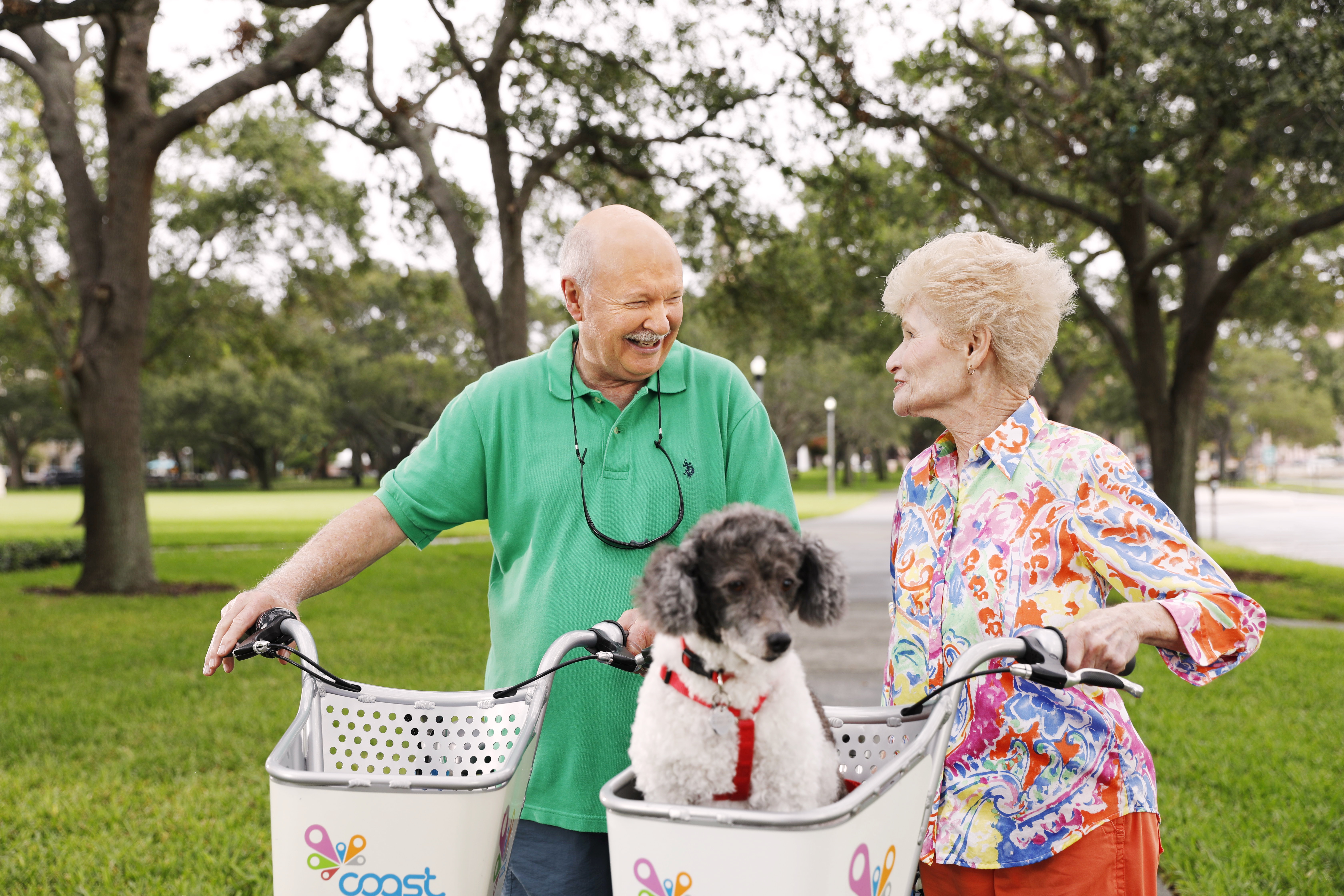 Residents of Princeton will soon have a new mode of transportation to get around the city: a hybrid multipassenger bike that runs on a combination of electricity and regular pedal power.

The royal blue, four-pedaler Surrey Bike seats up to six adults and two children; it has seat belts and a canopy and can be used for exercise, leisure or ferrying kids and grandkids to the park or elsewhere, says Julie Schoen, coordinator for Age-Friendly Princeton, an AARP-sponsored organization that is working to improve livability for all ages.

The hybrid bike, which will be available to rent this spring, is one of seven improvements across Minnesota funded by 2022 AARP Community Challenge grants, totaling more than $90,000.

"We wanted to focus on something with intergenerational use," Schoen says. "People who are older or disabled can participate."

Jay Haapala, AARP Minnesota's community engagement director, notes that the 2023 grant applications—due this month—will bring a new round of investments to the state. Winners will be notified in May, funds are disbursed in July, and projects need to be completed by the end of the year. To learn more, visit aarp.org/communitychallenge.

AARP has added two categories for its 2023 grants. One of those is capacity-building micro-grants, $2,500 awards to increase walkability and start or improve community gardens; the second is demonstration grants to improve transportation systems or encourage accessory dwelling units—small housing built on the same property as a single-family residence.

"They're designed to show that even a temporary demonstration of an improvement to a park or a crosswalk can spark long-term change," Haapala says.

A focus on livability

Improving livability is particularly important for people 65 and older, an expanding group in Minnesota. That segment of its population is expected to hit the 1 million mark within the next year, according to the state's demographer, and will reach 1.25 million by 2030.

Another 2022 grant went to Minneapolis to enhance its mobility hubs, designed to increase residents' access to green-friendly transportation options, such as public transit and shared scooters.

The city's 30 hubs provide central locations for people to access low- and no-carbon transportation options to reach their final destination, says Russ Brooks, a mobility planner with the Minneapolis Department of Public Works. "Nobody ends their journey at a bus stop," he says. "Even if you only have to walk a short distance to your destination, you still have to make it there."

The grant funded seating, lighting and new signage to help older residents and non-native English speakers access trains, buses, bikes and scooters.

The award also pays for "ambassadors" at some hubs—staff who will be available for a few hours on weekdays and longer on weekends to help residents find their best transportation options.

"As a lot of our hubs are intentionally placed in communities with lower incomes, it's extremely important to have these welcoming spaces," says Marc Woods, manager of the ambassador program. He says the staffers also benefit from their interactions with transit riders. The engagements "can have a positive impact on somebody's day."

Mary Van Beusekom is a writer living in Excelsior, Minnesota.
AARP Community Challenge for More Livable Communities
For more on AARP's Community Challenge