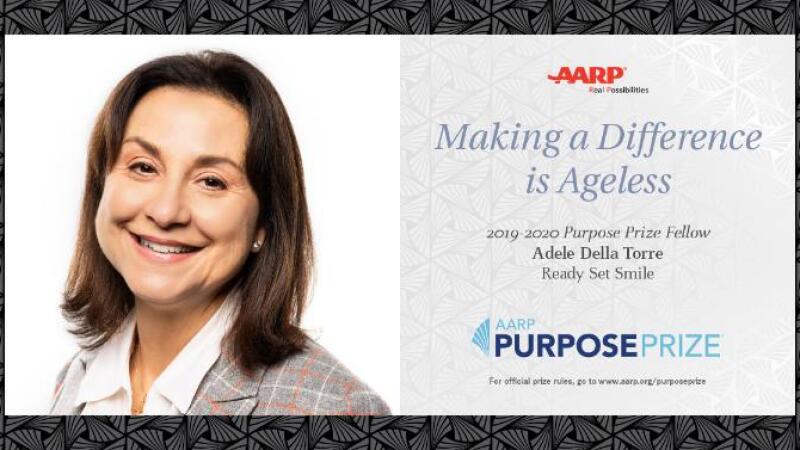 This week, AARP announced its 2019-2020 Purpose Prize award recipients, and Minneapolis's own Adele Della Torre was named as Purpose Prize fellow for founding Ready Set Smile. The Purpose Prize is the only national award that applauds the work of Americans 50+ who are using their abilities to create social change. AARP awards five Prize winners as well as Purpose Prize fellows, all of whom are honored at a gala in Washington, D.C. for the organizations they lead. Each Prize winner and fellow receives $60,000 and $5,000, respectively, to continue to fund their organizations.

Ready Set Smile (RSS) is a nonprofit located in Minneapolis that offers no- to low-cost dental care for children in poverty in 23 area schools. According to Torre, despite the program being only six years old, it has grown from serving 78 children to 1,700 in the coming year.

Torre points out that dental decay is the most common childhood disease, especially for students living in poverty. If left untreated, this disease can lead to other medical consequences like malnourishment and inflection, and effects on quality of life like lower self-esteem and cognitive/social development. RSS brings exams and cleanings straight to the schools, where students can receive care without the barrier of fear or lack of insurance. Students are also taught how to maintain oral health in the organization's sessions.

Not only are students met where they are as opposed to sending them to another clinic, children are served by doctors and dentists who are able to connect with them. RSS trains culturally relevant community health workers, or CHWs, who take on all roles in the operations of RSS. These CHWs speak languages like Spanish, Hmong, and Somali, which are often the first languages of the children and their parents. By connecting with students and their families in the way that makes them feel the most comfortable, RSS can most effectively make an impact in the communities they serve.

AARP Minnesota is proud to honor the work done by Adele Della Torre right here in Minnesota, proving that making a difference and creating social impact doesn't stop at a certain age. Thank you for all the work you do!