By Dylan Boor

In partnership with the AARP FraudWatch Network, former con-man turned long-time FBI employee Frank Abagnale set out on an 8 city tour to educate the general public about identity theft. Abagnale's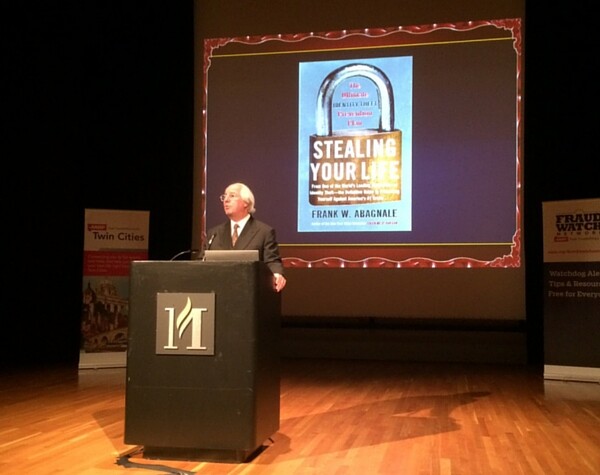 story inspired the 2002 Stephen Speilberg film Catch Me If You Can starring Leonardo Dicaprio and Tom Hanks. On October 14, Abagnale came to the Twin Cities, addressing a very curious crowd at the 3M Theatre at the Minnesota History Center in St. Paul. The event was free to the public, and included dinner and a screening of the film after Abagnale's keynote presentation.

Mary Jacobson of Eagan showed up hours early to guarantee herself a spot in the theatre. She had heard Abagnale speak previously while she was in college and has read his books in the past. Jacobson is intrigued by Abagnale's story, and wanted to hear him speak again after so many years. The most unfathomable part of Abagnale's story in Jacobson's mind was how he got away with impersonating an airline pilot. Jacobson currently works as a Flight Attendant.

Also in attendance was Jim Stripe of Minneapolis. Stripe worked at a top bank in the 1980s' and explained that innovations in identity protection were made because of Abagnale. Stripe specifically cited the MICR, the magnetic lines on the bottom of checks as a prime example. "When you think about the impact he had globally and think you about how we benefit today with innovations in fraud protection, you can pretty much point it all back to Frank," Stripe said.

Peggy Hiestand-Harri of Duluth, a volunteer, was encouraged by our local AARP employees to attend the event. Hiestand-Harri had a family member who was devastated by identity theft in 2010. A scam done completely over the phone told her relative she had won 2.5 Million dollars and a Mercedes, causing her relative to lose thousands of dollars. What she took away most from a Q&A with Abagnale was how fraudulent activity was becoming more and more sophisticated, and how difficult it can be to stay on top of everything. "If you can prevent this, you can't prevent a lot a heartbreak," Hiestad-Harri said.

Notable suggestions Abagnale made in his presentation was to for consumers to always use a credit card when purchasing items. The reason being is that the consumer is not held liable for forbidden purchases. If a debit card is used, it can take months for creditors to give the consumer the money back because it has been vacated from the consumer's direct bank account, and warrants more investigation from the creditors who handle these cases. People who fell victim to the hacks at bigger companies like Target were victims to this particular circumstance. "My philosophy is very simple: If they're going to steal someone's money, let them steal Visa's money, not my money," Abagnale said.

Abagnale also warned the audience to be weary on social media. He encouraged for those use who use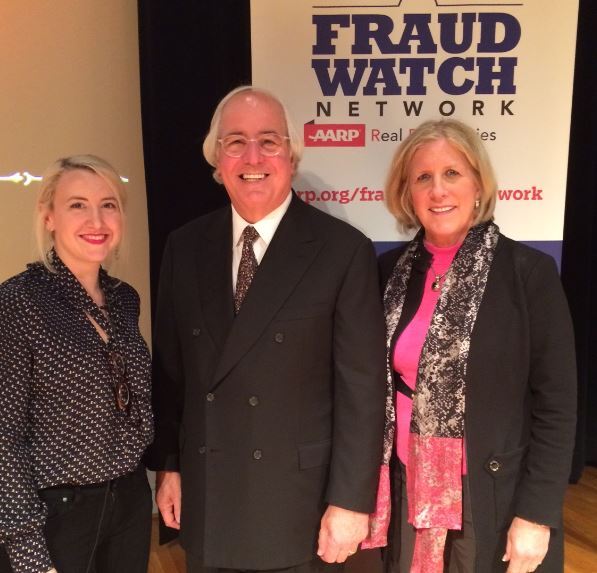 social media to set their profile pictures to group photos or action shots so that a photo identity can be harder to verify. He brought up the fact that identity thieves can find out everything they need to know about you by simply searching your name and going through a user's various posts.

Abagnale suggested the sheer of importance of protecting children's identity. He said that whenever someone's identity is being sold on the Black Market, the buyer will always choose the child over a multi-millionaire because children have no assets. Abagnale spoke of a study done by Carnegie Mellon that surveyed 40,000 children from all walks of life in the United States. Their study concluded 10 percent of these children have already had their identity stolen.

Abagnale concluded his speech with praise for AARP's Fraudwatch Network. He admitted that he thought AARP was primarily involved with the selling of insurance. "Fraudwatch is a wonderful thing because up until now there has been very little places a consumer could go, read or even learn about some of the scams that get perpetrated over and over again," Abagnale said. "I was absolutely amazed by this organization and the thousands of volunteers who go out on their own time to help people, no matter what it is that they need help with."

To learn more about AARP's FraudWatch Network, log on to http://www.aarp.org/money/scams-fraud/fraud-watch-network/ or call the helpline at 877-908-3360



Dylan Boor is a Senior at Minnesota State University, Mankato majoring in Creative Writing with a minor in Mass Media. He is known for his love of movies, Vikings football, and celebrity impersonations.