Communities across Minnesota are working each and every day to become more livable for residents of all ages. In support of that work, AARP is excited to be able to provide funding to organizations through the AARP Community Challenge Grants to help them jump start progress on ongoing work. These "quick action" grants are being distributed to 129 organizations, with at least one in every state, Washington D.C, and Puerto Rico, including right here in Minnesota.



Winners
Congratulations to City of Burnsville, Bicycle Alliance of Minnesota, District 1 Community Council, and New Ulm Downtown Action Team/Minnesota Main Street!

City of Burnsville:

They'll install vibrant crosswalks and pedestrian safety measures such as rapid flashing beacons at important crosswalks in areas identified by the community as needing improvements. This will be part of its overall Trail Master Plan and Pedestrian Crossing Policy.
Bicycle Alliance of Minnesota:

They'll deliver a mobile workshop in eight communities across Minnesota designed to help community leaders make their neighborhoods more accessible and bikeable; including St. Cloud, Winona, Truman, Perham, White Earth, Walker, Thief River Falls, and Big Lake.
New Ulm Downtown Action Team/Minnesota Main Street:

They will work on installing two benches — each featuring historical information — and a table to foster connectivity and social interaction in the historic downtown and add stops to a self-guided walking tour of the area.
District 1 Community Council:

Their grant will be used to beautify recently installed traffic circles with gardens to accompany pedestrian and bicycle improvements.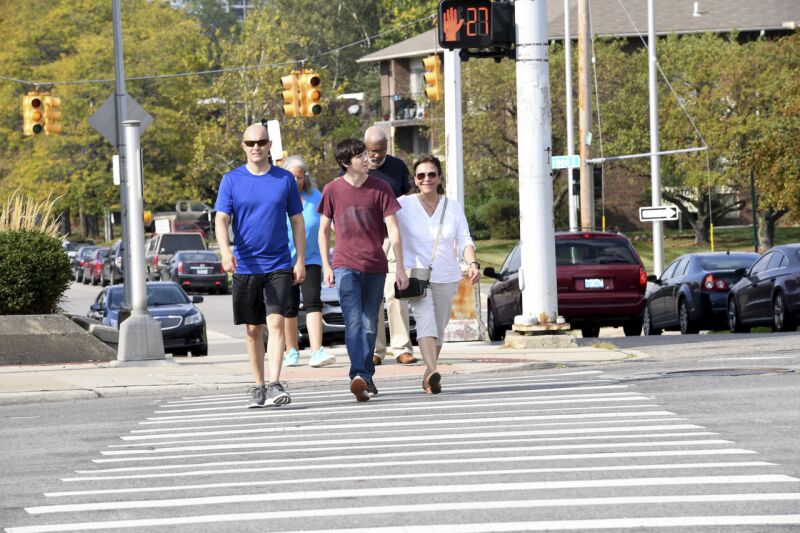 Livable Communities
The Community Challenge Grants are part of AARP's work to provide communities with the chance to fund innovative projects that can inspire change in areas such as transportation, open spaces, housing, and other innovative projects to improve the community and make Minnesota's counties, cities, towns and rural areas better places to live for all Minnesotans.

We believe that communities should be able to provide safe, walkable streets; affordable and accessible housing and transportation options; access to needed services; and opportunities for residents to participate in community life. After a successful 2017, with 90 grantees, this initiative is now in its 2nd year, and it has increased its investment to over $1.3 million in the form of 129 grants.

Here in Minnesota, we are excited about the work that the Community Challenge Grants are supporting in 2018. To learn more about the work being funded by the AARP Community Challenge Grants program both here in Minnesota, as well as across the nation, visit us at aarp.org/CommunityChallenge. And to learn more about how AARP is working to make communities across Minnesota and across the U.S. more livable for all residents, visit aarp.org/livable.



Saharla Afqarshe is a digital media and member engagement intern at AARP and is a senior at the University of Minnesota Twin Cities studying Communications.