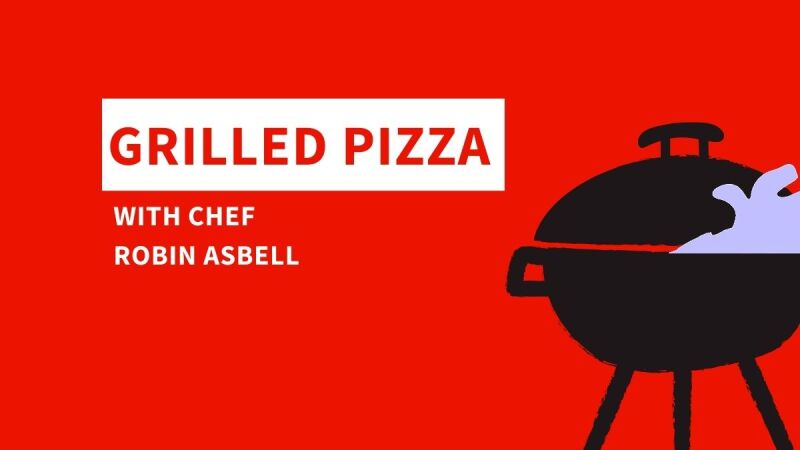 Last week, AARP Minnesota held a virtual interactive lesson hosted by author, educator and natural foods Chef Robin Asbell. This interactive lesson focused on plant-based grilling with everyone's favorite food – pizza! Below is the recipe, equipment list, and shopping list for Vegan Arugula Pesto Pizza. Enjoy!

Shopping List
GROCERY
3 cups Bread flour
2 teaspoons active yeast
1 tablespoon sugar Salt
Extra Virgin Olive Oil
Balsamic vinegar

PRODUCE
2 cups arugula or basil
2 cloves garlic
2 bunches asparagus
1 medium zucchini
1 red bell pepper

Equipment List
Food processor for pesto
Mixing bowl (3)
Cups and bowls to hold your prepped ingredients
Mixing spoon (3)
Spatula (2)
Cutting board (2)
Sheet pan
Grill wok
Cheese melting Dome, or an aluminum lasagna pan Long tongs and metal spatula for the grill
Measuring spoons and cups
Oven mitt
Pizza cutter
Recipe
DOUGH (Makes 3 12-inch pizzas, serves 6)
1 1/2 cups warm water
2 teaspoons yeast
1 tablespoon organic sugar
3 cups bread flour
1 teaspoon salt

In a large bowl, mix the warm water, yeast, and sugar and let stand for 10 minutes to proof. When the yeast is foamy, stir in the flour and salt, kneading to make a soft, slightly sticky dough. Put the dough in an oiled bowl, cover with plastic wrap, and let rise in a warm place for an hour.

At this point you can use the dough or cover and refrigerate for up to 3 days. Let the cold dough come to room temp for 2 hours before proceeding.

ARUGULA PESTO
2 cups arugula or fresh basil
2 cloves garlic
1/2 teaspoon salt
1/2 cup pistachio nuts or pine nuts
4 tablespoons extra virgin olive oil

Wash and dry the arugula or basil and pull off the stems. In a blender or food processor, put the arugula, garlic, salt and pistachios or pine nuts. Process to grind as finely as possible. Gradually drizzle in the oil, and process to make a smooth paste. Makes about 3/4 cup.

PIZZA
Preheat the grill and get out a grill wok. Chop the vegetables in pieces that won't fall through the holes of your wok, then put in a large bowl and toss with olive oil and vinegar. Grill, stirring occasionally, until softened and browned, sprinkle with salt. Keep by the grill.

Divide the dough in three pieces, and form each into a ball. Flour a cutting board and place the balls on it, then lightly drape a piece of plastic wrap or a damp towel on top. Take to the grilling area. Bring a large sheet pan for shaping the pizzas, a small bottle of oil, a cup with a little oil and a wadded paper towel for oiling the grate, long tongs and spatula, a cutting board and pizza cutter for the finished pizzas, and platters or plates for serving.

To Grill: Turn the burners on one side to low. Oil the sheet pan and place a dough ball on it, pat out to 12 inches. Use tongs to hold the paper towel and oil the grill grate- do not use spray oil on the grill. Carefully place a round of dough on the cooler side of the grill. Close the lid. Cook for 3-4 minutes, then uncover and use your tongs to flip the dough. A little char on the crust is good! Quickly spread about 1/4 cup of the pesto on the dough, top with 1/3 of the veggies. Cover with a dome or pan and close the grill again and cook for 4-5 minutes. Slide the pizza onto a cutting board or baking sheet and cut. Serve your delicious grilled pizza and repeat steps for remaining pizzas. Feel free to use other toppings or even add a different pizza sauce!

Make sure to check out other work by Chef Robin Asbell by visiting her website or following her on Instagram @robinasbell! Also, check out other AARP MN Events coming up. If you missed this virtual grilling lesson with Chef Robin Asbell, watch the recording below.