This story was originally published on June 6th, 2016. In anticipation of our upcoming AARP Serves event, which will take place at Bridging on Thursday, May 25th, we encourage you to read about Fran Heitzman and his work. Please also consider volunteering at the event, which you can learn more about here.

By Laura Ledray --

Fran Heitzman knows what it means to be poor. He grew up during the Depression Era, a time when his father was happy to earn 75 cents a day. Heitzman did not own a pair of store-bought pants until he was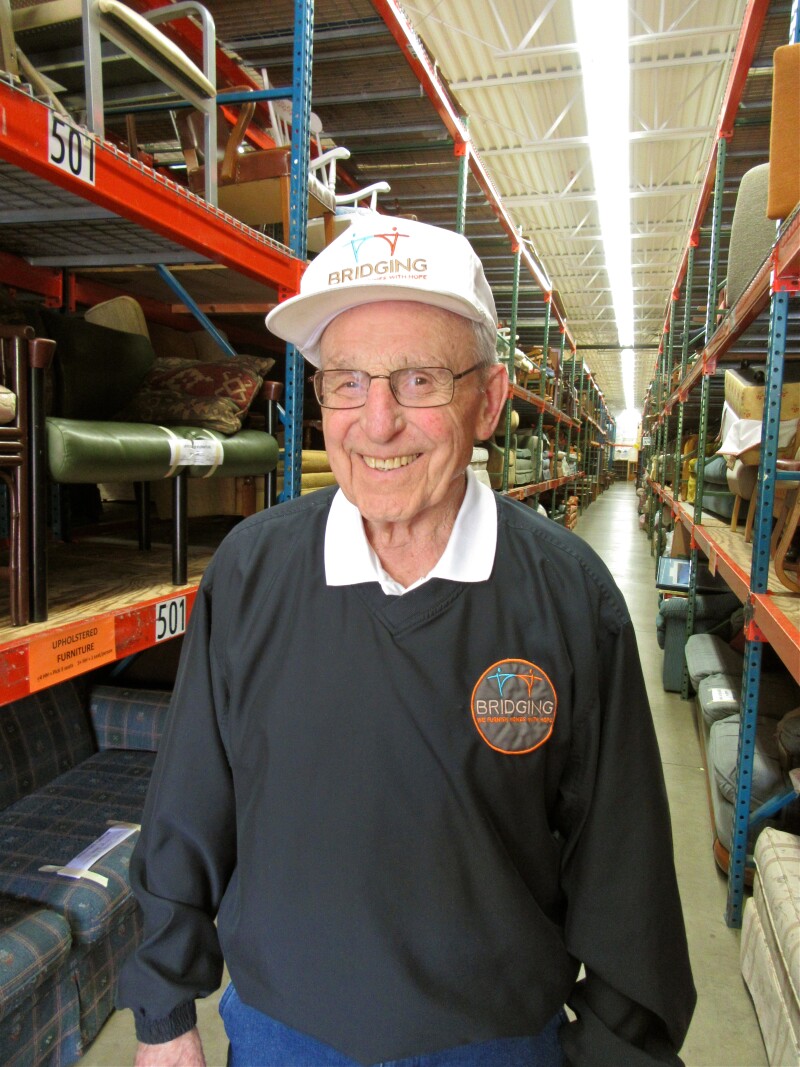 eight years old. The memory of poverty has remained with Heitzman, causing a significant impact on his life in 1987. While Heitzman was working at Pax Christi Church in Eden Prairie, MN, a member of the congregation asked if she could donate a piece of furniture she no longer needed. Heitzman knew the church did not need it, so he decided to find the item a new home. After hearing how relieved and happy a Catholic charity in the Twin Cities was to receive the crib, Heitzman had an epiphany.

Heitzman realized many families across the Twin Cities live with few to no belongings. Out of that realization grew Bridging, a nonprofit furniture bank that provides quality furniture and household goods to those transitioning out of homelessness and poverty. When Heitzman recalled the reasons for founding Bridging, he says, "I know what it is to be poor. I grew up that way. I thought maybe I could do something to alleviate that poverty".

Alleviating poverty is precisely what Heitzman is doing. Bridging has grown from the basement of Pax Christi Church to become the largest furniture bank in the United States, serving over 80 families a week. Each family is referred through one of their 150 registered social services agencies. On average, 80% of the households they serve are referred due to limited financial resources; their annual income is less than $15,000.

Join AARP Members for a Volunteer Day at Bridging in Bloomington
Thursday, May 25th, 3:30 PM - 6:00 PM
The beauty of Bridging is that it is a one-stop shop for household goods. Families are given furniture for the rooms in their house, bed linens, towels, pillows, kitchen supplies, dishes and silverware. Items are new or used and are donated by organizations and individuals from across the state. Bridging needs over 11 semi-loads of donated inventory each week to keep the shelves stocked with the basic necessities of setting up a household. "I want good, useable stuff. I don't want to insult someone's dignity by giving them junk," said Heitzman.

The families Bridging serves have been through times of hardship, which makes a gift from Bridging all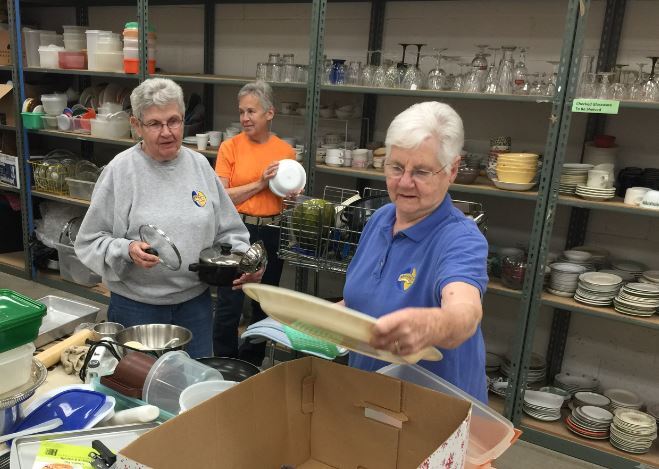 the more meaningful. When Heitzman visited a home outfitted by Bridging in North Minneapolis recently, two little girls led him by the hand to their bedroom to show him their new beds. "Those two girls had been sleeping in a shelter for over a year. Think of what those beds meant to those girls," said Heitzman.

With nearly 80,000 families served and counting, one would assume Heitzman would sit back and relax a little. But Heitzman wants to continue helping Minnesota families in need. "These are people, these are human beings. Any one of us could walk in their shoes," said Heitzman.

The impact of Bridging has inspired cities in other states to start similar organizations. People visit from cities across the United States to learn about how Bridging operates. Heitzman offers them advice, the do's and don'ts of furniture bank work and is pleased the other organizations are thriving. According to Heitzman, the purpose of Bridging and similar organizations is simple. "We should take care of each other. That's what we try to do here," said Heitzman.

At 91 years old, Heitzman shows no signs of slowing down. He visits the two Bridging locations in Roseville and Bloomington almost every day. It is clear Heitzman is delighted by what his organization has accomplished and what it will continue to do. Heitzman is proud of the impact Bridging has on Minnesota families, saying, "When good people get together and do good things, good things happen. Good things happen here every day".

AARP in the Twin Cities will be volunteering at Bridging on Thursday, May 25th from 3:30 PM until 6:00 PM. AARP volunteers will be sorting through donated goods, inspecting linens, or restocking shelves for client shopping. Help us ease the burden of poverty for MN families by turning houses into homes. Sign up on our website.