By Celina Grimes

Born and raised in Saint Paul Minnesota, Catherine M. (Kay) Wilhelmy Bauer has many stories to tell about her experiences as an educator, recruiter, and Veteran. Kay is actively serving her community as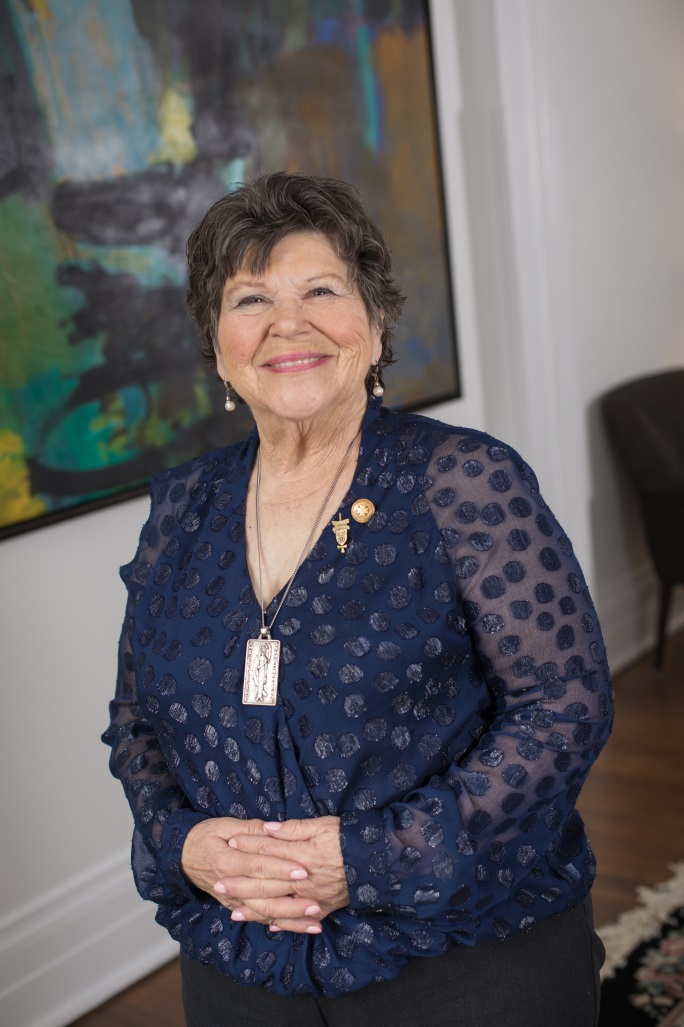 sister and companion after serving 35 years in the Navy. She is involved in the Women's Veteran Initiative, VFW, and Reserves Officers Association and she also founded the Minnesota Chapter of the Navy Nurse Corps Association. Her dedication to helping Veterans and active military members find the services they need was recognized by the Minnesota Humanities Center, who presented Kay a 2017 Veterans' Voices Award.

Growing up on a small farm, Kay is the second oldest of fourteen children. Her family faced many challenges that directly impacted her life but it did not stop her from caring for others. Kay did not plan on pursuing higher education after high school because she was needed at home until a teacher suggested she go to college. She enrolled in St. Catherine's University on scholarships majoring in speech and English with an education minor. During her enrollment, she worked as a nursing assistant at St. Luke's, now called United Hospital. Kay knew she was not going to be happy with her major and decided to transfer into the nursing program at St. Catherine's that required an additional year of schooling. Kay stressed that there were no scholarships or loans available to her at that time because her degree would be completed in 5 years, not 4. Luckily, a close friend suggested enlisting in the military because of scholarships available to students. Kay seized the opportunity and enlisted. Kay joined the Navy because "they had a short[er] line". As an active E-3 Seaman during her last year as an undergraduate student, Kay finished her nursing degree, as well as, paid back a small loan she owned.

Do you know a Veteran who deserves recognition for their exemplary contributions to their community? Nominate them for the 2018 Veterans' Voices Awards!
After graduating, Kay traveled the world working as a naval nurse in the U.S., Japan, and eventually, Vietnam. It was Kay's lifelong dream to be involved in missionary service, and she planned on getting out of the Navy; however opportunities were presented to her. One of those opportunities was in Vietnam during the war. Kay was one of a seven-member surgical team in Vietnam that treated injured soldiers on both sides and civilians. "A lot of them were kids", said Kay. In Vietnam, Kay and others military members faced uncertainty and other hazards. Eventually, Kay wanted to start a family and resigned from active duty after 13 years of service. Her involvement with the Navy continued as she joined the Navy Reserves in Minnesota for 22 years and recruited Navy nurses.

The transition out of the Vietnam War was not easy. One night at her home in Shoreview, an explosion killed her neighbors in their home next door. Navy officers explained to Kay the explosion may have been antiwar violence, intended to hit her home because she wore in her uniform as a recruiter. She was a symbol of the Navy and may have made her a target. The combination of her experiences both in Vietnam and her return to the U. S., resulted in Kay developing Post-Traumatic Stress Disorder (PTSD), which she denied having until she got older. "It started with the church when [they] had all the lights off and I could her thunder. I would get up and walk out. I also would throw myself out of bed because of the nightmares," said Kay. She sought after help to manage and treat her PTSD with Veterans Affairs (VA) only to discover that the VA did not treat Vietnam Veterans for mental illness. "They thought we were crazy," mentioned Kay. Kay found help and a wealth of resources at her Veterans Service Officer instead to combat her PTSD.

From her experiences of seeking out help to get help for her PTSD, Kay has dedicated herself as a reference point for active military members and Veterans. "I encourage Veterans to go see their Veterans Service Officer for everything," said Kay. Veterans Service Officers offer a wealth of knowledge and guidance to the services Veterans may need. In addition, Kay also takes military members to appointments. "I'm there for moral support because I've been through the same things. I was a nurse from 16 - 80 years old. You need to have someone with you when you go in. Your mind is not functioning fully and you need an advocate." Warmhearted and knowledgeable, Kay continues to be an advocate for military professionals and Veterans.

The Veterans' Voices Award is a part of the Veterans' Voices Program at the Minnesota Humanities Center that showcases actively engaged, former, and current military service members who continually give back to their community. The Veterans' Voice Award recognizes and honors the dedication and service Veterans have given to their country and community. To learn more and nominate for the Veterans' Voices Award and the Veterans' Voices program, go to mnhum.org. Nomination submission deadline for the 2018 Veterans' Voices Award is Thursday, June 7, 2018.



Celina Grimes is an AARP intern and a student at the University of Minnesota- Twin Cities, where she studies Journalism emphasis of Professional Strategic Communication.