My name is Lynne McMullen and I recently began a new job developing SNAP outreach efforts to help Minnesota nonprofits combat hunger among senior citizens. When I began this assignment I had little understanding of the physical, mental and emotional impact hunger has on thousands of older Minnesotans.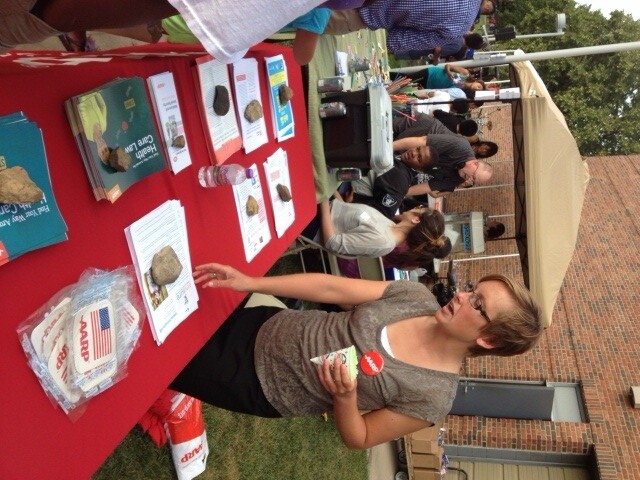 My first week of work was filled with research. I read federal legislation, state fact sheets and countless studies to understand the requirements and history of the SNAP program, but the rules, regulations and statistics could not convey the strain of the enrollment process. By my third morning of reading, I knew that I needed to understand the human experience of this program. I decided it was time to get out of my air conditioned office and file a personal application for SNAP.

Since I'm under sixty years old, I don't qualify for Minnesota's shortened "senior application." As a result, my common application form was 10 pages long. It only took me about 30 minutes to answer the questions, but the misreporting warnings before the signature line were intimidating. Even as a 22 year old with a sound mind and virtually no assets, I found myself adding and re-adding things in my head, doubting my estimates. I was beginning to see why fear would act as a barrier to enrolling in SNAP. After finishing the online application, I could have simply clicked the 'continue' button on my computer screen and instantly submitted my forms without leaving home. But many SNAP applicants don't have this option, so I printed my work and walked to the county's human services office.

That decision will shape both my personal perspective and my work in the coming year.

When I arrived at the county office, it was noon on a Thursday. The place was packed. There were easily 50 people in line for paperwork in front of me when I walked in, and I could see about one hundred more in the room next door, waiting for appointments with caseworkers. Families, senior citizens and workers on lunch break conversed in numerous languages while waiting. Without exception, the stress these people felt showed on their faces and in the snippets of conversation I could pick out of the dull roar.

As I stood in this line, I became increasingly grateful for my physical capabilities. Minutes ticked, and I watched as two elderly women exited the room. After sitting in the waiting room, they had been forced to stand at the service counter for 15 minutes to consult with a worker. They looked exhausted. A child began crying, and I thought about the difficulty of remaining in such a noisy area with hearing aids. It had only been thirty minutes, and I was already getting a headache without them.

Minutes ticked, and my lunch break ended. I placed my paperwork in a large box marked "drop forms here" and walked back to my office without speaking to a representative, hoping my application would not be lost by the time I returned.

After two return visits and three more hours of waiting, my paperwork was finally processed. A county worker kindly assured me that my name was "in the system," and I would be contacted within thirty days to schedule an interview. It was time to begin gathering supporting documentation for my return.

Walking back to work, I began to see the problems of financial insecurity in a new way. What would happen to me if I could not ride a bicycle or the bus to my appointment? Eager to test another resource, I called the Minnesota Food HelpLine. Within ten minutes, I had reached a friendly volunteer. With one possible solution in hand, my mind generated a new list of barriers. What would happen to my application if I did not have a work phone to take calls regarding my case? What if I lacked the capacity to gather pay stubs, identification cards and rent receipts? Hearing my stomach grumble, I circled back to the most immediate need: what if I didn't have friends and family inviting me to dinner in return for help with household tasks or schoolwork, or access to a local food bank?

These "what if" questions describe the circumstances too many older Americans face, but the problems can be solved. Many nonprofit organizations across the state of Minnesota and the nation are offering hope to seniors by providing SNAP application assistance, in-home meal delivery services and transportation to local food banks. It's time to help these organizations grow efficiently and compassionately in conversation with the individuals they serve.



Lynne McMullen is an AmeriCorps VISTA member with the National Anti-Hunger and Opportunity Corps, a project of New York City Coalition Against Hunger serving with the AARP Foundation at AARP Minnesota. Over the next year, she will be developing SNAP outreach efforts to help Minnesota nonprofits combat hunger among senior citizens and blogging about her experience.