Everyone loves a good story about high school sweethearts. Bob and Rosie Geyen's story is one of those. They met at a Waconia High School play and had their first date 50 years ago this January. Education was one of their many shared loves. Rosie taught 1st grade until the birth of their first child and was a substitute teacher over the years. Bob taught and administered in several Minnesota school districts.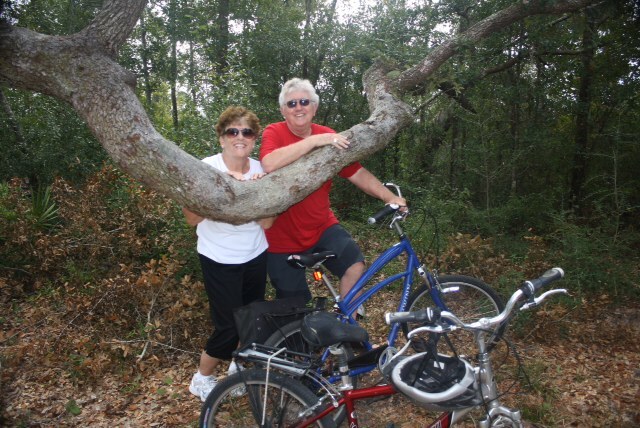 Bob and Rosie retired at a relatively young age but wanted an active, meaningful retirement. A belief gleaned from Rosie's 101 year old grandfather whose advice was "don't let the flies sit on you!"

Bob was AARP Minnesota Volunteer of the Year in 2008 and both he and Rosie have been have been active on many legislative and advocacy issues including voter ID, health care reform and You've Earned a Say. We asked them to share a little bit about life, volunteering and AARP.

What has volunteering meant to you?

Our retirement is about being together, family, volunteerism, caregiving and riding our bicycles. We have volunteered where we could work together---Dollars for Scholars, Shakopee Crime Prevention, Meals on Wheels, Metropolitan Area Agency on Aging, and Friends of the Library.

Rosie's mother is 100 years old and we have helped her live independently with dignity in her own home until this January. She has shown us how to age actively, gracefully and with lots of humor.

What first brought you to AARP?

Our 10 years of volunteering with AARP have been wonderful. I started volunteering to become more aware of senior issues, Social Security, Medicare and financial security. Rosie came along as support at first and then she discovered all the wonderful people we would meet through AARP at senior centers, health fairs and the Minnesota State Fair. And of course, we truly enjoy all the other fantastic volunteers we have met and worked with these 10 years. The hardworking, dedicated AARP staff has enabled us to have a voice to advocate for seniors. We maintain many strong, positive relationships with staff members. AARP has been a wonderful part of our life.

We also participated in several Twin City Public Television programs called, "Getting There." The segments focused on senior issues like transportation, Medicare social security, civic engagement, housing and health issues. On one show I said, "Caring, intelligent, mature women are some of God's greatest creations." Rosie is one of them!

What about AARP has kept you involved for the past decade?

In 10 years of volunteering and advocating with AARP, we believe AARP is a real champion for all senior issues. We believe that by volunteering we will create a better life and real improvements for ourselves and for other seniors. Thereby, we will create a better life for our children and grandchildren as they age.

What is one thing you want to do that you haven't done yet?

We daydream about having coffee together at a sidewalk cafe in Paris on some sunny day in April.


http://youtu.be/CxFaLTOTZsY[/youtube]