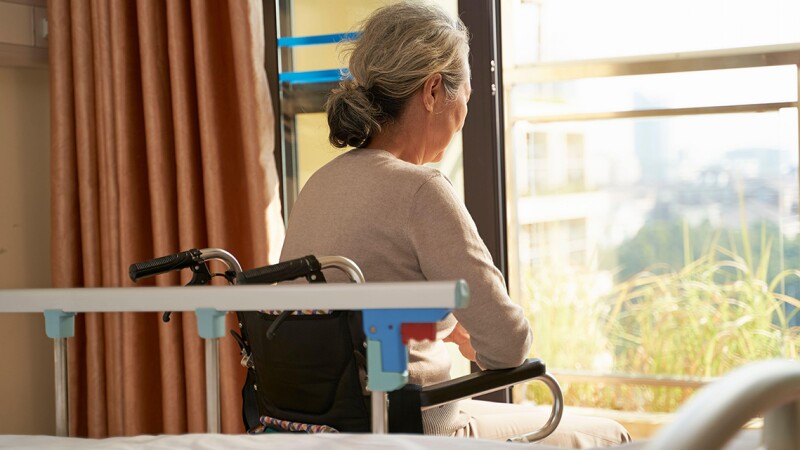 When it comes to ensuring that our parents are receiving the care they need—and deserve—especially during the coronavirus pandemic, Karen Ouren has learned a thing or two about how to be an effective advocate.

"You have to be both a fighter and a peacemaker," says Karen, a 65-year-old AARP member who spends her summers in Minnesota and her winters in Arizona. She ought to know as she's been playing both roles since mid-March, when the Arizona assisted-living facility where her mother lives went into lockdown.

Karen's mom and dad (names withheld upon Karen's request) moved into the facility five-plus years ago, after it became clear that Karen's mom could no longer provide the care her father needed. Shortly after, Karen's father died. Thankfully, Karen's mother remained healthy.

In January, however, she developed a urinary tract infection and sores on her legs that were due to a reaction to Prednisone, made worse by poor blood flow in her veins. She was sent to the hospital. When she was discharged a week later, she could no longer walk on her own. Instead, she needed a wheelchair.

But by late February, things were looking up. Thanks to therapy, Karen's mother was starting to walk again.

Then the coronavirus hit, and on March 15, the facility went on lockdown.

Things haven't been the same since. For one thing, Karen hasn't been able to visit her mother. While that would be a hardship anytime, it's particularly so now when staff are so busy that many aspects of care are being overlooked.

"My mom is the last person on her floor to get fed every day, and the food is always cold by the time it gets to her," says Karen. What's more, Karen's mother tested positive for COVID-19, which made some of the staff reluctant to enter her room. As a result, it's not as clean as it should be.

In fact, Karen's mother went two months without a shower and or without having her room cleaned. "Management was worried that the aides would get sick," says Karen. "Things are better now, but not as good as they once were, in part because new surges of the coronavirus in Arizona have created added stress and safety concerns for patients and their families, as well as staff."

According to Karen, while the staff are doing their best, including the head nurses who are working 10-hour shifts, resident needs still aren't being met. Meals are still cold when they're delivered to Karen's mom, and Karen has to supply all of her mom's paper products, including toilet paper.

"My mom's dignity and pride has been stripped away by the virus," says Karen. "It's so frustrating. It's also scary, especially because we aren't able to visit. I worry constantly, but there is only so much I can do from afar."

Karen isn't the only one worried about how older adults in care facilities are being treated. AARP is as well. Over 44 percent of all deaths nationwide related to COVID-19 have occurred in nursing homes and long-term care facilities, despite the fact that nursing-home residents make up less than one percent of the population.

Nationwide, more than 50,000 nursing-home residents have succumbed to COVID-19, according to the Kaiser Family Foundation.

"Congress must take immediate action to protect the lives of seniors," says Erin Parrish, AARP Minnesota's associate state director of advocacy and outreach. "That's why we're advocating for more transparency around coronavirus cases and deaths in nursing homes, as well as for more testing and personal protective equipment."

AARP's plan for helping to stem the continued loss of life and improve conditions in the nation's long-term care facilities features these five points for Congressional action:


Require testing of nursing-home staff and residents and provide them with adequate personal protective equipment (PPE).
Provide transparency when it comes to information about COVID-19 cases, the transfer and discharge of residents, and how federal relief funds are used, to make sure the money pays for testing, PPE, staffing, virtual visitation and other items that directly relate to patient care and well-being.
Require facilities to provide and facilitate virtual visitation for residents and their loved ones.
Ensure adequate staffing levels in facilities and allow long-term care ombudsmen access so they can advocate for residents.
Reject proposals for COVID-19-related blanket immunity for nursing homes and other long-term care facilities
"The people who are caring for my mother are good people," says Karen, "but they've been given an impossible task."

With the help of AARP and its commitment to protecting assisted-living and other care facilities from the coronavirus, that task will become easier. So will access to better testing, protective gear, virtual visitation and more.

But we need your help.

To protect residents and staff of nursing homes and long-term care facilities, stem the loss of life and keep families connected, tell Congress to support the five-point plan now. Doing so will help save lives—and put an end to this national tragedy.

Bev Bachel is a Twin Cities freelance writer and the author of What Do You Really Want? How to Set a Goal and Go for It! She is a member of the AARP Minnesota Executive Council and a booster of AARP Minnesota's 50 Over 50, an annual list that honors 50 Minnesotans over the age of 50 who are doing amazing things.