AARP Minnesota represents over 65,000 people across the state, and we're proud to make a difference in the communities you live in. We're passionate about helping Minnesotans build a strong financial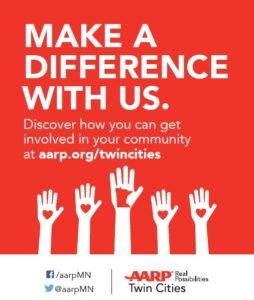 future, providing care for the caregivers, keeping your savings safe, finding ways for you to save, and more. We rely on volunteers to help us carry out our mission, and we're always looking for more people to join our efforts. As a volunteer, you can make an impact in so many ways. Whether you're passionate about advocating at the Capitol, helping people save money, fighting fraud, being an AARP ambassador, or all of the above, we need you. Below, take a look at the ways you can get involved with AARP Minnesota.

Grassroots Advocacy Team

Advocacy volunteers make a big difference by educating both community members and decision-makers about important issues that affect all of us as we age. These volunteers write, email, call, and visit elected leaders to discuss issues such as support for family caregivers, livable communities, broader access to retirement savings plans, and more. The role is a great fit for anyone interested in public policies that could make Minnesota a better place to live. There are no special qualifications required, and training is provided. To inquire further about our advocacy efforts, including ways in which you can get involved, email Erin Parrish, our Associate State Director of Advocacy and Outreach, or call her at 651-726-5644.

Fraud Fighters

Each year, thousands of Americans are impacted by fraud and scams. By joining the AARP Fraud Watch Network as a volunteer Fraud Fighter, you can beat con artists at their own game, and help to protect others too. Over the past four years, AARP Minnesota has conducted over 400 free fraud-focused community information sessions for groups throughout the state. Our Fraud Fighters are trained to assist with those information sessions, help out at Scam Jam presentations, and consistently educate our state's communities about fraud and scams. To learn more about the Fraud Watch Network and find out how you can volunteer, email Jay Haapala, our Associate State Director of Community Engagement, or call him at 651-726-5654.

Information Center Associates

Our Information Center Associates lend their energy, time, and talents to providing resources, referrals, and information to people--both in person and over the phone--at our all-volunteer-run office, which is located in the Mall of America. This volunteer opportunity is perfect for those who have a general interest in helping others, especially when it comes to providing them with details and instructions. To learn more about becoming an Information Center Associate, email Patti Foster, our Senior Operations Associate, or call her at 651-726-5653.

Community Events Volunteers

While AARP is focused on a lot of serious issues like health care, prescription drug costs, livable communities, and caregiving, we also like to have fun. We understand that our members like to have fun too, and maybe save some money while doing it. That's why we regularly host free, fun events throughout Minnesota. As an event volunteer, you'll be first to know about these opportunities, and you'll be able to attend these events for free. Whether you're interested in helping us with our active events, like our bike rides and canoe trips, you'd like to help with big events like Jazz Fest, or you're interested in assisting with recurring gatherings like Movies for Grownups, we'd love to have your help behind-the-scenes. To find out more about how you can become a community events volunteer, email Seth Boffeli, our Associate State Director of Communication, or call him at 651-726-5658.

Tax Aide, Drivers Safety & Experience Corps

In addition to the opportunities listed above, AARP Minnesota is seeking help in other ways. We're consistently looking for people to fill roles as Tax Aide volunteers, Experience Corps tutors, Driver Safety instructors, and AARP Serves members. To inquire further about these opportunities, email us at the AARP Minnesota State Office.