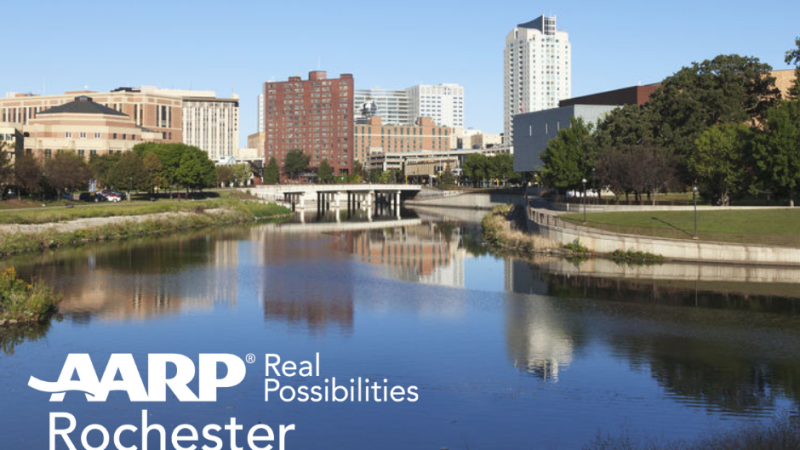 For over two decades, Rochester, Minnesota has been ranked at the top of indexes as one of the best cities in America. With its thriving music and arts scene, inclusive year-round activities, and access to world-class facilities in Mayo Clinic, Rochester has become known as a strong example of a livable community. Recently, city development projects have been established focusing specifically on the growth of downtown Rochester to allow the city to continue its momentum and reach its full potential as a viable place to live. To engage in important conversations about the community impacts of downtown development, AARP Minnesota is hosting the Livability Forum on September 26 from 6-8pm in the River Room at 125 Live, with a special presentation by Chuck Marohn, president of Strong Towns.
Originally founded in 2008, Strong Towns is an organization focused on creating financially strong communities across the United States with the help of community members from all backgrounds. By focusing on small, incremental steps and encouraging adaptation to change, Strong Towns builds communities based on how they already function to promote positive growth.
Marohn has authored several books on the topic of building stronger communities, including Thoughts on Building Strong Towns – Volumes 1,2,3. He currently hosts the Strong Towns podcast, covers topics for Strong Towns' website, and presents the Strong Towns model for community building to cities across North America. His presentation at the Livability Forum will examine issues around the new downtown development, access to affordable housing, transportation, the increasing cost of living, and the Destination Medical Center.
The Livability Forum will take place Thursday, September 26 from 6-8pm in the River Rooms at 125 Live. Marohn's presentation will focus specifically on Rochester's needs and citizen concerns surrounding the new downtown development, including discussions on affordable housing, transportation, increasing cost of living, and the Destination Medical Center.
AARP Minnesota encourages residents to register for the event here to engage with the future of their community and continue to make Rochester one of the best places to live. The Livability Forum is open to the public and a free event, but registration is required at aarp.cvent.com/RochesterStrong.