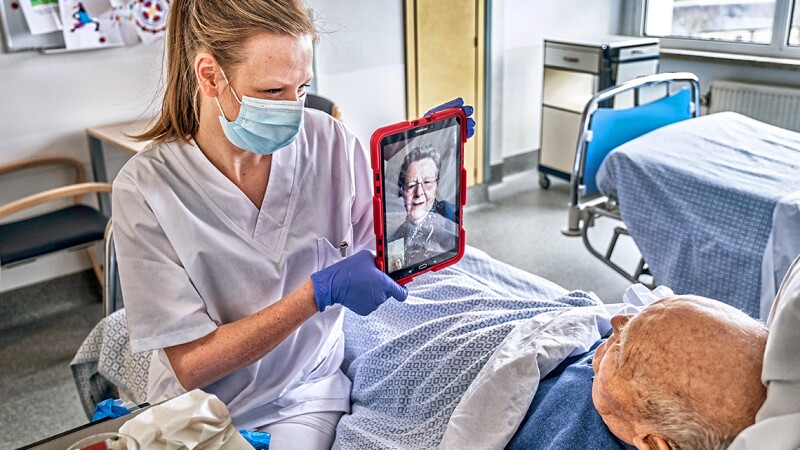 Residents in Minnesota's long-term care facilities, including nursing homes and assisted living facilities, are highly vulnerable to COVID-19. Social distancing and new Centers for Disease Control (CDC) guidelines restrict visitors' access to nursing homes except during end of life and hospice care. The Minnesota Department of Health (MDH) last week released new guidance for long-term care facilities during the pandemic, allowing access for designated family members and other people deemed essential caregivers.

Last year AARP fought hard and won far-reaching legislation designed to protect Minnesotans from elder abuse. One of the law's key new provisions provides residents and their caregivers the right to place a camera in their room in nursing homes and assisted living facilities. This can also be a way to connect during the COVID-19 pandemic.

AARP has advocated for more transparency around coronavirus cases and deaths in nursing homes, for more testing and PPE in the facilities, for more support for resident discharge rights, virtual visits between residents and loved ones or representatives, and against proposals to grant legal immunity related to COVID-19 for nursing homes, assisted living and other long-term care facilities.

Minnesota has known for months that nursing homes and assisted living facilities are a hotbed for the coronavirus infection, accounting for an alarming 78% of all COVID-19 related deaths. This is unacceptable. It's been over four months since the first COVID-19 case was reported in Minnesota and a resurgence is likely this fall. More must be done to improve conditions in long-term care facilities. Tell your lawmakers to take immediate action to protect long-term care residents, workers, and their loved ones.

The list below provides tips and resources for Minnesotans seeking connection with loved ones in long-term care facilities.


If you are concerned about the safety and well-being of a spouse, parent, or other loved one who lives in a nursing home, contact:

Minnesota Adult Abuse Reporting Center (MAARC) at 1-844-880-1574.
Long-Term Care Ombudsman at 1-800-657-3591 (TDD/TTY, please call 711).
Community Resource Finder is an online tool to easily access a comprehensive listing of dementia and aging-related resources such as care providers, programs and services available in a specified area.
Share your Story: Join the thousands of family caregivers have shared their experiences through AARP's storytelling initiative, I Heart Caregivers. Your story will help AARP continue to fight for more support for family caregivers, including help at home, workplace flexibility, training, and relief in your state.