Living in the COVID-19 pandemic, we are more reliant on our internet connections – we are working, learning, and even receiving health care from home. All require a strong internet connection. The reality is, though, that thousands of Minnesotans still don't have access to reliable, high-speed broadband internet.

AARP is fighting for Minnesotans to have access to affordable and reliable high-speed internet in the communities where they live. For too many Americans, the high-speed internet they need to access opportunity and succeed in today's economy is not available where they live—and this holds them back.

In 2016, the Minnesota Legislature set a speed goal for universal access to broadband. Lawmakers set goals for minimum speeds of 25 megabits per second (mbps) download and 3mbps upload by 2022. Download speed is used when you're watching a video, reading an email, or scrolling through social media. When you attach a document to an email or post a photo on social media you are uploading information. 25mbps by 3mpbs isn't very fast by some standards, but it's enough for one or two people to use the internet at the same time. It's what the FCC says is the bare minimum requirement to be called high-speed internet.

The problem is, no one knows exactly who has access to the internet and who doesn't. Our current broadband service maps are usually based on what internet service providers tell us they provide. Those maps tend to over-report how many people are served.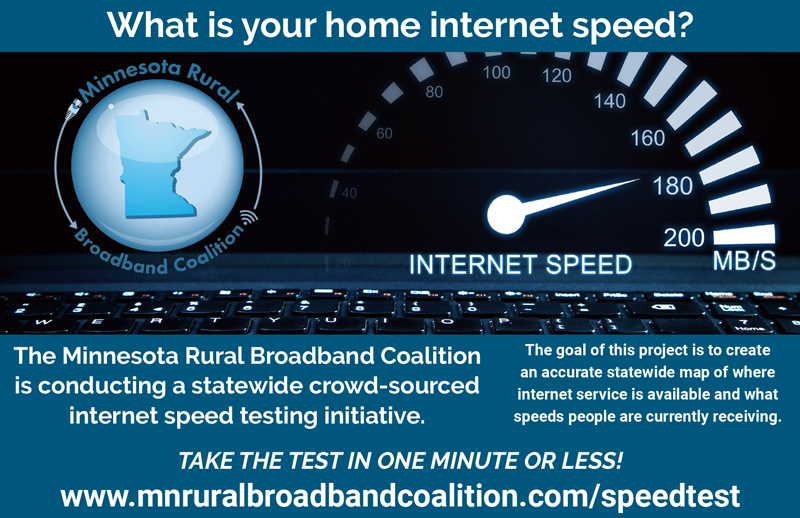 That's why the MN Rural Broadband Coalition decided to launch the Minnesota Speed Test Initiative. The organization believes an independent survey of home internet speed is long overdue and is especially relevant now that most of us are using the internet more than ever before. Once complete, the map will be filled with thousands of dots from every person who participated in the speed test.

Testing data will be statistically valid and provide a map of what service levels are for any given area in the state. This information will be an important tool for communities that are planning a high-speed internet expansion project through the FCC, USDA, or MN Border-to-Border Broadband Grant Program.

The MN Rural Broadband Coalition is asking you to take the 30-second speed test that will measure your home internet speed.

To take the Speed Test, click here.

Enter your information, let the test run, and you are finished. Please share this link with your friends and families. The project's success depends on thousands of people taking the speed test and sharing the link. We need your help getting the word out.

The MN Rural Broadband Coalition does not use tracking cookies or store your personal data or address. It will store your location and speed test results.