Greetings! It's Lynne again, with a Supplemental Nutrition Assistance Program (SNAP) outreach message for the holiday season.
As the weather transitions each fall, I find myself missing fresh berries, carrots and lettuce taken straight from my family's garden. This autumn, one of AARP Foundation's SNAP outreach volunteers gave my transition from greens to squash, and berries to apples a new perspective. This woman, whom I'll call Anne, receives SNAP benefits to supplement her modest income from Social Security retirement. While at a recent event, she reflected on the seasonal variation a tight budget causes in her shopping habits.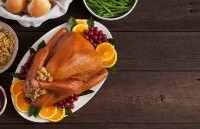 Enticing a few of her peers to apply for SNAP, Anne remarked: "Last summer, I found out I could use SNAP benefits at the Farmer's Market downtown Saint Paul. It was fantastic! There was so much variety and everything was much cheaper than at the grocery store." A few of the women Anne was speaking with stepped away from the crowd to call the Minnesota Food HelpLine for more information.
Many SNAP recipients like Anne have a wide variety of options for using their benefits to purchase fresh, local food at farmers' markets. For these individuals, the end of Minnesota's growing season can mean a sharp reduction in the amount of produce they consume. This year, the end of the market season coincided with a decrease in SNAP recipients' benefit amounts. The effect these events have on people like Anne reinforces the importance of connecting people who are facing tough financial circumstances with all of the resources available to assist them.
Although the days of farm-fresh produce are past until next season, Minnesotans still have numerous chances to insure everyone in our communities can afford a healthy diet. Many of us know firsthand that winter festivities can stretch budgets of all sizes. As we begin preparing holiday meals, cookies and gifts, we have the perfect opportunity to begin crucial conversations about food and other resources with our friends, relatives and coworkers.
If you or someone you know will be navigating this holiday season on a limited budget, there are numerous resources available to provide assistance. As you sit down to holiday meals this winter, please take a moment to check in with your loved ones. Is your mother's refrigerator frequently empty? Has the family down the block been struggling to pay the bills? Too often, individuals battling food insecurity are ashamed to ask for help until they face an emergency. In some cases, a compassionate inquiry from a friend can be enough to connect these people with the help they need to make ends meet.
For information about the local and federal resources available in your area, please contact the Minnesota Food HelpLine at: 1-866-711-1151 or visit: www.mnfoodhelpline.org
Lynne McMullen is an AmeriCorps VISTA member with the National Anti-Hunger and Opportunity Corps, a project of New York City Coalition Against Hunger serving with the AARP Foundation at AARP Minnesota. Over the next year, she will be developing SNAP outreach efforts to help Minnesota nonprofits combat hunger among senior citizens and blogging about her experience. -- See more at: https://states.aarp.org/14831/#sthash.FHjsfSRY.dpuf