Last month, AARP's financial security education and outreach team had the privilege of literally changing someone's life. All it took was a simple
45-question trivia contest
and a jumbo-sized $50,000 check.
I'd like to introduce you to our most recent $50,000
sweepstakes
winner, Karen Bratkovic, a 67-year-old widow who lives outside Chicago with her two dogs.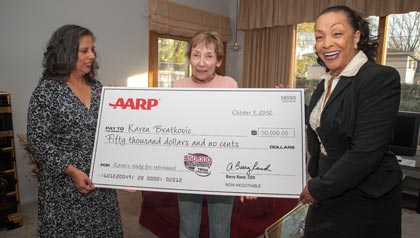 First, a little background. Our team sponsors retirement sweepstakes contests once or twice a year, with a twofold purpose: to highlight the
resources
AARP offers to help you make key
financial decisions
and to provide each grand-prize winner with enough cash to make a big move toward a more secure retirement. Every retirement trivia question you attempt earns you an additional entry into the sweepstakes drawing. (The
next sweepstakes 
starts Nov. 15!)
Karen called the sweepstakes "a blessing from the sky." She and her husband, who died of leukemia last September, had saved throughout their lives and minimized their expenses. They were even fortunate enough to have a pension from both their employers.
But when her husband died — almost a year to the day before she won the sweepstakes — his pension checks ended. Her smaller pension and
Social Security 
survivor benefits barely cover the mortgage on a house that's way too big for her, and way too far from her family in Tucson. She's been drawing down their modest investments to meet the rest of her monthly needs, which her financial planner has counseled against. "I think the best advice he gave us was, 'Keep your monthly expenses as low as possible.' "
Karen knew she needed to downsize, but — until now — she didn't have the money to get the house in shape to put it on the market. "So I'll be able to fix up the house and make my last move to Arizona. That is what this lets me do," she said. "That's how much this means to me. I just can't believe it — I feel like I won the $6 million lottery."
Maybe the next AARP prize can be yours! Visit our
Contests and Sweepstakes
site to see all of our current promotions.