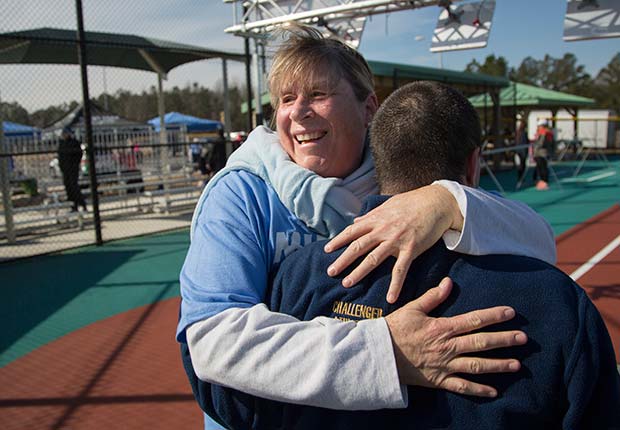 By Sue Price Johnson

Carol Lendino, of Wilmington, has an adult son with Down syndrome at home and a father in California who has full-time paid home health aides.

She's managing her own stress pretty well, but she went to an AARP Caregivers and Coffee workshop in hopes of giving better emotional support to her sister on the West Coast.

"Although my father has 24/7 caregiver workers, my sister is the one who grocery shops for my dad and takes him to doctor appointments and deals with issues that caregivers have," she said. Adding to her sister's stress is the 45-minute drive on Southern California freeways to her father's home.

Lendino, 60, is one of the 1.7 million North Carolinians providing unpaid care to a family member. Helping those caregivers is among the top priorities for AARP in 2015.

AARP workshops cover the many issues involved in caregiving. The training teaches people how to care for themselves while dealing with a career or family in addition to the anxiety of looking after a relative who needs assistance.

AARP North Carolina is partnering with the Lower Cape Fear Hospice on workshops such as the recent Wilmington session. Along with Caregivers and Coffee, sessions called Begin the Conversation are held monthly at the Katherine and Duncan Phillips LifeCare & Counseling Center.

"The idea is to connect caregivers with local information and local resources," said Chris Scott, who organizes sessions at Phillips. AARP provides contact information for federal, state and local government agencies that offer resources and programs, as well as support organizations and tax assistance.

Workshops can be found across North Carolina. Some have specific audiences in mind, such as church-based communities or Hispanic caregivers, said Suzanne LaFollette-Black, AARP North Carolina associate director. There are Lunch and Learn programs for companies with employees facing caregiving issues. Another is in the works to help caregivers in the LGBT community.

AARP North Carolina also conducts "train the trainer" programs for volunteers who want to help.

Preparing for crisis
Some efforts focus on getting people ready before a difficult situation arises.

Dick and Dee Hatch, of Cary, are longtime AARP volunteers who help prepare others for retirement and family caregiving. They admit they weren't fully prepared themselves.

"No matter how much you do—planning, setting things aside, making sure you have a will and health care power of attorney—until things happen, people don't really think about it," said Dee Hatch, 79, who served as AARP state president from 2006 to 2011 and is still an AARP volunteer. Dick, 86, was an AARP legislative lobbyist for many years after the couple moved to North Carolina in the late 1980s.

The Hatches began to think about preparing their home when Dee's mother needed to navigate their first-floor bathroom during visits. They made changes a few years later as Dick's spinal stenosis required him to use a cane or walker.

Dee's mother, who lived to 96, eventually moved to an assisted living community 17 miles away. If she had it to do over, Dee said, she would have found a place closer to their home. "Near the end of her life, I was there almost every single day. She had around-the-clock care, but she always looked forward to seeing me there."

Dee counsels people on various issues, including remodeling so their home is easier to navigate with a walker or wheelchair.

Some workshops focus on finances or health; others involve lessons on effective communication between the family caregiver and the person receiving care.

To find a workshop, contact LaFollette-Black at 866-389-5650 toll-free or sblack@aarp.org.

A detailed guide for caregivers, which includes contact information in each region of North Carolina, is available at aarp.org/nccare.

Sue Price Johnson is a writer living in Raleigh.