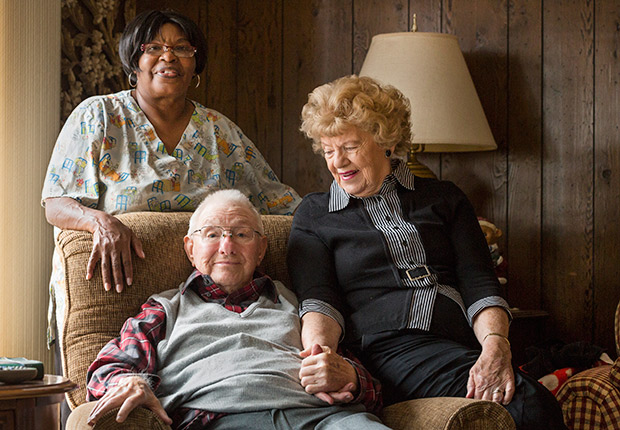 By Lisa Towle

Ferry and Frances Barber of Goldston have been married for 65 years. They raised two sons together, retired together in 2002 and then, in 2007, together faced the heart attack that would permanently physically disable Ferry.

The couple continue to live together with help from part-time in-home care that the Chatham County Council on Aging provides through the organization's Bridges to Care program.

Frances Barber said it has added to the quality of their lives and that without it, her husband, an 88-year-old World War II veteran, would likely be in an assisted living facility.

"The in-home care lady comes two hours a day, five days a week. If it wasn't for her, I'd have to do differently, and I know Ferry would be so unhappy," said Frances, 85.

Access to such care should be available to more families, said Mary Bethel, advocacy director for AARP North Carolina. That's why it's one of the organization's top priorities for the General Assembly session beginning Jan. 14. The agenda includes:

Home and Community Care Block Grant. At least 60 of the state's 100 counties have more people 60 and older than children age 17 and younger. This number is projected to grow to 90 counties by 2025.

The Home and Community Care Block Grant, created in 1992, combines federal and state funding to aid older adults and family care­givers. Last year those funds were cut by almost $1 million, said Bethel, despite a waiting list of more than 16,000 people for various services. AARP will be working to restore that funding.

Hospital to home care. Approximately 1.7 million North Carolinians are caring for a family member, helping them to live in their own homes. However, a national AARP report revealed that most care recipients (69 percent) do not receive a home visit by a health care professional after being discharged from the hospital.

AARP will be working on a proposal that would require hospitals to notify a designated caregiver when a patient is about to be discharged and to provide instructions in medical tasks, such as injections and wound care, that are performed at home.

Medicaid. There will be a continuation of efforts to encourage legislators and Gov. Pat McCrory (R) to expand Medicaid coverage for more low-income individuals under the Affordable Care Act, including an estimated 100,000 uninsured residents ages 50 to 64.

In addition, activities will focus on ensuring that older and disabled adults are represented and protected as the state makes changes in the way Medicaid is administered, and on protecting Medicaid eligibility and services for older, blind and disabled adults.

Guardianship rules. North Carolina has not adopted a law, passed in 40 states, that makes court-ordered, legal guardianships portable from state to state.

The Uniform Adult Guardianship and Protective Proceedings Jurisdiction Act would align North Carolina with most states in clarifying a person's "home state" if there is a conflict. AARP is urging lawmakers to pass the bill.

NC Work and Save. According to the AARP Public Policy Institute, nearly 2 million workers in North Carolina don't have access to a pension or retirement plan. This proposal, designed to lessen dependence on government assistance during retirement, would set up a state-authorized 401(k) plan for private-sector employees and the self-employed who don't have access to workplace retirement programs.

It would enable savings through an automatic payroll deduction, and accounts would follow individuals as they changed jobs.

Bethel has been working for months with an army of advocacy volunteers to advance this agenda. "It's pedal-to-the-metal time," she said. "We all know it's about making life better for millions of people."

To become an AARP activist or to receive information about advocacy work at the state and national levels, go to aarp.org/getinvolved.

Lisa Towle is a writer living in Cary, NC.