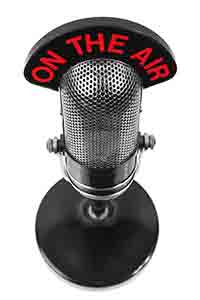 North Carolinians interested in living healthy, financially secure lives can tune in to On the Air, the weekly AARP radio show. Host Debra Tyler-Horton interviews newsmakers and experts on topics of interest to Americans age 50-plus.

Tune in every Saturday at 10 a.m. to WIDU, 1600 AM, Fayetteville; WAGR, 1300 AM, Lumberton; and WEWO, 1460 AM, Laurinburg. Catch the show the first Saturday of each month at 7:30 a.m. on The Light, 103.1 FM, Raleigh.

Listen Sundays at 8:00 a.m on WMNX in Wilmington, 9:30 a.m. on WAUG, 750 AM, Triangle; and at 2 p.m. on WRSV, 92 FM, Rocky Mount.

You can also tune in Mondays at 11 a.m. to WGIV, 103.3 FM, Charlotte; and Tuesdays at noon to WEAL, 1510 AM, Triad.

Experts who want to be on the show can contact Debra Tyler-Horton at dtylerhorton@aarp.org.