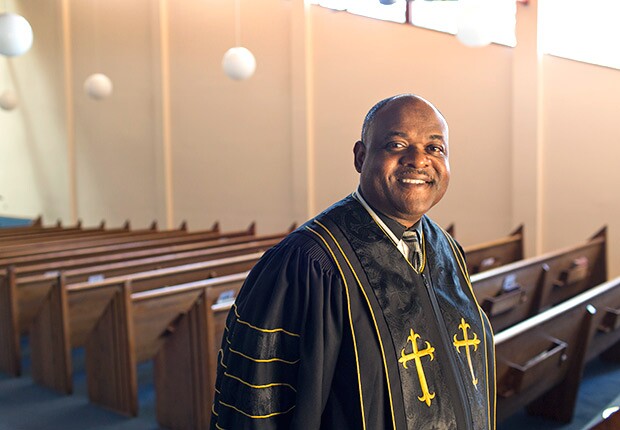 By Linda Slaughter

For several years, AARP North Carolina has presented volunteer-led workshops in money management and financial planning, primarily in local African American churches.

Then Debra Tyler Horton had an idea: What if, instead of the one-time Financial Freedom sessions at the churches, pastors received instruction on practical matters, such as avoiding and reducing debt, creating a budget, and saving for emergencies and the future, so that they could provide financial guidance to their congregations on a continuing basis?

Last year Tyler Horton, AARP North Carolina associate state director for multicultural outreach, took the idea to Shaw University in Raleigh, established in 1865, the first historically black university in the South.

Today, her idea has begun to blossom. After nearly a year of planning, AARP and Shaw have joined forces to expand Church Administration, a required course in the divinity school, into Church Administration and AARP-Principles of Financial Stewardship, which launched this fall.

About two-thirds of the school's 100 students are enrolled in its Master of Divinity program, which requires the expanded course.

"The intended outcome is that what the students learn does not just remain with them," said Lee Baker, a certified financial planner from the Atlanta area (and the son of a minister) who is teaching the new AARP-Principles portion of the course online.

"To me, these graduate students are 'community multipliers'—that's my term—because if this program is implemented properly, we have people who leave this course, go back to their churches and then multiply these teachings among hundreds, and perhaps even thousands, of people," Baker said.

Baker and Tyler Horton say there is a need for better financial education in the African American community, which continues to struggle more than six years after the recession. The state's unemployment and poverty levels reflect that struggle. Overall unemployment in North Carolina hovers near 6 percent, but it's about 10 percent for African Americans. And while overall poverty is about 17 percent, among African Americans it is 27 percent.

Benefit to community
Shaw Divinity School's Joe Stevenson, a pastoral care professor who teaches the classroom portion of the Church Administration course in the school's master's program, said he hopes the expanded curriculum will provide tangible dividends.

"If there's a positive impact on students, there should be educational value to their congregations," said Stevenson, who teaches the classroom portion of the new course.

"They take the learning back to their congregations, their congregations take the learning home, and … there's an opportunity for whole communities to benefit from the information being provided."

About the importance of financial wisdom, he said: "The need couldn't be greater. As a pastor, I've seen people come out of retirement only to return to work out of necessity. I've seen individuals without anything for final [burial] arrangements, bringing another level of burden to their families.

"As a professor, I've seen students struggling to get through school only to end up with more debt, and unfortunately, wages are not as they once were and opportunities to find employment are more challenging."

AARP's role is to provide the instructional materials and help cover the cost of Baker's participation.

"Many pastors said they personally need this kind of information just as much as their congregations," said Tyler Horton. With nearly 20 students taking the course this year, "even if only half of those students continued with Financial Freedom in their churches, we will have taken a big step."

Shaw University President Tashni-Ann Dubroy said the course "will benefit churches and ministries where Shaw Divinity School students will not only lead their congregations spiritually, but will also provide financial tools that can help transform lives."

Linda Slaughter is an employee communications advisor at AARP.