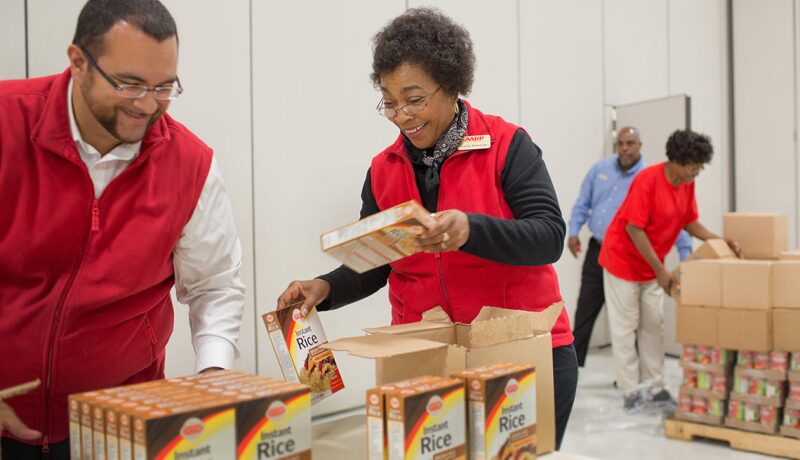 By Rebecca Carr

Linda Patterson's volunteer efforts with AARP came with a hidden reward.

"Volunteering does as much for me as it does for them," said Patterson, who works with AARP's Living Longer, Living Smarter program. The program helps older people develop healthier lifestyles through diet and exercise as well as advising them on challenging decisions such as where to live as they age.

Patterson, 66, of Charlotte, said volunteering with other 60-plus people is different from her volunteer activities at church.

"I love young people, but being around people my own age fits me well," she said. "I love the camaraderie. Giving back expands you as a person in so many surprising ways."

Patterson is among the roughly 2,600 AARP volunteers working across North Carolina on a wide range of programs that include health, financial literacy and management, legislative advocacy, hunger, fraud fighting and driver safety.

A former radiation therapist at the Carolinas Medical Center in Charlotte, Patterson now spends about 2½ hours every other week volunteering with the Living Longer, Living Smarter program.

Plenty of ways to help
She also helps out the AARP Foundation's Drive to End Hunger program in conjunction with Second Harvest Food Bank of Metrolina.

Once a month, Patterson and other AARP volunteers distribute canned goods, fresh produce, meat and eggs at schools in economically disadvantaged neighborhoods.

In addition, she devotes time to her four grandchildren and cares for her mother, who is battling Alzheimer's disease, and her brother, who is in a nursing home. "I am at the giving stage of my life. It is a blessing to be healthy enough to be able to give something back."
At 45, Nathalie Nahas Cortas is too young to be an AARP member but not too young to volunteer for the organization.

As a student from a foreign country, she is prevented by federal law from holding a job outside of school. She uses her master's degree in international business and ability to speak several languages to help teach older people about finances.

"I didn't want to just stay home. I wanted to give back to help people," Nahas Cortas said. Her AARP seminars, conducted mostly in Spanish, focus on how to avoid financial missteps, save money and set financial goals.

Nahas Cortas also helps AARP recruit volunteers from different backgrounds. Lebanese by descent, she was raised in Venezuela and came to the United States in 2008 to earn her master's degree. She is now earning a certificate in human professional services at Central Piedmont Community College in Charlotte.

"I see myself as a bridge to helping AARP reach people of diverse cultures," she said. "Charlotte is very diverse, and people from across cultures can help each other in so many ways, whether you are 99 or 9."

While living in New Jersey a decade ago, Barry Chase took the AARP Driver Safety course to receive a discount on auto insurance. He became hooked on the program, which encourages drivers of all ages to adopt driving techniques and principles that increase safety.
After training to become an instructor, he taught the course, now known as Smart Driver, for several years before moving to Raleigh in 2010.

Chase retired in 2001 from a sales position at a company that manufactures lubrication oils. He began volunteering with AARP in North Carolina two years ago. He is now the state coordinator for its Driver Safety program.

In that role he oversees 60 volunteer instructors, trains new ones and communicates with leaders from other states to develop effective driver safety teaching practices.

Asked why he gives back, Chase responded: "I don't give back. I receive the greatest possible reward from serving others.

"Seeking to enrich the lives of people has become the most profound influence in enriching my own life beyond all measure."

Want to volunteer? Contact Audrey Galloway at agalloway@aarp.org or 919-508-0264.

Rebecca Carr is a freelance writer living in Columbus, N.C.