Welcome to Reno township

May 9th marked the anniversary of the founding and naming of Reno township.

Some history:

In 1859, Charles Fuller built a log bridge across the Truckee River and charged a fee to those who passed over it on their way to Virginia City and the gold recently discovered there. Fuller also provided gold-seekers with a place to rest, purchase a meal, and exchange information with other prospectors. In 1861, Myron Lake purchased Fuller's bridge, and with the money from the tolls, bought more land, and constructed a gristmill, livery stable, and kiln. When the Central Pacific Railroad reached Nevada from Sacramento in 1868, Lake made sure that his crossing was included in its path by deeding a portion of his land to Charles Crocker (an organizer of the Central Pacific Railroad Company), who promised to build a depot at Lake's Crossing. On May 9, 1868, the town site of Reno (named after Civil War General Jesse Reno) was officially established. Lake's remaining land was divided into lots and auctioned off to businessmen and homebuilders. (source: City of Reno, Nevada - "Reno: A brief history")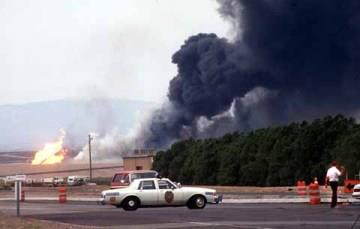 Remembering PEPCON: 25 years later

On May 4, 1988, nearly nine million pounds of rocket fuel exploded at the Pacific Engineering Production Company of Nevada (PEPCON) in Henderson. The series of explosions rocked the Las Vegas valley, claiming two lives, injuring 372 people... and causing more than $100 million in damage.

KLAS 8 News Now has compiled coverage from the day of the PEPCON disaster, as well as stories looking back 25 years later and lessons learned: Did you live in Southern Nevada during the PEPCON disaster? Share your story in the comments.