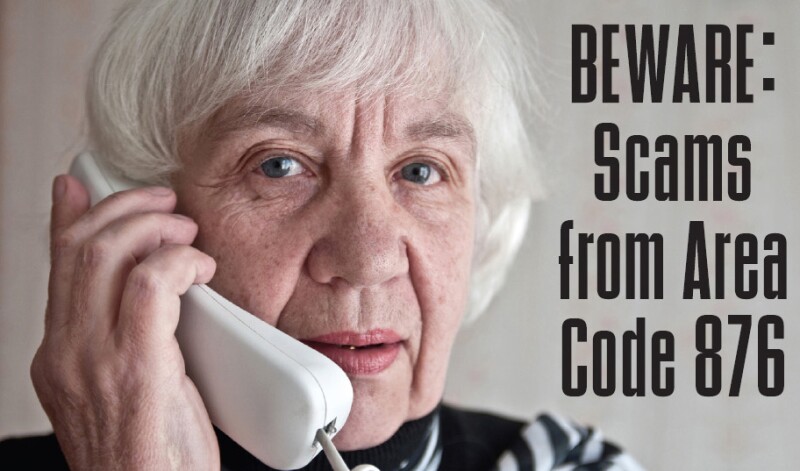 Your phone rings and caller ID shows an 876 area code. While it appears the call is coming from the US, be cautious with this Jamaican area code. If you do not have friends, relatives, or business associates in Jamaica, there is probably a scammer on the other end of line.

"Anyone receiving an unexpected call from area code 876 should be on high alert," said James Boffetti, New Hampshire senior assistant attorney general. "There is a high likelihood that these calls are from scam artists. Unfortunately, these scammers are very persistent and in some cases verbally abusive, threatening to harm victims if they do not send money."

Joining forces to educate New Hampshire residents about this scam are AARP New Hampshire, FairPoint, New Hampshire Attorney General's Office, and law enforcement. FairPoint also launched the "Beware: Scams from Area Code 876" campaign late this spring and create a website with resources to identify and prevent phone scams. Approximately 30,000 calls are made from Jamaica into the United States – each day – attempting to defraud American citizens.

The specific scam works as follows:

Seniors receive a call from an 876 area code, which is often mistaken for a toll-free number.
Victims are congratulated for winning the Jamaican lottery or a new car and then are directed to send a fee of up to $4,000 to process the lottery winnings.
Victims are told that once the fee is received, money will be wired to their bank account and the car will be delivered to their home.
Many times the caller will tell the victim that a representative of the lottery is in the area and as soon as the process fee is received, someone will deliver a check to their home. Scammers often use Google Earth to identify local landmarks and make the scam more believable.
A key to the scammer's success is convincing victims to promise not to tell their family members and to make it a big surprise. If the scammers feel they have a potential victim, the calls will increase in frequency, resulting in hundreds of calls.
The money is requested through a wire from Western Union, Green Dot Card or in a creative way such as putting $100 bills in each page of a magazine.


"Stay safe by remembering a few simple tips on preventing phone scams," said AARP New Hampshire lead fraud fighter Harold Moldoff. "Don't pay any money to collect supposed sweepstakes winnings. Never wire money to anyone with whom you are not familiar. Don't provide anyone with personal information such as bank account, pin numbers, or Social Security numbers. And contact your local authorities to report a phone scam."

To educate Granite Staters on keeping their hard-earned money, AARP has a team of volunteer fraud fighters trained to give top frauds and scams presentations to community groups in all corners of the state. There's even a new presentation on Medicare fraud. Send an email to nh@aarp.org to request a presentation or find out more.

Additional resources:

Tips for preventing phone scams

Protecting yourself from health care fraud Q&A

Protect yourself from Facebook scams

Avoiding post-disaster scams

Online virus scams freezes computers

Watch out for Social Security scams

Don't fall for this popular e-mail scam