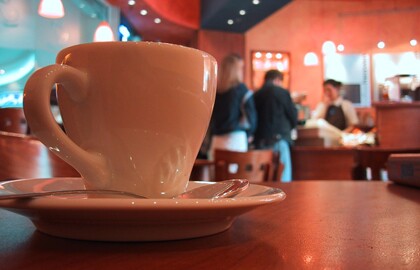 Coffee & Conversation is a community engagement program aimed at providing a space for open dialogue on topics that unite us.
The first cup is free for members and their guests; just show your AARP membership card. Get the latest buzz about AARP happenings in the Seacoast, provide your input on a variety of topics, or simply stop by and chat with friends and neighbors.

The next Coffee & Conversation event will take place on Friday, December 7, 2018 from 8:00 - 11:00 am at Teatotaller, 69 High Street in Somersworth. No registration required, just pop in and enjoy some Coffee & Conversation!

We will be hosting Coffee & Conversations once a month at different coffee shops in communities all along the Seacoast. Check back to this blog regularly to see where the next one will be. For more information please email Jeannie Tucker, Associate State Director for Outreach & Advocacy at AARP New Hampshire, at jttucker@aarp.org or call Jeannie at 603-230-4104.