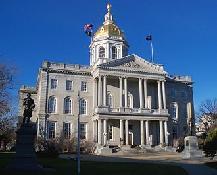 On June 27, 2019, the Legislature passed HB 696, common-sense legislation to better protect New Hampshire's older and disabled adults from abuse, neglect and exploitation. The bill, which was the product of bipartisan compromise, will soon be on its way to Governor Sununu's desk for signature. A diverse group of stakeholders is urging the Governor to sign this important bill into law.
HB 696 expands our current protective order laws to allow vulnerable adults (a person who is unable due to a physical, mental or emotional impairment to manage their own affairs or delegate responsibility to a responsible caregiver) to obtain a protective order to get immediate relief from abuse, neglect or exploitation. Some of the relief they can seek includes freezing the assets of an abuser and prohibiting the abuser from taking any of the victims' property. Such relief is not currently available under existing law.
Gary Titus, whose father was a victim of financial exploitation says:
"This bill is a wonderful addition to protecting the elderly. I wish that the bill had been in effect earlier to stop the exploitation that my father experienced."
Ryan Donnelly, Regional Advocacy Facilitator for Granite State Independent Living says:
"Granite State Independent Living is a strong supporter of House Bill 696. In addition to defending older adults, the protective orders as outlined in this important legislation will also help to safeguard people with disabilities from abuse and exploitation. It is our hope that House Bill 696 will soon receive the Governor's signature and be passed into law."
Detective Rochelle L. Jones, Community Outreach Coordinator for the Portsmouth Police Department says:
"As the department Senior Services liaison, I work with our senior population on a daily basis, and regularly investigate cases of financial exploitation and elder abuse. One of our biggest hurdles is the underreporting of these crimes because victims feel embarrassed, are afraid they will not be believed, supported, or in some circumstances will be subjected to further abuse. I understand the importance and need for the enforcement of the protections contained in HB 696. The bill is an essential new tool to help strengthen our state's response to this ever-growing problem. It is our duty as a community, to protect those, who cannot protect themselves."
Douglas McNutt, Associate State Director of Advocacy for AARP New Hampshire says:
"At AARP we know that financial exploitation is a major concern of our members. When someone has been financially exploited their money is gone and it is very difficult to get it back. This means that the resources the person was depending on are gone and this often leads to the victim needing to rely on public assistance. As this bill provides a mechanism to quickly stop the abuse, HB 696 will be a significant tool to protect against financial exploitation and preserve people's independence. AARP strongly supports this bill and urges the Governor to sign it into law."
Cheryl Steinberg is Director of the Senior Law Project at New Hampshire Legal Assistance and member of the New Hampshire Alliance for Healthy Aging. She says:
"Elder abuse and exploitation are major problems in the Granite State. New Hampshire is already the second oldest state in the country. This significant aging of our state has resulted in increased incidents of elder financial exploitation. For this reason, it is critical that victims have a mechanism to quickly stop the exploitation. HB 696 does just that. It provides a user-friendly process for older and vulnerable adults to seek immediate relief from exploitation and other forms of abuse. We applaud Governor Sununu for his past efforts in supporting our State's aging population. By allowing this bill to become law, the Governor will be taking another important step forward in protecting our state's most vulnerable citizens."
Heather Carroll, Manager of Public Policy for the Alzheimer's Association, MA/NH Chapter, says:
"With 25,000 Granite Staters fighting Alzheimer's disease every day the vulnerability of this population is compounded by the lack of a trained direct care workforce. This places individuals with dementia at a high risk of abuse and financial exploitation. HB 696 puts much needed protections in place to safeguard vulnerable adults from physical and financial harm. The Alzheimer's Association encourages Governor Sununu to sign this legislation making New Hampshire a leader in the country for protecting vulnerable adults."