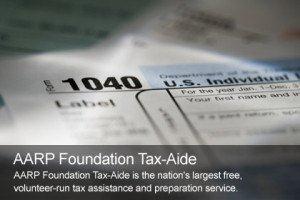 AARP Foundation provides free tax assistance, preparation, and filing for New Hampshire taxpayers with low to moderate incomes through the AARP Foundation Tax-Aide program.

AARP Foundation Tax-Aide is the nation's largest free tax assistance and preparation There are more than 5,000 AARP Foundation Tax-Aide locations in neighborhood libraries, malls, banks, community centers, and senior centers. There's no fee and no sales pitch for other services. To find a location in New Hampshire, use our course locator.

We also offer online Tax-Aide support, no matter the season.

Best of all, AARP Tax-Aide services are free to all, regardless of age, and AARP membership is not required. Before making an appointment, learn about the important documentation you'll need to bring to the Tax-Aide site.

For more free information about taxes, visit our Money and Taxes site.

Learn more about AARP Foundation Tax-Aide here or call 1-888-AARPNOW (1-888-227-7669). AARP Foundation Tax-Aide is offered in conjunction with the IRS.