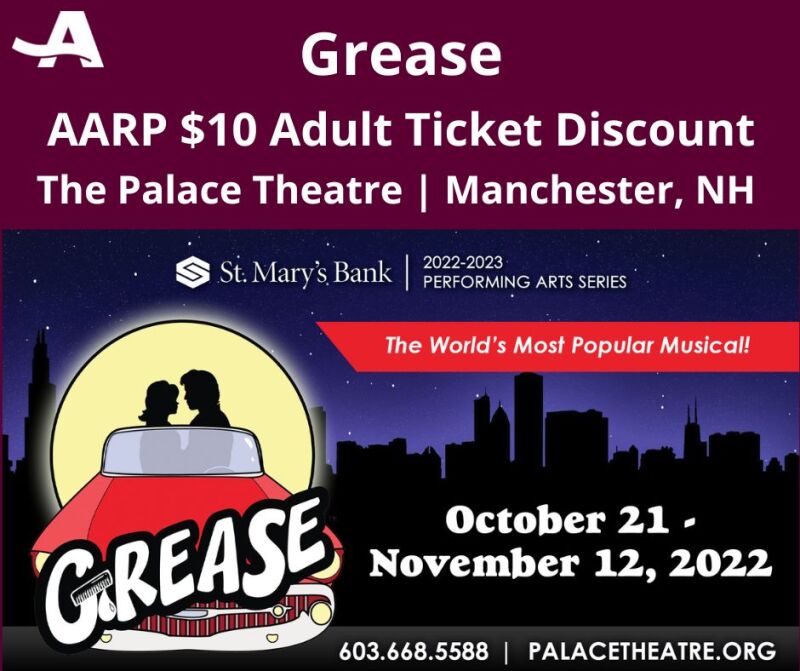 You know the story!

You know the music! Grab your friends for a night love, laughter and music at Rydell High School! With the summer of 1958 nearly at its end, Danny, the sweet American boy, and Sandy, the straight-laced Aussie girl, exchange oaths of eternal devotion, and part ways forever. However, unbeknownst to them, an unexpected change of plans will reunite the young dreamers at the bustling Rydell High for the new term, only this time, something has changed. Now, as Danny, the rebellious leader of the greaser gang, T-Birds, feels compelled to maintain his hard-earned reputation in front of his friends, Rydell's high-spirited all-girl band, The Pink Ladies, already have a big surprise in store for him. Is a radical transformation the only way to win Danny back?

The Palace Theatre is offering AARP members and their guests a $10 per adult ticket discount for Grease playing October 21 to November 12 at The Palace Theatre, 80 Hanover Street, in downtown Manchester. Performances will be held at 2 and 7:30 pm.

AARP members and their guests can purchase adult tickets online at www.palacetheatre.org/buy-tickets/ or by calling 603.668.5588. Tickets can also be purchased at the box office. To receive the $10 per adult ticket discount, use the code ACTIVE.

Don't miss this nostalgic, toe-tapping experience!