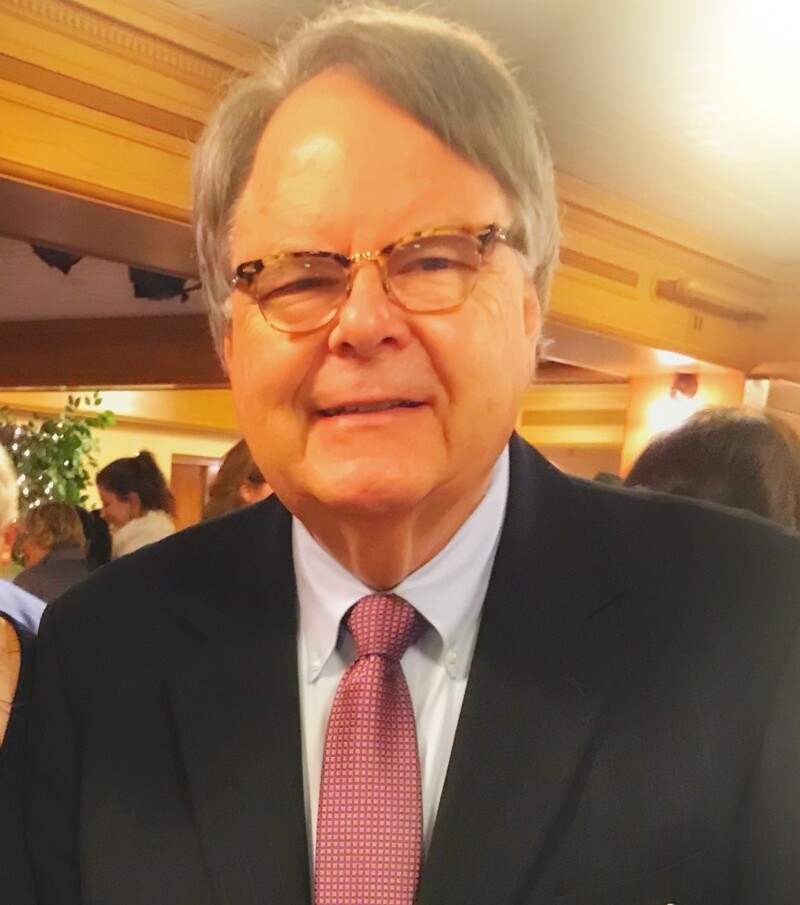 Congratulations to Richard Chevrefils, the recipient of AARP New Hampshire's 2018 Andrus Award for Community Service. The Andrus Award is AARP's most prestigious volunteer award that recognizes an individual 50 years or older who has made an impact in their community through volunteerism and inspiring others.
Dick worked as the State Director for AARP Pennsylvania between 2007 and 2011 and the State Director for AARP New Hampshire between 2003 and 2007. Now retired, Dick serves as the Regional Volunteer Director for AARP's East Region. His professional experience and volunteer service with AARP spans a total of 15 years. As his nominator, Alan Cohen, explained to AARP New Hampshire's selection committee, Dick is AARP's own "Energizer Bunny" when it comes to advocating for the issues and needs most important to members and residents of New Hampshire. According to Cohen, "Dick lives and breathes the AARP's Vision of a society in which all people live with dignity and purpose and fulfill their goals and dreams."
So how did someone with a wealth of experience like Dick get started? Born and raised in Manchester, New Hampshire, Dick attended Saint Anselm College for his undergraduate studies in Sociology and then went on to complete his Master's Degree in Social Work from Boston College. He was drawn to social work education in order to strengthen his skills and his capacity to help others.

Upon graduation, Dick continued his career with New Hampshire's Department of Health and Human Services, a career that would last for 35 years when he eventually retired as the Assistant Commissioner (Senior Division Director). During his early days with the organization, he was inspired by a mentor who was both supportive and helpful with opportunities to get involved in the community. His involvement with the Salvation Army and other community-based organizations reinforced Dick's commitment to the work of "people". He says, "Through volunteerism we are able to help people achieve new hope and new opportunities."

Other organizations that Dick has volunteered with include United Way of Merrimack County, Adoptive Families for Children, Center on Aging and Community Living (UNH), Rivier College Advisory Board and National Alliance on Mental Illness- NAMI NH to name a few. Dick is passionate about the social issues of his community. In particular, he is an advocate for caregiving and works towards finding resources and help to support caregivers. Dick is also passionate about children who are in foster care and ensuring that they achieve a permanent home. Mental health issues, such as isolation among aging populations, suicide prevention and children's behavioral health are top of mind and important to Dick.

While Dick says that all of his roles with AARP have been impactful, he says that his role as the AARP NH Volunteer State President stands out. Not only does this role ignite opportunities for people but it also mobilizes outreach and brings volunteers together. When asked to define advocacy, Dick says that "advocacy is a strong, credible and consistent voice for those who might not have one." Moreover, advocacy is about getting the message out to others in order to influence change and policies. As Cohen explained to AARP New Hampshire's selection committee, Dick has "a clear vision of what is right and what is wrong when it comes to our AARP members. He is a true advocate and emissary when it comes to issues."

What advice does Dick have for those who want to get involved in his or her community? "Just do it," says Dick. He continues, "There's no reason not to be involved with your community. You have tools to be successful. Don't be afraid to share your gifts." And that's why Dick believes in community service and volunteering with AARP, because of the convergence of different people with different gifts. This exchange of ideas and talents leads to a collective power, he noted.

Aside from his active engagement with the community, Dick likes to spend time with his family, especially his 3 grandchildren. And come November, his family will be welcoming a 4 th grandchild. His goals for the next few years are to continue on his path of volunteerism while also travelling more within the U.S. and also abroad.

The Andrus Award for Community Service honors an individual that has extended beyond the barriers of age to bring a community together through volunteerism. With someone as engaged and as thoughtful as Dick is, it truly is a pleasure to award AARP New Hampshire's 2018 Andrus Award for Community Service to Dick Chevrefils.