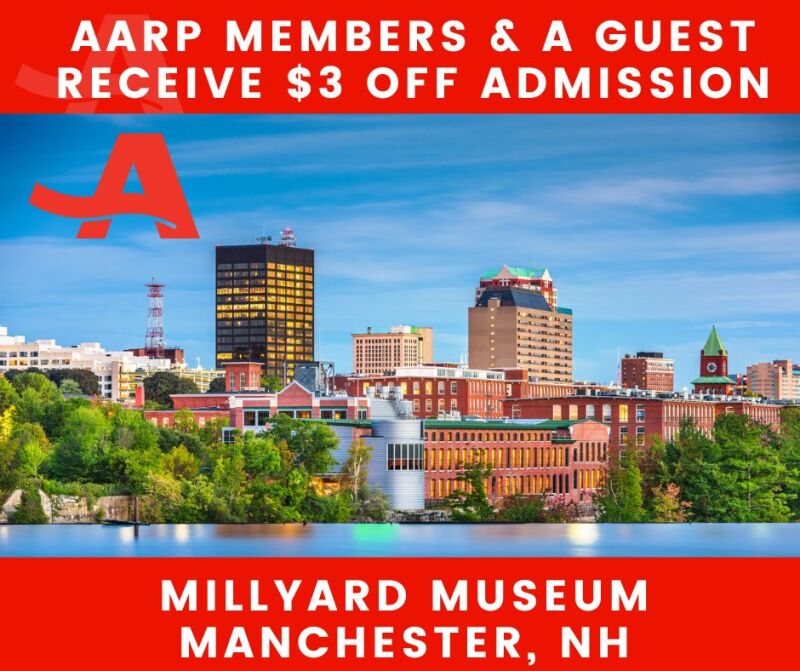 Stroll through time at the Millyard Museum and save on admission!

For all of 2023, AARP members and a guest will receive $3 off admission at the Millyard Museum, 200 Bedford Street, in downtown Manchester. Reduced price to enter will be $5.

The Millyard Museum is rich in history. The Museum features the permanent exhibit, Woven in Time: 11,000 Years at Amoskeag Falls, that tells the story of Manchester and the people who have lived and worked here. Museum attendees can see the stone tools of the Paleo-Indians who fished at the Amoskeag Falls thousands of years ago, learn how raw cotton was made into cloth during the Industrial Revolution, and stroll under the lighted arches of Elm Street during its heyday. And don't miss outstanding rotating exhibits as well.

Additionally, attendees will learn how the Amoskeag Manufacturing Company developed its famous "miles of mills" and how it shaped Manchester into the largest planned city in New England. The city's stories are also told through creative and colorful displays of original artifacts, documents and photographs, as well as murals and multi-media presentations.

All exhibits are included in the price of admission. No reservations are required. AARP members must say they are members when they arrive at the museum to receive the discount for themselves and a guest.

For details on upcoming exhibits, visit the Millyard Museum online at www.manchesterhistoric.org or call 603.622.7531.