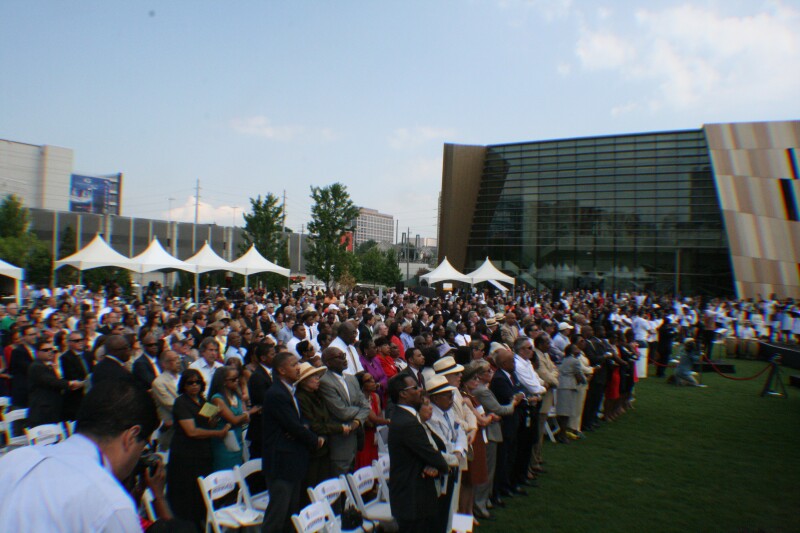 AARP Georgia and The National Center for Civil and Human Rights, Inc. (NCCHR) are unveiling a special discount to AARP members as part of NCCHR's inaugural year membership campaign.
AARP Georgia values its 1 million members within the state and the organization is excited to expand its local membership benefits. This partnership will allow AARP members access to a 30% discount on a one-year Founding Membership to the Center for Civil and Human Rights. This special offer is valid through December 31, 2015.
The special rate offers an opportunity for AARP members to experience the personal papers and items of Dr. King, Jr., to discover courageous and individual stories from the American Civil Rights Movement, and to learn about the ongoing struggle for human rights around the world through powerful stories, artifacts, videos, and dynamic interactive technology.
"AARP Georgia is pleased to partner with the NCCHR in their efforts to recognize those who fought to end injustice for all during segregation and to promote human rights for all people around the world today. AARP continues to be an advocate for a society in which everyone lives with dignity and purpose, and has an opportunity to fulfill their goals and dreams," said Greg Tanner, AARP Georgia State Director.
"We are excited to partner with AARP to establish an enduring relationship with their members, many of whom have strong ties to the Civil Rights Movement, and a desire to learn how they can help protect the human rights of all people," said Alexis Scott, Vice President, Member Relations. "We look forward to working together to share the experiences of AARP members, and to ensure that the rights of everyone, including older Americans, are respected."
The Center for Civil and Human Right's opening in Atlanta serves as an ongoing opportunity for AARP members to learn about the history of the Civil Rights Movement, contemporary human rights movements around the world, and the strong connection between the two movements. AARP encourages its 50+ population and its members to live their best lives through Real Possibilities. For information about the Center for Civil and Human Rights, visit civilandhumanrights.org.
Photo: (Opening Day of National Center for Civil and Human Rights)