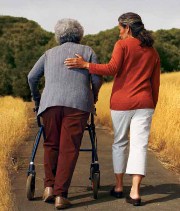 Contact: David Irwin dirwin@aarp.org

AARP Finds Many NYC Residents Caring for a Relative or Spouse Facing Burnout, Demographic Shift Spells Worse News for Next Generation
NEW YORK, New York – Across New York state, over 4 million people are providing unpaid care for a relative or spouse who is ill, frail or elderly. The value of this care is over $32 billion dollars. In New York City the group is at a breaking point, stressed out and financially strained with a looming demographic shift adding another problem, today's caregivers may not have someone to care for them.
A new AARP survey takes a harder look at the issues facing caregivers in New York City and what they want who they vote for to do about it.

When it comes to family caregivers getting the support they need, New York State lags behind the rest of the nation, ranking dead last according to the S tate Long-Term Services and Supports Scorecard. AARP says that lack of support is causing serious pressure on New York caregivers.

"Providing crucial care for older relatives is a reality for many New Yorkers and it's also a point of major struggle as they look for resources and support," said Beth Finkel, State Director for AARP in New York State. "Caregivers in New York City are strained and stressed, and they are looking for help."

The caregiving crisis in NYC:

In New York City, the lack of support is all too evident for caregivers, the AARP survey of 50+ voters in NYC finds:

40% of New York City's residents 50+ have provided care for a relative, friend or spouse who is ill, frail, elderly or has a disability.
68% do it themselves, or are able to enlist the help of friends and family, while 23% pay for a helper such as an aide, nurse or housekeeper.
59% say the caregiving puts a strain on their quality of life, including financial hardship, emotional stress and stress at work.
15% say they've been treated unfairly at work because of their caregiving responsibilities.
80% want New York City's elected officials to strengthen laws and regulations and fund services to better support family caregivers.
"Family members often juggle the care for relatives amongst one another, with the coming demographic shift, there will be fewer family members to pitch in and help," added Finkel. "Today's caregivers may wind up without a caregiver themselves; making tackling this issue at the state and city level all the more important."

Shrinking number of caregivers:

A recent AARP analysis finds the caregiving bubble in New York is about to burst, meaning there will be fewer family members to provide care for older relatives. In 2010 there were potential pool of 6.6 people aged 45-65 per one person aged 80 who would likely need care at some point. By 2030, potential caregivers in the state will shrink to 4.8 to each person over 80, and in 2050, there will be just 3.5 people to provide the care.

AARP has been working to bring the issue to the attention of the Mayoral and City Council candidates in NYC, holding a series of debates, voter engagement efforts, and grassroots activities. AARP members are expected to account for half of all votes cast in the NYC General Elections. While AARP does not endorse candidates, have a PAC, or give money to campaigns or political parties, the non-partisan membership organization does provide straight-forward information on the issues to 50-plus voters, the media and the general public.

Over the last several months, AARP has held caregiver listening sessions throughout New York State, pulling together policy leaders and stakeholders to hear about the struggles and issues facing family caregivers. AARP will be compiling a report based on the sessions along with a set of policy recommendations within the next month.



Follow us on Twitter: @AARPNY and Facebook: AARP New York

AARP is a nonprofit, nonpartisan organization, with a membership of more than 37 million, that helps people turn their goals and dreams into real possibilities, strengthens communities and fights for the issues that matter most to families such as healthcare, employment and income security, retirement planning, affordable utilities and protection from financial abuse. We advocate for individuals in the marketplace by selecting products and services of high quality and value to carry the AARP name as well as help our members obtain discounts on a wide range of products, travel, and services. A trusted source for lifestyle tips, news and educational information, AARP produces AARP The Magazine, the world's largest circulation magazine; AARP Bulletin; www.aarp.org ; AARP TV & Radio; AARP Books; and AARP en Español, a Spanish-language website addressing the interests and needs of Hispanics. AARP does not endorse candidates for public office or make contributions to political campaigns or candidates. AARP Foundation is an affiliated charity of AARP that is working to win back opportunity for struggling Americans 50+ by being a force for change on the most serious issues they face today: housing, hunger, income and isolation. AARP has staffed offices in all 50 states, the District of Columbia, Puerto Rico, and the U.S. Virgin Islands. Learn more at www.aarp.org .

####