More than three out of five voters in the last mayoral election were over the age of 50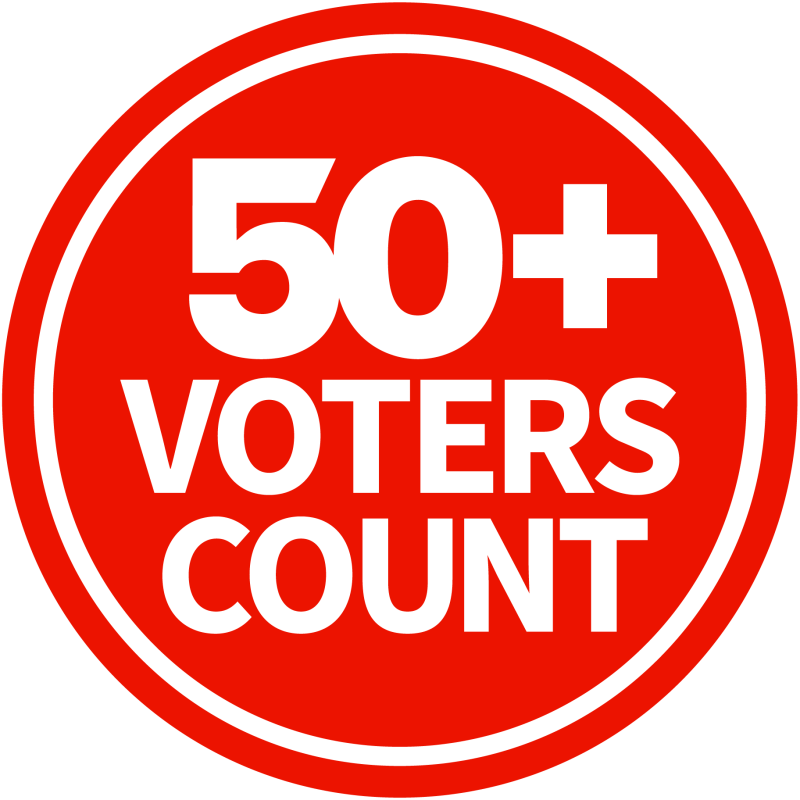 New Yorkers age 50+ helped build our city and make it the great place that it is. As we look to a post-COVID recovery, we need our 50+ neighbors to help rebuild the city and maintain the stability of neighborhoods. These residents have the experience, expertise and commitment to make New York shine again, but they also face challenges that must be addressed. Whether you are a New York City elected official, policymaker, candidate, or fellow advocate, you can benefit from understanding the issues faced by our 50+ neighbors and the solutions AARP has identified.

On behalf of our 750,000 New York City members and all residents age 50+, AARP New York calls on the next administration and City Council to develop clear plans to make New York City more age friendly so that people can safely, affordably and happily grow older here.

Drawing on our research and policy work, including our Disrupting Disparities series, AARP has collaborated with this increasingly diverse population to determine priorities to make New York better for residents of all backgrounds. This policy brief outlines those areas and provides a roadmap to ensuring New Yorkers 50+ can continue to live in the city they – and we all – love.

About AARP New York
AARP New York is a nonprofit, nonpartisan organization dedicated to empowering people 50 and older to choose how they live as they age. AARP strengthens communities and advocates for what matters most to New York City and New York State residents 50+. Our membership of nearly 2.5 million across New York State and approximately 750,000 in New York City represent every walk of life and reflect diverse populations.

About Our Advocacy Work
In 2015, AARP New York launched a local New York City advocacy initiative that began with an extensive series of surveys of voters age 50+. Our research found that livability and pocketbook issues could lead to a mass exodus as our middle-class neighbors retired and that a third of people of color surveyed thought they would never be able to retire. Based on surveys, research and discussions with members, AARP developed an advocacy agenda that since 2013 has resulted in:


Funding for additional affordable housing for older residents
Passage of Right to Council legislation, which guarantees legal representation in housing court to those who cannot afford it
Passage of legislation to protect older workers from workplace age discrimination
Expansion of free meal services for older residents experiencing food insecurity
Increased funding for case management services for homebound elderly
The creation of a statewide special counsel for utility ratepayer protection
An emergency cooling bill relief program for low-income utility customers
Expanded eligibility for the CARES Act rent relief program
Passage of paid family leave legislation
Passage of the Housing Stability and Tenant Protection Act of 2019, which enhanced New York State's rent stabilization laws
Passage of a bill guaranteeing sick leave for employees who work for business and nonprofits with 5+ employees
Creation and expansion of a pandemic-related eviction moratorium
Passage of a bill that requires NYC to develop a vaccination plan for homebound seniors
Increased funding for NORCs
Increased funding for New York's Community Development Financial Institutions Fund (CDFI)
Ensured the passage of the Age-Friendly Health System Initiative
Passage of legislation to update the SCRIE program and simplify the renewal process
Passage of legislation to expand the SCHIE and DHE programs allowing a 50% property tax assessment reduction for property owners earning less than $50,000/year
In addition to our advocacy work, we are committed to providing valuable information and resources through a wide variety of free educational, interactive and fun events.

About New York City Residents 50+
Residents ages 50 and older account for nearly a third of the New York City population and are the driving force in New York's economy, cultural life, and civic engagement. They account for the city's biggest volunteer base and represent the largest voter turnout bloc. They will be key to our city's post-COVID recovery, and we need to help them.

The clout of older New Yorkers is soaring as their population grows. Over the past decade, the number of older adults in the city—ages 65 and over—increased twelve times faster than the city's under-65 population; a record 1.24 million people ages 65 and over live in the five boroughs. This is one of the startling findings of a report from AARP New York and the Center for an Urban Future, a leading think tank.

This population is also more diverse than ever. Immigrants make up 50 percent of New York City's 65+ population, and the proportion keeps growing. At the same time, in New York U.S.-born older adults are increasingly likely to be African American, Latinx, or Asian. Today, nearly one-third are non-white. In Queens County, for example, the number of Latinx residents ages 65 and above more than doubled in just 10 years.

The 50+ population is also a major economic contributor. The group accounts for 36 percent of New York's population, yet contributes 43 percent of the state's total GDP. Their activities generated $482 billion in wages and salaries, supporting 5.9 million jobs. Incredibly, this group accounts for 39 percent of the total state and local taxes — $72 billion. And as this population increases through 2050, that total will more than triple to $255 billion.

Combine this with strong anecdotal evidence about the 50+ population's eagerness to volunteer, to support local businesses, and to embrace New York's cultural and educational opportunities, and you get a picture of a fast-growing group that is diverse, active and engaged with this great city's economic and political life.

But this group also has its challenges: one in five older adults lives in poverty, and the rates are much higher among older people of color than older white people; they are disproportionally impacted by the COVID pandemic, representing nearly all deaths; they face aging challenges including workplace age discrimination, agism, serving as unpaid family caregivers, navigating city streets and public transportation, living on fixed incomes in the face of rising costs; and more.

Top Policy Issues Among Older New Yorkers:

AARP New York has done extensive research to identify issues affecting older residents, with the goal of empowering and supporting 50+ New Yorkers to live happier, healthier, and more secure lives and be able to grow old in the communities they build and love. These are the most significant, requiring the attention and action of elected officials: Livable communities; economic security; and health and wellness. Importantly, elected officials and policy makers must challenge outdated beliefs about what it means to age, overcome ageist stereotypes and spark new solutions so we can all choose how we live as we age.

Visit AARP's extensive library of surveys, research, and reports, which you can search by state.

Recently AARP New York has worked with the Asian American Federation, Hispanic Federation, NAACP New York Conference and the New York Urban League on a series of studies exploring racial disparities in housing, health care, income, and more. The series, Disrupting Disparities, can be found here: https://www.aarp.org/nydisruptdisparities.

ISSUE OVERVIEW

New York City Budget:

Only 0.5 percent of the city budget is dedicated to aging issues, despite 20 percent of the population being over the age of 65. AARP New York calls on the City Council and the Mayor to increase support for programs and organizations that serve older residents, including housing programs, social services, access to food, nutrition and healthcare; programs that address the needs of homebound elderly; and programs that support and expand an older workforce. City-funded programs help ensure people can age in place safely, affordable and happily and the city must commit to investing more to ensure this happens.

Housing
Read more: Housing platform brief

Affordability, Gentrification and Displacement: City renter households spend an average of 41 percent of their income on housing, and more than half of city voters age 50+ are concerned about housing affordability. Decades of gentrification have pushed out the longtime residents who built neighborhoods, especially because a majority of city households are renters. AARP New York supports housing models that promote permanent affordability, updating the City's zoning codes and planning processes, programs to build more affordable senior housing, expanding Right to Counsel and more.

NORCS: Naturally Occurring Retirement Communities (NORCs) provide services to help older New Yorkers to age in their homes and stay out of costly institutional care. The city has 53 designated NORCs, but that's far from enough to serve the growing needs in neighborhoods with high concentrations of New Yorkers 50+. AARP New York is calling for funding to keep pace with the significant growth of NYC's senior population over the course of the next few years.

NYCHA: Nearly 120,000 individuals over the age of 62 reside in NYCHA apartments, representing one in five NYCHA residents. These individuals experience disparities in income, health outcomes and more. AARP New York recommends passage of Int. 1827-2019, which would create a NYCHA liaison within DFTA, the adoption of universal design principles for all renovations and more.

Transportation
Read more: Transportation platform brief

Accessibility: Inaccessible public transportation had led to older residents missing doctor's appointments, forgoing medical treatment, failing to get prescriptions filled and becoming isolated from friends and family. AARP New York supports efforts by NYC and the MTA to increase accessibility by updating zoning regulations to incentivize private developments to add elevators or other station access to public transportation.

Vision Zero: New York City's streets and sidewalks make the city a very livable place, but in certain neighborhoods, pedestrian safety is a serious concern. AARP New York calls on the city to continue investing in Vision Zero initiatives and other streetscape improvements, including curb cuts, pedestrian islands, and more to make the streets safer for aging residents.

Economic Security
Read more: Economic Security platform brief

Workplace Age Discrimination: Almost half (48 percent) of surveyed voters 50 and older experienced or witnessed at least one type of workplace discrimination related to age. With support from AARP NY, the city passed a series of workplace discrimination bills in 2020. AARP New York supports the careful and strategic implementation of those bills.

Meals/Food Security: Pocketbook issues are the greatest source of stress facing older residents, particularly aging African American, Hispanic and Asian American residents. The impact of these disparities are profoundly seen in food insecurity. AARP New York calls on the city to support a robust and well-funded home delivered meal program, including adequate funding for senior-serving organizations, and to develop a set of standards for the safe reopening of congregate meals in senior centers.

Homelessness: The number of residents age 50+ experiencing homelessness and living in the shelter system tripled to 17,000 in the last dozen years. AARP New York supports Int. No. 1996, a reporting bill that will provide the city with a much better grasp on how many older New Yorkers are experiencing or are at risk of experiencing homelessness.

Health and Wellness
Read more: Health and Wellness platform brief

Caregiving: Approximately one million family caregivers in New York City provide unpaid care, with half providing over 30 hours of care each week. AARP New York supports the establishment of the Family Caregiver Tax Credit and calls on the City's Department for the Aging (DFTA) to expand its outreach efforts to both informal and formal caregivers with multilingual and culturally competent materials.

Senior Centers: A network of city-funded senior centers provide indispensable services to approximately 124,000 older New Yorkers. These centers are essential to the physical and mental wellbeing of older people, but they are underfunded. AARP New York supports increased funding for meals delivered in and by centers, and an increase in the indirect cost rate.

COVID Vaccine: As of the end of March 2021, 40 percent of adults over the age of 65 have been fully vaccinated, but that number drops to 16% among Asian and Black 65+ year older and 17% among Latino older adults. While supply is an issue, so is distribution. AARP New York supports increased efforts to vaccinate Asian, Black and Latino community members, the creation of a unified scheduling system, and vaccination accessibility for all homebound elderly.

High-Speed Internet Access: Incredibly, half a century after the introduction of the Internet, 42 percent of New Yorkers age 65+ lack access to high-speed internet service. AARP New York supports proposed legislation to increase investment by the city to build out the city's infrastructure and address broadband access.