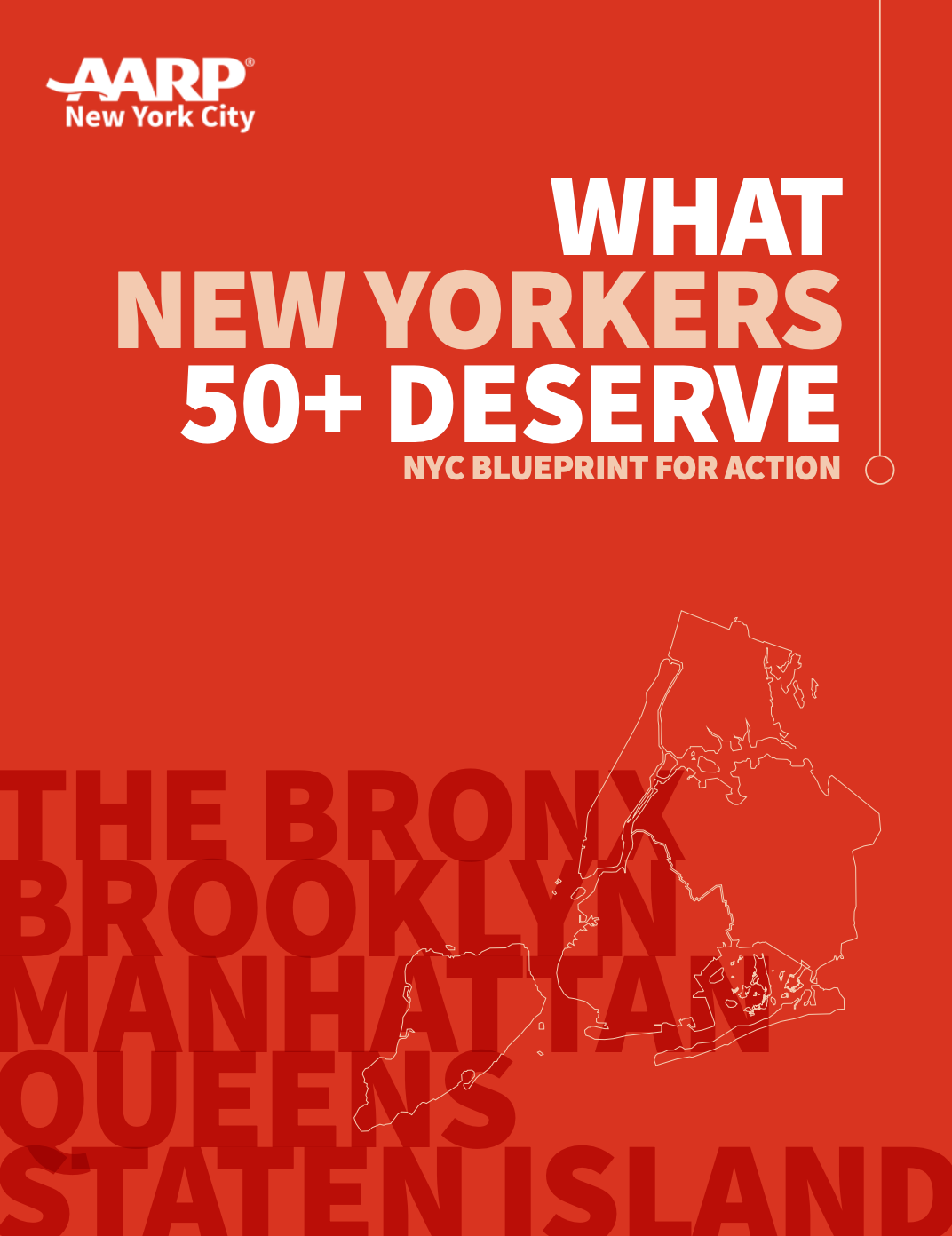 Services and Supports Not Keeping Pace
MyCity Portal Should Include Data Matching and Auto Applications for Benefits
NEW YORK, N.Y. - AARP New York State Director Beth Finkel issued the following statement today in response to New York City Mayor Eric Adams' State of the City Address: "New data shows New York City's 65-plus population grew 36% in the past decade, but services to support older New Yorkers have not kept pace.

"We have been encouraged by the mayor's commitment to an age-friendly NYC, specifically the creation of a Cabinet for Older New Yorkers, designed to be more responsive to the needs of older residents. The MyCity portal may too help older adults learn about the services and benefits they qualify for, but that portal must be matched by a city-side universal portal for benefits with data matching and automatic applications for benefits.

"Overall, we are hoping to hear more about the Mayor's plans to ensure our parents, grandparents, and older loved ones get the services they deserve and need to live safely in their homes and communities. We are also worried about pending budget cuts, especially given that the Department for the Aging currently gets less than half a percent of the city funding.

"This is especially urgent given increased poverty and diversification among older adults, as a new report from the Center for an Urban Future found. What older adults need most from the City is support to reduce food insecurity, increased services for family caregivers, expanded NORCs, more accessible transportation, support for older workers seeking employment and an ageism-free city that protects older adults from age discrimination, particularly in the workplace, among others."

AARP NY's recommendations can be found in our blueprint, What New Yorkers 50+ Deserve.

NEW REPORT: Keeping Pace with an Aging New York State, issued this week by the Center for an Urban Future, found:

New Yorkers ages 65 and over accounted for 16.2 percent of the city's population in 2021, up from 12.3 percent in 2011. Overall, there are now 1,373,495 people ages 65 and over.

The number of older adults increased by at least 32 percent in every borough during the last decade, with Queens experiencing the fastest growth (39.3 percent).

One in every four older adults in the Bronx is living in poverty, the highest rate in the state, while the poverty rate for older adults is over 15 percent in both Brooklyn (20.9 percent) and Manhattan (16.3 percent); The number of older adults in poverty on Staten Island increased by 63 percent—from 5,132 in 2011 to 8,380 in 2021.

The number of foreign-born older New Yorkers, and their diversity, are up:

Brooklyn's older immigrant population grew by 46 percent over the past decade, while its U.S.-born older adult population increased by 24 percent.
In Queens, the foreign-born older adult population increased by 60 percent, while the U.S.-born older adult population increased 14 percent.
In Manhattan, the immigrant older adult population increased by 43 percent, a faster rate than the growth in US-born older adults (27 percent).
The Bronx has the most diverse U.S.-born older adult population in the state, 82 percent non-white.
The Bronx's population of older immigrants increased by 30 percent over the past decade, while the number of U.S.-born older adults grew 39 percent.
Today, 31 percent of all older adults on Staten Island are immigrants, up from 25 percent in 2011.
While Staten Island's white older adult population expanded by 26 percent over the past decade, the African American older adult population grew 37 percent, the Hispanic older adult population grew 60 percent, and the Asian American older adult population grew 99 percent.
About AARP
AARP is the nation's largest nonprofit, nonpartisan organization dedicated to empowering people 50 and older to choose how they live as they age. With a nationwide presence and nearly 38 million members, AARP strengthens communities and advocates for what matters most to families: health security, financial stability, and personal fulfillment. AARP also produces the nation's largest circulation publications: AARP The Magazine and AARP Bulletin. To learn more, visit www.aarp.org, www.aarp.org/espanol or follow @AARP, @AARPenEspanol, and @AARPadvocates, @AliadosAdelante on social media.

Contact: Chris Carola, ccarola@aarp.org, 518-316-0840