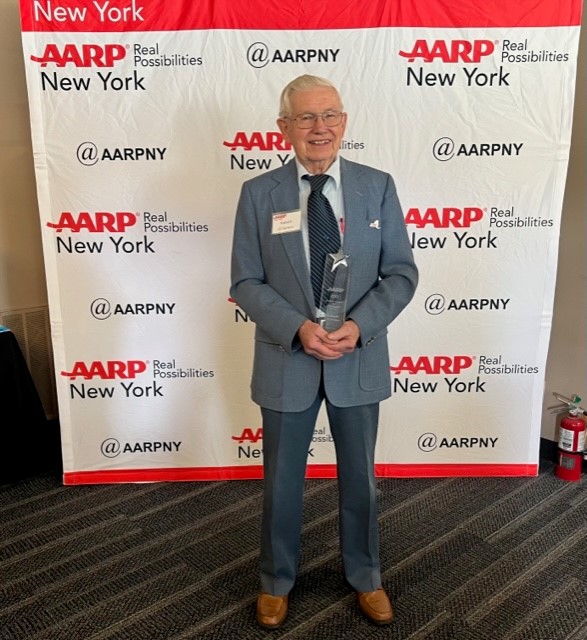 SYRACUSE, NY—Robert O'Connor was honored today with AARP's highest award for community service. O'Connor of Fayetteville was presented with the 2022 Andrus Award for Community Service at the AARP Community Service Luncheon in Syracuse.

Named for AARP Founder Ethel Percy Andrus, the award recognizes outstanding individuals who are sharing their experience, talents and skills to enrich the lives of others.

For more than 24 years, O'Connor has served as the lead Congressional Volunteer for AARP NY in Onondaga County. Throughout the years, Bob has worked tirelessly at the state and national level, devoting his time to empowering New Yorkers to choose how they live as they age. He worked on many of AARP's issue campaigns, such as preserving increasing funds for home- and community-based services, Social Security, making prescription drugs more affordable and creating livable communities for people of all ages. O'Connor helped lead numerous voter education initiatives and was instrumental in obtaining thousands of signatures on petitions directed at legislative leaders at the state and national level.

"Not only is Bob exemplifying the AARP motto to serve, not to be served but he lives and breathes it. As a lead volunteer, he has transposed his life experience in advocating on behalf of 50-plus NYers with intention. He provides a local voice for older New Yorkers and connects with stakeholders about the issues that are most important to the 50+," said Beth Finkel, AARP New York State Director. "He has answered AARP's call to be a wise friend and a fierce defender. His unwavering commitment to older adults is inspirational and has been his purpose since the 1970s."

"Volunteers are the backbone of AARP. Bob's work exemplifies the difference a volunteer can make for all AARP members and all older New Yorkers," said James O'Neal, AARP's State President. "I am honored to be working alongside him."

"Bob has been our rock, our go-to, our reliable one-stop advocate for many years," said David McNally, AARP NY's Director of Government Affairs and Advocacy. His background in aging and long-term care, his enthusiasm for organizing and planning, and his dedication to AARP' motto—to serve, not to be served—has been and continues to be an inspiration to me in my many years of working and knowing Bob. For years, Bob has fought the good fights to protect, defend, and strengthen programs important to older New Yorkers, their families, and their communities."

In addition to being instrumental to AARP NY's advocacy efforts throughout the last 23 years, his dedication to AARP's mission and being of service also shines through his years spent as the AARP Onondaga Chapter President from 2009-2011 and 2018-2022.

"We are so lucky to have Bob and be able to work alongside him," said Kat Benedetti-Fisher, AARP NY's Associate State Director of Community Engagement, who coordinates volunteers in Central and Western New York. "He has inspired so many volunteers throughout the years."
As a former leader in the aging area, he brought insight and wisdom to AARP activities.

He is a staple in Syracuse known both as a community advocate and for his years serving in a professional capacity with the Onondaga County Office for Aging from 1975-1998.

He developed many programs that keep people in their homes and communities. He also developed a special transportation program to serve older county residents while working for the Cayuga County Planning Office from 1974 to 1975). O'Connor received a bachelor's degree from Hartwick College and a master's from the University At Albany - SUNY.

O'Connor was selected from a pool of nominees from across New York State based on their ability to enhance the lives of AARP members and prospective members, improve the community in or for which the work was performed, and inspire others to volunteer.

To learn more about volunteer opportunities with AARP New York, please visit www.aarp.org/nyvolunteer.

Follow us on Twitter: @AARPNY and Facebook: AARP New York

AARP is the nation's largest nonprofit, nonpartisan organization dedicated to empowering Americans 50 and older to choose how they live as they age. With nearly 38 million members and offices in every state, the District of Columbia, Puerto Rico, and the U.S. Virgin Islands, AARP works to strengthen communities and advocate for what matters most to families with a focus on health security, financial stability and personal fulfillment. AARP also works for individuals in the marketplace by sparking new solutions and allowing carefully chosen, high-quality products and services to carry the AARP name. As a trusted source for news and information, AARP produces the nation's largest circulation publications, AARP The Magazine and AARP Bulletin. To learn more, visit www.aarp.org/ny or follow @AARPNY on social media.