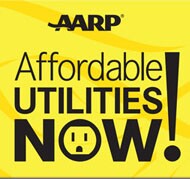 More than three years since Hurricane Sandy ravaged New Jersey, residents are still battling the fallout, including power companies' demands to raise rates to repair and upgrade infrastructure. On behalf of consumers, AARP New Jersey is fighting unreasonable rate hikes.

Public Service Electric and Gas (PSE&G) proposed a $1.6 billion increase to replace aging, leaky cast-iron gas pipes with stronger plastic lines. Amid pressure from AARP and other consumer advocates, PSE&G agreed to scale back the project to $905 million. The deal would raise gas rates for PSE&G's average residential customers by 1.5 percent annually over four years, adding about $4.82 to their monthly bills.

Having trouble paying utility bills? For those who meet eligibility requirements, help is available through the Lifeline Program at 800-792-9745 and the Temporary Relief for Utility Expenses (TRUE) Program at 732-982-8710.