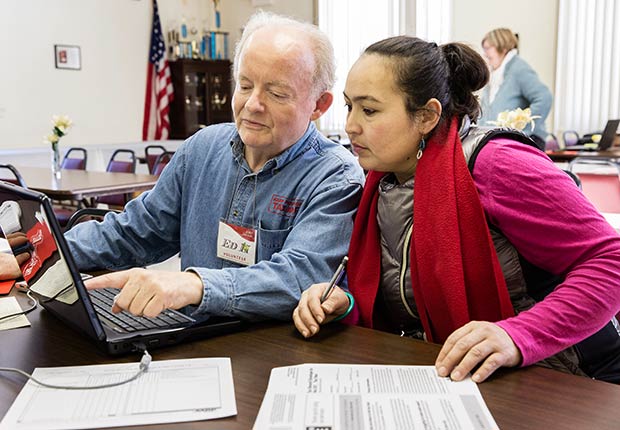 By Christina Hernandez Sherwood

Richard Satyavan has been helping people in Middlesex County prepare their tax returns since 2011. Now he's the coordinator for three of the county's 12 AARP Foundation Tax-Aide sites. Helping others prepare their taxes, and learning about various areas of the tax code, helps Satyavan with his own returns.

"It keeps me challenged and informed," he said. "It's a kind of win-win situation to help people to be helped."

A retired software consultant originally from India, Satyavan, 71, of North Brunswick, said he prepares tax returns in English but also tries to help clients who speak an Indian language or broken English.

In New Jersey, tax preparation assistance is available in Spanish, Mandarin, Hindi, French, German, Italian, Russian, Tagalog, Korean and, of course, English, said Gary Blauth, 70, of Lavallette, state coordinator for Tax-Aide, the nation's largest free, volunteer-run tax preparation and assistance service.

Ed Horigan, 67, of Freehold, was a Tax-Aide volunteer for more than a decade when he opened a site last year to serve his church and reach out to the local Latino community.

Along with two other volunteers, Horigan, a retired computer scientist who still does some financial planning, spent the 2015 tax season preparing 112 returns at the Bethel AME Church of Freehold.

Many of the clients were undocumented immigrants. While preparing their returns, the volunteers also explained the U.S. system of banking and taxes to them.

Horigan said his assistance helps these immigrants to assimilate into the country. "If you get them integrated into society, they will contribute," he said. "We're basically serving a population that's underserved."

Don Alemany, of Lakewood, a semiretired insurance broker and Freehold Tax-Aide volunteer, said he was also motivated to help undocumented immigrants with their tax returns.

"By coming in and paying taxes, to me it shows they're trying to move in the right direction," he said.

The Tax-Aide program began in 1968 with four volunteers. Today, roughly 35,000 trained volunteers nationwide help more than 2.6 million taxpayers file their returns. Tax-Aide is open to anyone, even non-AARP members, although it gives special attention to low- and moderate-income people 50 and older.

In New Jersey last year, about 1,000 volunteers prepared more than 40,000 federal returns. State returns are also included in Tax-Aide's free service. This year, tax preparers who have completed training and are certified by the IRS are working at 150 Tax-Aide sites throughout the state.

"As tax returns become more complicated, we help taxpayers with new aspects such as reporting health insurance coverage required by the Affordable Care Act, determining eligibility for the Earned Income Tax Credit, and other benefits," Blauth said. "We also save taxpayers the expense of paid tax preparers."

What to bring
Clients are asked to bring the following documents to their Tax-Aide appointments:

Last year's tax returns, a photo ID for each filer and Social Security cards (or other official documentation) for everyone on the return, including children.
All income information, including W-2 forms; unemployment compensation statements; and 1099 forms for miscellaneous income, Social Security benefits, pensions, annuities, interest income and dividends.
Health insurance 1095 forms, if applicable.
All forms indicating federal income tax paid.
All receipts or canceled checks if itemizing deductions.
Checkbook or bank routing and account numbers if you want direct deposit for refunds.
For a complete list of documents, go to aarp.org/taxdocs. To locate a Tax-Aide site, go to aarp.org/findtaxhelp or call 888-227-7669 toll-free.

Christina Hernandez Sherwood is a writer living in Collingswood, N.J.