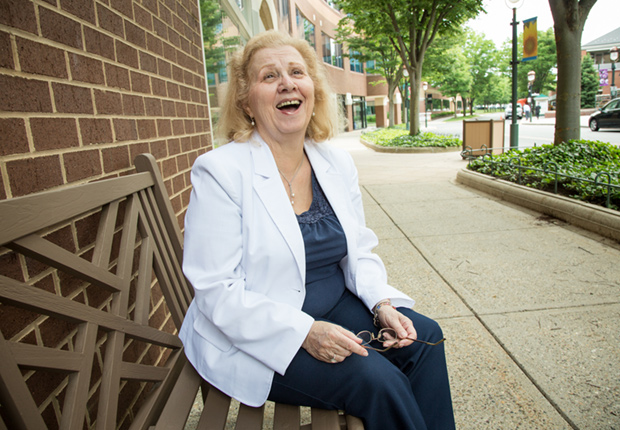 By Christina Hernandez Sherwood

When Lilyan Cralle signed up to be a volunteer for AARP New Jersey, she landed a coveted spot on the state's advocacy council because of her background as an activist for women's rights. Cralle, a retired actuarial analyst from Willingboro, said issues affecting older people are just as meaningful to her. "It's important our society values senior citizens," she said.

Cralle, 74, who still promotes the Equal Rights Amendment and lectures on the life of its author, Alice Paul, at the Alice Paul Institute in Mount Laurel, said her advocacy for older people through AARP excites her as well: "It's important work and it suits me."

On the advocacy council, Cralle meets monthly with a handful of other volunteers and AARP staff members to discuss issues including health care, taxes and telecommunications. "I call it a perfect match: me and advocacy," Cralle said. "I'm so happy I can do something I believe in."

A one-year member of the council, Cralle said there have been many satisfying moments. In one recent instance, she testified on behalf of AARP New Jersey members before a state Assembly committee on a telecom issue. "I was the only person in the room" who was there as a volunteer, Cralle said. "I was proud of that."

About 350 of New Jersey's 1.3 million AARP members volunteer with programs including driver safety education, tax preparation and utility advocacy. Hundreds of others offer their time or services on a more casual basis.

"We just have an enormous amount we want to do," said AARP New Jersey president Dave Mollen, 72, of Union. "We wouldn't scratch the surface of what we want to do if we couldn't rely on volunteers."

Volunteers can also make a difference in advocacy efforts, particularly when they show up in force wearing AARP T-shirts, Mollen said. "That room full of red shirts really makes an impression about what's in the public interest," he said.

'If I can help, why not?'

Madlyn Fergang, 77, of Monroe Township, has been the AARP New Jersey recruiter for volunteers for about 17 years. Along with mobilizing prospects by phone or in person, Fergang works with hundreds of volunteers across the state on issues including identify theft, prescription drugs, independent living, Social Security and Medicare.

Fergang, who ran three employment agencies before her retirement in 1995, won the 2011 Andrus Award—named for AARP founder Ethel Percy Andrus—for community service for her efforts. "AARP has a lot to offer. They're a good organization. We stand by each other," she said. "If I can help, why not?"

Ken Lindhorst, 73, of Summit, became the chief utilities advocate for AARP New Jersey after retiring from AT&T, where he was responsible for regulatory issues. "It was something I faced every day and knew something about," he said.

In his role with the volunteer Utility Watchdogs, Lindhorst provides insight and assistance whenever there is an issue related to a New Jersey utility or the state's Board of Public Utilities.

He is currently advocating for residents who live in areas where Superstorm Sandy knocked out telephone infrastructure. "You can't go fishing every day," Lindhorst said. "I want to give back to society. … It's rewarding to work on something and see it happen."

To learn more about volunteering with AARP New Jersey, call 866-542-8165 toll-free or email aarpnj@aarp.org.

Christina Hernandez Sherwood is a writer living in Collingswood, N.J.