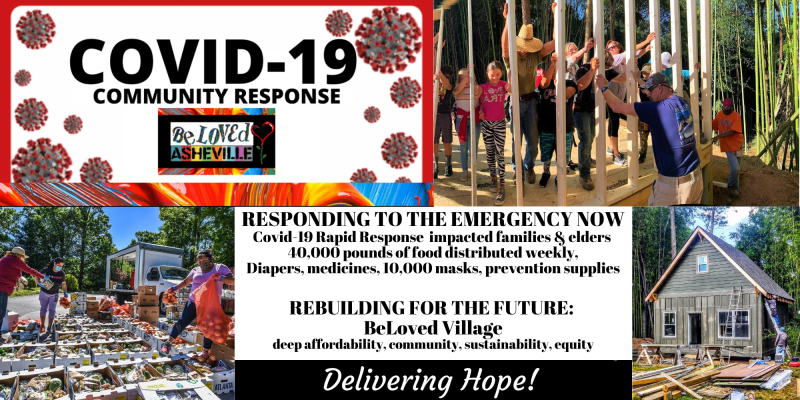 "Aging in place" is a popular concept among seniors these days. A 2018 AARP poll showed 3 in 4 older adults (50+) want to live at home as long as they possibly can. That's great for people with homes, but what about homeless seniors, or homeowners threatened with foreclosure, or renters facing eviction?

Rev. Amy Cantrell is co-director of BeLoved Asheville, an organization with an innovative approach to getting seniors into a home, with the security and equity that home ownership represents.

BeLoved Asheville's solution lies in part in building micro-homes, which pack efficiency, affordability, and good design into small square footage that makes the most of its vertical space. These homes––generally around 500-700 sq. ft.––satisfy our very human need for a place that is ours, that we love, that is part of a community.

BeLoved Asheville also recognizes the value of forming strong, strategic partnerships with community stakeholders, including AARP. "We couldn't have gotten this far without our partners," says Cantrell.

Beyond having four walls and a door, why is home ownership so important? First of all, NOT having a home is a hazard to your health. It is one of the social determinants of health (SDOH) as outlined by the World Health Organization and the Centers for Disease Control (CDC). Second, having equity in a home is one way to build wealth over time. Third, having a home makes a family part of a community, and that feeling of belonging is another way to combat social health detriments.

"Having a home address doesn't just provide a feeling of security. It helps with your credit, your job prospects, your child's schooling, even your ability to vote," Cantrell points out.

So BeLoved Asheville is building a village of deeply affordable homes––for people with what the Department of Housing and Urban Development (HUD) calls, "extremely low incomes," or 30% of Asheville's area median income (that's $13,950 per year for a single individual)––on donated church property in East Asheville.

"A person has to feel at home in his or her home," Cantrell says. "We designed our micro-homes for accessibility and for an instant feeling of community. For example, every home has a front porch and a garden space. We also made them affordably efficient, so that people could be confident that their equity would grow over the long haul." For seniors, that can mean they are able to age in place.

BeLoved Asheville is gung-ho on older adults, as Cantrell explains: "We believe that seniors have the expertise, passion, and compassion to make a tremendous difference in the housing crisis and in our current moment. That's why we created 'Elders for Home.' We train interested 50+ people to be ambassadors for creating deeply affordable housing. There are many ways for Elders for Home volunteers to donate their time, talents or treasures to build the BeLoved Village (our first village) and subsequent villages."

To get more information or to volunteer, contact ____.

BeLoved Asheville at www.belovedasheville.com or belovedasheville@gmail.com

Learn how the AARP Foundation is working to improve access to safe and affordable housing.
About AARP North Carolina