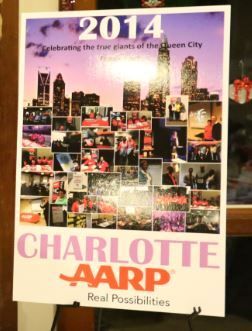 AARP North Carolina Awards Several Charlotte Volunteers for Their Commitment to Serving the 50+ Community in the Queen City

CHARLOTTE– AARP North Carolina recently presented awards to several local AARP volunteers for their commitment to making Charlotte a better place for all. Since AARP began a permanent presence in Charlotte in 2013, the AARP Charlotte Volunteer Network was recruited and developed. The Network is composed of dozens of volunteers from various backgrounds who all share a commitment to giving back to their communities and making Charlotte a better place for all.

The Network facilitated a host of AARP programs and activities in the city over the last two years. Dozens of events including workshops, booths at community events, speaking engagements, and community service projects made an impact in the Queen City, thanks to the commitment of the volunteers.

Throughout the year, several volunteers stood out in their commitment and were formally recognized by AARP. 2014's Award Winners include:

Bets McCurley – 2014 AARP Queen City Award - for living up to the AARP mission "to serve and not be served", exhibiting selfless devotion to help others regardless of the issues, task or time.

A Charlotte resident of 25 years, Bets retired from the IT world as an I ndependent Consultant IT Senior Project Manager two years ago and quickly started looking for ways to give back to her community. Bets received a letter from AARP about new volunteer opportunities coming to Charlotte and she took advantage of the opportunity to learn more. Since that day in the spring of 2013, Bets has played a consistent role in developing and sharing AARP resources with the people of Charlotte.


A strategic thinker with unparalleled leadership and facilitation skills, Bets was asked to lead a team of volunteers sharing the AARP Decide. Create. Share workshop series (now known as Living Longer, Living Smarter). This four-part program provides comprehensive resources to individuals who need to prepare their families for the challenges of long term care. As Team Lead, Bets recruited and trained facilitators, secured workshops, and provided a strategic vision for the program to ensure it would be most relevant to the diverse communities of Charlotte. As a member of the Charlotte Volunteer Leadership Team, Bets' role provided invaluable insights to how AARP should share its programs and resources in the Queen City.

When not working on AARP programs Bets' commitment to serving Charlotte continues. She also volunteers with the Central Piedmont Community College GED Program and Hands On Charlotte. She also co-founded the Aging Solutions LGBT Network, a group of LGBT and non-LGBT community leaders dedicated to addressing the unique challenges of the aging LGBT community and their families.

For Bets, the appeal of working with AARP extended past her duties as Team Lead. "The Charlotte Volunteer Network offered opportunities to be engaged in a wide variety of programs, she said. "It also provides gatherings with wonderful like-minded people. Some of the best people I have ever known I have met through the Network."

Today Bets' role with Volunteer Network has slowed down and she has stepped down from her post as Team Lead of Living Longer, Living Smarter to give someone else a chance. Still, her role with the Network is significant.

"Bets is hands-down one of the most inspiring people I've ever met, said Mike Olender, Associate State Director of AARP North Carolina. "Her insights have made me better at my job, the Network stronger and her personal strengths touch everyone around her. We are truly lucky to have her."



Ella Mae Ware Simpson – 2014 AARP Leadership Award - for demonstrating superior leadership skills while advancing the mission of AARP, exhibiting the best qualities of AARP in the city of Charlotte

Ask this New York native if she ever stopped teaching, and she'd probably tell you she's just getting started. A former teacher of the New York City School System, her last formal teaching job might have been Assistant Principle at NYC's Chelsea High School, but her time volunteering with AARP in North Carolina has given her plenty of opportunity to use her teaching skills in new ways.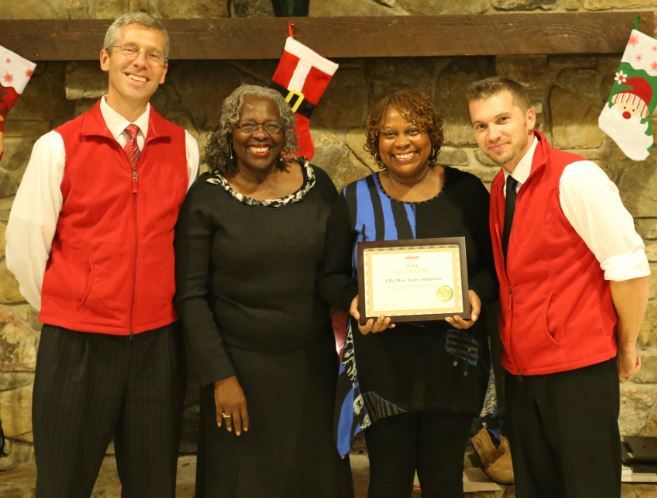 A resident of Mint Hill since 2006, Ella Mae and her husband Tommy were initially recruited to work on AARP's multicultural outreach program run out of the Raleigh office. But a recruitment letter about new opportunities in Charlotte caught her interest and she showed up to find out more.

She made a strong impression right from the start.

"Ella Mae's New York mannerisms caught me a little off guard, even though I'm originally from up north, jokes Mike Olender, AARP Associate State Director in Charlotte. "I kid with her about that now, but the truth is that within 10 seconds of speaking with her that day, I realized that she was a natural leader with tremendous confidence. It was clear that she could be a strong partner in what we were attempting to accomplish in Charlotte."

Ella Mae's experiencing in teaching led her to be interested in AARP's Financial Security work and by the end of AARP's first year on the ground in Charlotte, a local team was emerging and Ella Mae was the obvious choice to lead the team. A few months later, her team had been trained in the new AARP Foundation Finances 50+ program, a three-part series helping people develop strong habits in budgeting, using credit and saving. Despite other obligations, Ella Mae found time to lead the team and be an active member of the Charlotte Leadership Team, all the while still being active in the AARP multicultural program, which boasts two consecutive years of Financial Freedom conferences in Charlotte.

Today, the Finances 50+ program is the most consistently requested AARP workshop in the Charlotte area. Without Ella Mae's leadership, that foundation would not have been built.

However, her modesty is as apparent as her northern accent and she finds the rewards in having an impact on people. "I am proud of the Finances 50+ workshops because it was great to see the participants' eyes light up and their smiles when they were presented with valuable information".



Joetta Glover – 2014 AARP Leadership Award - for demonstrating superior leadership skills while advancing the mission of AARP, exhibiting the best qualities of AARP in the city of Charlotte

In 2013, three great things happened in the city of Charlotte. One, AARP North Carolina came to the Queen City to establish a staff and a new Volunteer Network. Two, Joetta Glover moved from Fayetteville to call Charlotte her new home. And three, the two met with the mutual interest of making a positive impact for all in the Queen City.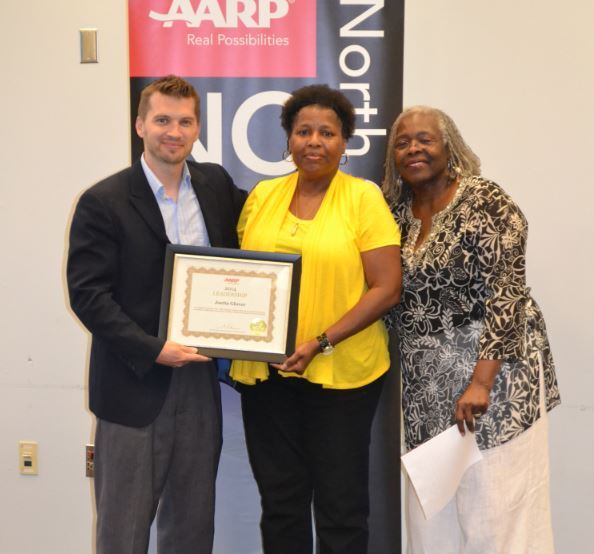 Joetta, a retired federal employee of 32 years, found AARP not long after moving to Charlotte and, like several others, found out about AARP through its letter asking for volunteers to help create a new Network of volunteers. Initially interested in helping out with AARP's multicultural outreach programs, Joetta caught the eye of local AARP staff in Charlotte and quickly took on a leadership role.

Associate State Director Mike Olender remembers the day well.

"I received a call from Joetta while she was volunteering at an AARP booth at a community event. There was an issue that needed troubleshooting and she took the lead in resolving it, Olender said. "What stood out to me was the fact that she recognized something that needed to be addressed, got me on the phone and took care of it. Her initiative in managing a sensitive situation made me see that she was someone very special"

Shortly after that experience a new position was created in the Network specifically for Joetta - Community Outreach Coordinator. Joetta's role to manage AARPs presence at community events and assist in extending outreach into the community was a difficult one but one for which was well suited. Her work led not only to better organized AARP exhibits in the community but numerous leads for future AARP workshops and programs. Her innovative approach and eye for details made for excellent community events with lots of engagement with visitors to AARP exhibits.

Always on the move, Joetta's interests include couponing, traveling, event planning, walking and bargain shopping - which are fun to learn! But Joetta's high spirits, sense of humor and charm are what is mostly enjoyed by all. Her peers on the Network have called her "one of the most enjoyable people I've ever met. The woman truly loves life."



Dan Woodall – 2014 Community Commitment Award - for advancing the mission of AARP to make a positive impact in the city of Charlotte, exhibiting the best qualities of AARP in the city of Charlotte

Dan Woodall joined the AARP Volunteer Network at its very first volunteer recruitment event in Charlotte. Since that day he's been an essential member of the Network that often "saves the day" behind the scenes and keeps AARP trainings and programs moving forward as scheduled.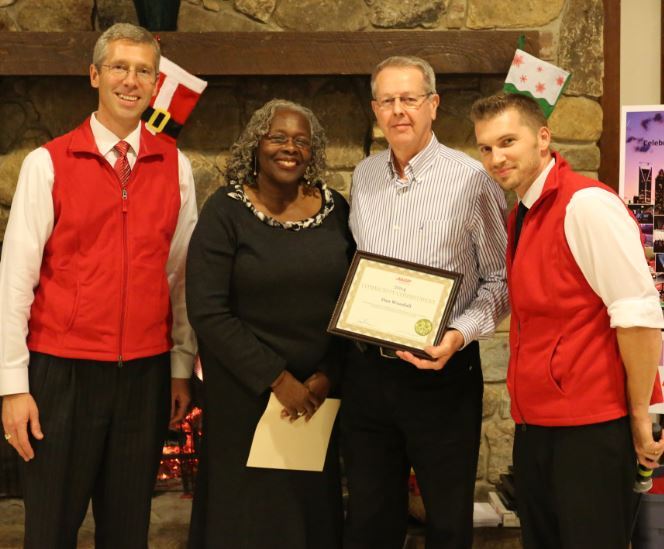 A Charlotte resident for 26 years, this former banker and church administrator has worked in many of AARP's areas of outreach and engagement. Though his primary interest in AARP's work was livable communities, his commitment to helping make the city a more walkable and livable city is just the tip of the iceberg.

"Dan has been an incredible partner in the work AARP is doing in Charlotte, said Mike Olender. "He has repeatedly helped us logistically with securing venues and other needs, much of the time with very short notice. And his input to helping us plan in a strategic fashion has helped AARP be a more relevant organization in the city of Charlotte. And that's not a small thing!"

Dan is an essential part of the AARP Livable Communities Team, particularly on walkability initiatives. He was a leader in evaluating intersections throughout the city during AARP's Walkable Charlotte Week and took the lead in working with a school on International Walk to School Day. As AARP looks for new ways to be engaged in walkability initiatives, Dan is right there at the table to inform our planning so we can have the most impact.

In addition to AARP, Dan volunteers with St. Peter's Episcopal Church and Blowing Rock Home Owner's Association, which consumes much of his time. When not serving, Dan enjoys creating beautiful stained glassed pieces, walking, reading and serving on Boards.

Even with his plate full, Dan is a remarkable ambassador for the AARP Network. "Volunteering with AARP is unique because it offers flexibility in scheduling, offers a variety of opportunities, helps me learn more about being an older person and allows me to share those learning's with others who often can benefit directly from one or more services provided by AARP, he said. "There are so many opportunities to stay engaged, there is just not enough time to take advantage of all of them."



Jim Hansen – 2014 Community Impact Award - for advancing the mission of AARP to make a positive impact in the area of finance management, exhibiting the best qualities of AARP in the city of Charlotte

"I spent my working years focused on work and family. Now it is time to help others where I can."

Jim Hansen's words reflect what his peers see in his commitment to make an impact in the community – a man who came to a point in life where he realized he could use his gifts, skills and know-how to help others who need it.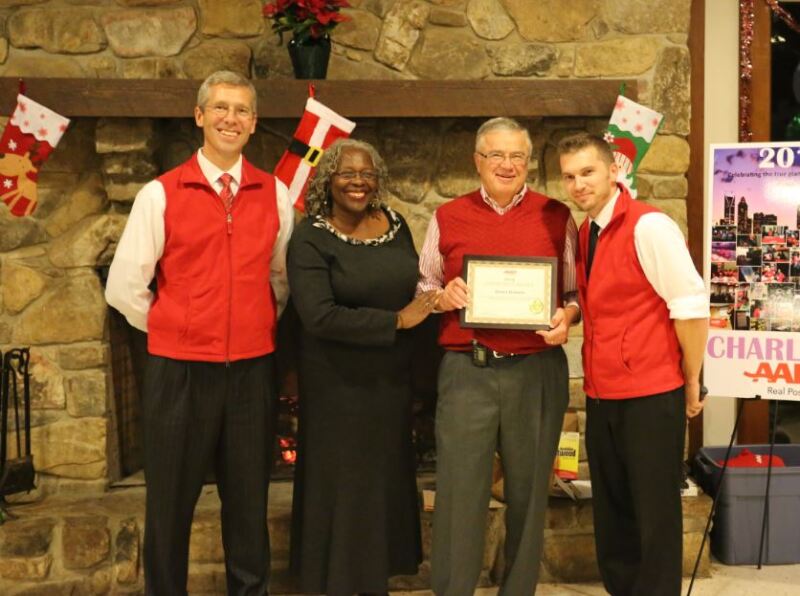 Jim came to AARP in 2013 and showed strong interest in the AARP Foundation Tax-Aide program butwas still engaged with AARP's local work in Charlotte. When the Tax-Aide opportunity proved to be a difficult scheduling challenge, Jim set his sights on the AARP Foundation Finances 50+ program and very quickly established himself as a knowledgeable, likeable and natural facilitator. He's been with the program ever since as a lead trainer.
"Aside from being one of the nicest guys you'd ever meet, Jim walks the walk, said Mike Olender. "Jim really made an impression on me during one of his first Finances 50+ sessions. Towards the end someone had come in and of course missed most of the class. As soon as the session was over Jim went right over to offer to go over the material that the person missed. The fact that he jumped at that opportunity without prompting gave me a peek into what makes Jim tick, and it's the kind of commitment that makes a real difference in people's lives."

An AT&T Marketing Manager of 33 years, Jim and wife Marilyn have called Charlotte home for more than a decade. Since retiring, Jim has found numerous ways to help others and lend his skills. When he's not rooting for the Panthers or playing golf, Jim also volunteers at Central Piedmont Community College as a math tutor, at the Concour Delegance in Hilton Head, and the RBC golf tournament in Hilton Head.





Marion Samuels – 2014 Community Commitment Award - for advancing the mission of AARP to make a positive impact in the areas of health and finance, exhibiting the best qualities of AARP in the city of Charlotte

Some people are small in stature and big in heart. And that is one way to describe Marion Samuels.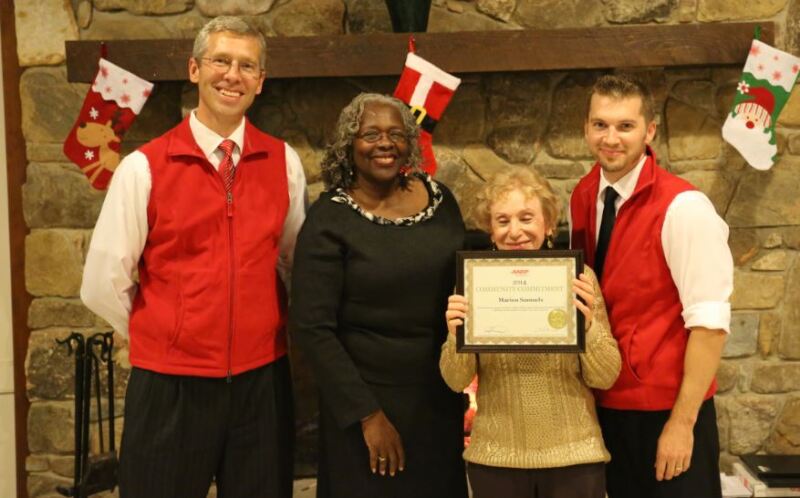 A Charlottean for the last 21 years, Marion and her family moved to the Queen City from New York after her company did the same. This former market researcher/corporate librarian has called Charlotte a home ever since and, like so many, came looking for ways to give back to the community after retirement.

Marion joined the Volunteer Network during the initial recruiting sessions in the spring of 2013. Since then she has been a consistent presence and has participated in nearly every type of AARP volunteer program, from hunger to livable communities, from staffing AARP booths at community events to helping keeping things organized at workshops. Though she is one of the more reserved members of the Network, her input is always insightful and her hands are always helpful. Still waters, as they say, run deep with Marion. Give her the opportunity to share and you will be glad you did!

Among her other qualities, Marion is a perfect example of how supportive volunteer roles are equally important to facilitators and other high-profile roles in the Volunteer Network. She serves on the Living Longer, Living Smarter and Finances 50+ teams as a "wing person", helping keep the workshops organized. With the content of those workshops heavy and comprehensive, Marion helps keep the ship running in an orderly fashion.

"Marion is an essential part of those teams, said Mike Olender. "She exemplifies how every volunteer role at AARP is equally important and the breadth of roles she has played shows the depth of her commitment to make Charlotte a better place. Marion isn't the kind of volunteer who prefers the spotlight, and that's fine because she shines on her own. The roles she plays make our workshops effective."

In addition to AARP, Marion still uses her librarian skills by volunteering at Presbyterian Hospital medical library and the South County library. She also volunteers at Carolina's Rehab with her therapy dog, Katie, with whom she enjoys spending her time when she is not out helping others.





Tom Murdock – 2014 Community Impact Award - for advancing the mission of AARP to make a positive impact in the city of Charlotte, exhibiting the best qualities of AARP in the city of Charlotte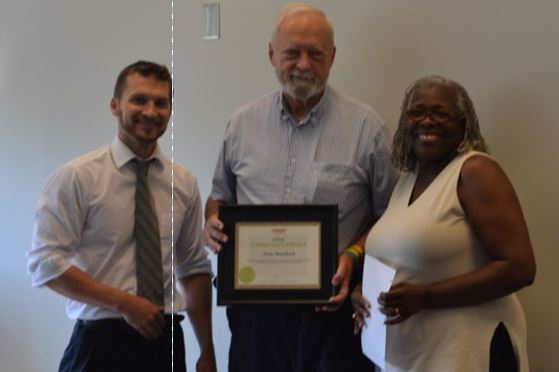 "Massachusetts' loss is Charlotte's gain". That's what AARP Associate State Director has to say about Tom Murdock and his work with AARP Charlotte. "What else can you say about someone who would get off a red-eye flight from California at 6 o'clock in the morning and still show up at 9:30 to teach an AARP class?"

A Charlotte resident for only 2 and a half years, this retired IT professional and school teacher from New England gives back to this community in more ways than most hope to in their lifetimes. Originally recruited to volunteer as a Key Legislative Contact for AARP's advocacy volunteer program in Raleigh, Tom took an active role in Charlotte's local work in late 2013, particularly in the areas of Hunger and later in financial security.

Later he took on the AARP Foundation Finances 50+ program, where he now serves a lead facilitator. Finances 50+ is a three-part course aimed at helping people develop an action plan to better manage their finances, and Tom is proficient in all parts of the program and always eager to share the information with those who need it most.

Tom also volunteers with League of Women Voters, C.W. Williams Community Health Center and St. Andrews Hunger program. When not volunteering , Tom focuses on his spiritual growth with church groups and family activities with his family, especially his grandchildren.

"Tom's commitment to have an impact in the community is obvious, says Leo Scarpati, Associate State Director of AARP North Carolina. "If its an opportunity that involves having a positive impact in the life of someone who needs it, you can be assured Tom will be there to help. He's what AARP is all about"

Like many, Tom's all around commitment is motivated by seeing many left out or without access to options to better their lives. "I find AARP advocacy work challenging, but the need is so great that I find just working to support social justice issues for those with Real Possibilities is rewarding."





Marilyn Addison – 2014 Innovation Award - for her commitment to innovation and creativity in advancing the mission of AARP, exhibiting the best qualities of AARP in the city of Charlotte

Marilyn Addison first discovered AARP in Charlotte by attending an AARP "Coffee and Conversation" workshop on utility issues. Later that week she attended another AARP session on Understanding the Affordable Care Act. The rest, they say, is history.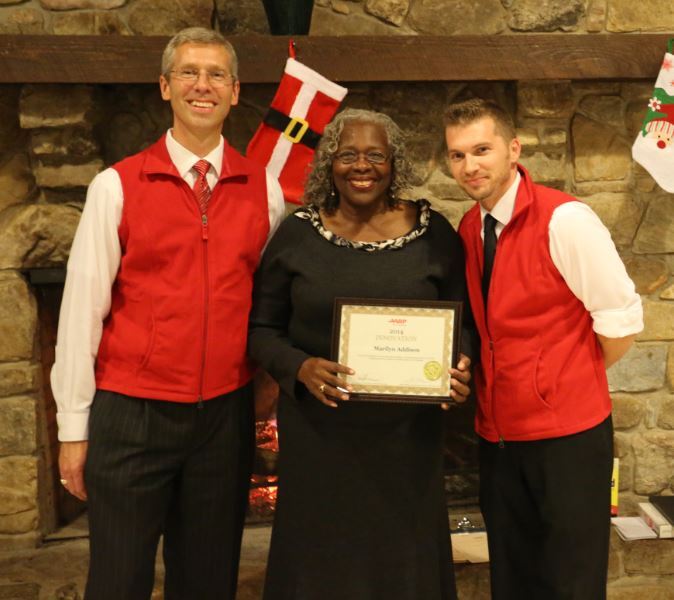 A Charlotte resident for 20 years, Marilyn retired from the Banking and Real Estate worlds to begin focusing on herself more. "Once I retired, I had time to reflect on how I wanted to spend my time, she recalls. "During that time I attended one of AARP's Coffee and Conversation sessions that provided information pertinent my continual growth as an older person. At the end of the session I knew I wanted to volunteer with the organization."

Marilyn's contributions to the AARP Charlotte Volunteer Network have helped shape it into what it has become – a structure of volunteer recruitment, training and engagement that aims to make a positive impact in how people age in Charlotte. She was asked to serve as Volunteer Development Coordinator, a role dedicated to overseeing the recruitment, training and support of volunteers to ensure that they are feeling satisfied in their volunteer work with AARP. This role has given her the opportunity to create new ways of enhancing the volunteer program including a new applicant interview process, ideas for new tools and trainings that can make volunteers more effective, and a new volunteer recognition program. She is also spearheading new quality control measures to ascertain the impact AARP's 2015 workshops will have.

"I think her positive energy drives her to innovate, said Mike Olender. "She has learned a lot from her experience in the dog-eat-dog corporate world and now appreciates what it is have meaning and purpose in your work. That consciousness leads her to come up with ways to enhance what we do so it is not only more effective but rewarding for those carrying it out."

Marilyn's innovative spirit also led her to be appointed to AARP North Carolina's Executive Council in 2014, where she provides input into the state office's direction at the executive level.

When not volunteering with AARP, Marilyn lends her talents to Right Moves for Youth, Guardian Ad Litem and the Alliance of International Aromatherapists. She also runs her own business in natural oils, consults part-time and enjoys helping out with her new grandchild. She also enjoys traveling, plant life, and French literature and language.



AARP North Carolina salutes this year's Award winners! Thank you for all that you do!

For more information on the AARP Charlotte Volunteer Network and how you can make a difference, please contact Mike Olender, Associate State Director, at molender@aarp.org or (704) 359-7407.


About AARP North Carolina