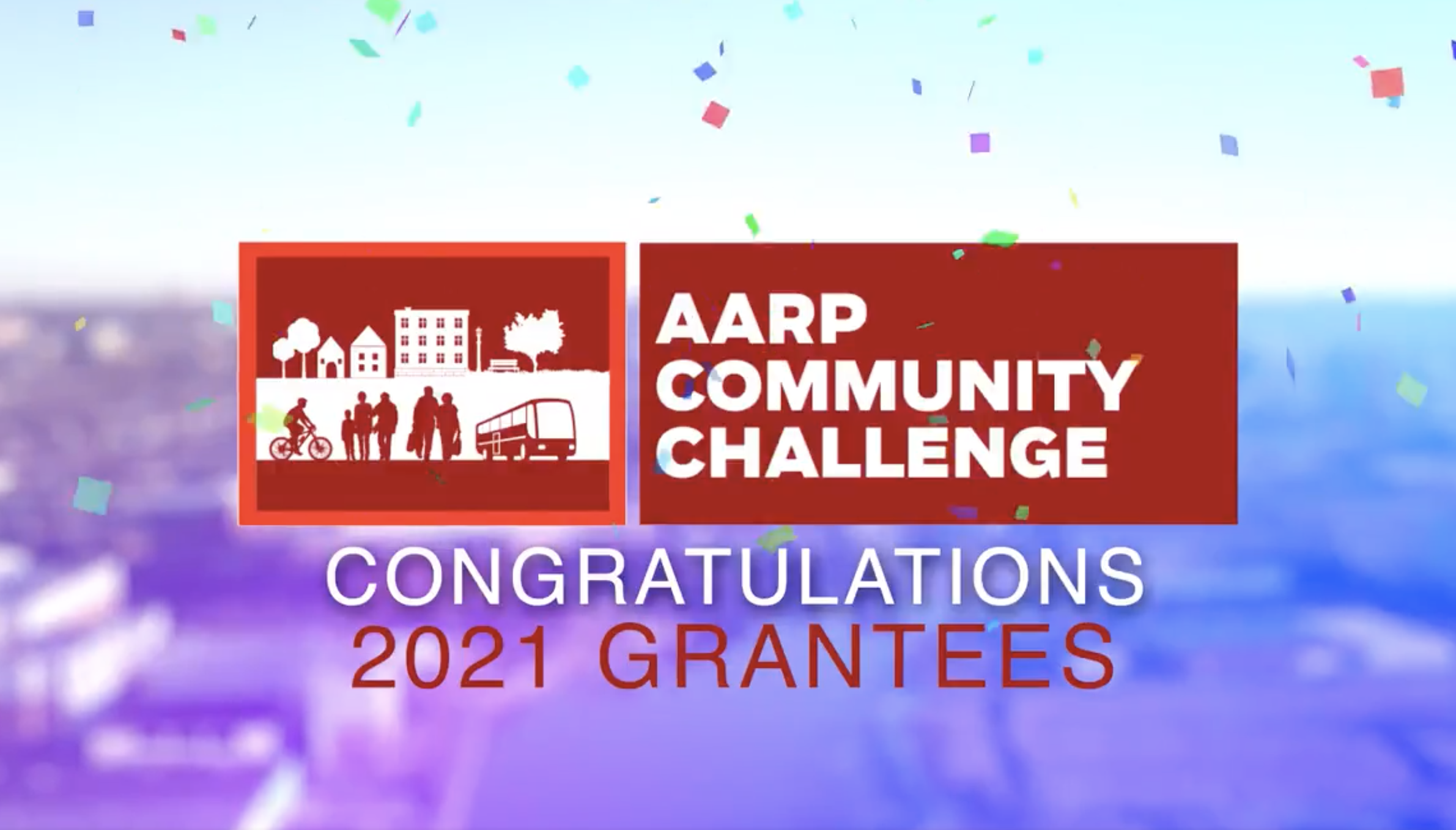 RALEIGH, NC— AARP North Carolina announced seven organizations will receive 2021 Community Challenge grants – part of the largest group of grantees to date with $3.2 million awarded among 244 organizations nationwide. Grantees will implement quick-action projects to promote livable communities by improving housing, transportation, public spaces, civic engagement, and connection with family, friends, and neighbors with an emphasis on the needs of the 50-plus. Many of this year's awards support revitalizing communities adversely impacted by the pandemic and include a focus on diversity, inclusion, and disparities.

"We are incredibly proud to collaborate with these organizations as they work to make immediate improvements in their communities, encourage promising ideas and jumpstart long-term change, especially for those age 50 and over," shared Michael Olender. "Our goal at AARP is to support the efforts of our communities to be great places for people of all backgrounds, ages and abilities."

All projects are expected to be completed by November 10, 2021. Here in North Carolina projects funded include:

Flint Hill Kittrell:
Funding is for the new Downtown Henderson Art & Heritage Walk: a public art and recorded oral history project which aims to bring community youth and elders together to honor Henderson's history and spark positive change for the future through volunteerism, beautification, and intergenerational education.

Friends of Downtown Hendersonville:
This project will build the pedestrian connection between the two downtown commercial districts through creative visible street/crosswalk murals that will be selected and created through an engaged community process.
John N Smith Cemetery

The John N. Smith Cemetery in Southport, North Carolina, is the burial site for more than 1725 African Americans from 1874 to the present. Many interred there were slaves, farmers, teachers, small businesspersons, laborers, domestic servants, homemakers, and other professionals. The funding will help pay for new signage, pathways, and benches

Creative Aging Network

The funding will help create an international garden, new programs, outdoor classrooms, and a culminating celebration to serve a diverse community.

Creative Aging Network.mp4
Brand the Moth and ArtWalks CLT

Brand the Moth & ArtWalks CLT are partnering to create a community-based mural as part of a new digital, GPS-activated tour of 15 public art & historical sites along Little Sugar Creek Greenway, which connects four Charlotte neighborhoods. Pairing art with innovative, yet accessible technology, will allow viewers to connect to artwork they may pass daily, amplify artist voices, and make the city more mobility-friendly.

City of Raleigh

Funding will help the city purchase and install seating benches, trash receptacles, a bike rack, and a large sunshade structure in order to activate the downtown intersection of Lenoir and Salisbury Streets. This will create a welcoming space for the nearby seniors, families, and general visitors in the community.
North Carolina Main Street & Rural Planning Center

The grant will help the North Carolina Main-to-Main Trail initiative develop training and promotional material to help 66 North Carolina communities use their access to trail systems to support tourism and economic development.

The Community Challenge grant program is part of AARP's nationwide Livable Communities initiative, which supports the efforts of cities, towns, neighborhoods and rural areas to become great places to live for people of all ages.

View the full list of grantees and their project descriptions at www.aarp.org/communitychallenge and learn more about AARP's livable communities work at www.aarp.org/livable.

About AARP North Carolina