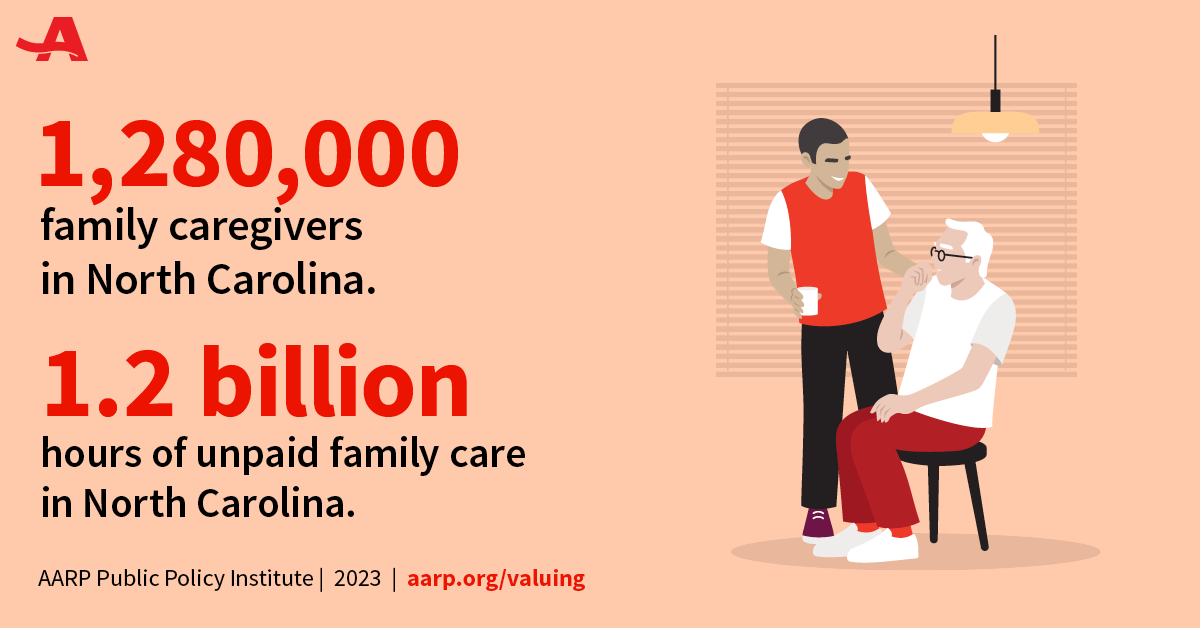 Latest AARP research attaches monetary value to the estimated hours of unpaid care that North Carolina family caregivers provided in 2021.

RALEIGH — The unpaid care provided by the 1.28 million family caregivers in North Carolina is valued at $16.5 billion, according to new state data available in AARP's latest report in the Valuing the Invaluable series This is a $3.4 billion increase in unpaid contributions since the last report was released in 2019. The report highlights the growing scope and complexity of family caregiving and highlights actions needed to address the many challenges of caring for parents, spouses, and other loved ones.

"Family caregivers play a vital role in North Carolina's health care system, whether they care for someone at home, coordinate home health care, or help care for someone who lives in a nursing home," said AARP North Carolina Director Michael Olender. "We want to make sure all family caregivers have the financial, emotional and social support they need, because the care they provide is invaluable both to those receiving it and to their community."

Rhonda Reeder of Greenville is one of so many caregivers, who at times, can be overburdened with the responsibilities of care. Providing care to her mom and dad has led to great sacrifices when it comes to her both her professional and personal life. "I provide 24/7 care to my mom and dad because support services are either unavailable or unreliable. Her care is causing a lot of emotional stress including giving up a job I loved, and not being able to spend any time with friends for nearly two years, or to just simply relax."

AARP North Carolina provides support to family caregivers and the loved ones who depend on them for care. For example, in 2022 AARP North Carolina worked to secure funding for important home and community-based services that help keep people in their homes as long as possible. It also secured funding for adult day care services, giving families an opportunity for respite and to keep caregivers in the workforce.

This year, among several key priorities, AARP is working with many stakeholders to address the shortage of direct care workers. Many who can afford to hire help to take care of their loved ones, can not find any qualified workers to provide that care.

Read the full report for national and state-by-state data on the economic value of unpaid care by family and friends.

Resources and information on family caregiving are available at aarp.org/caregiving.

About AARP North Carolina