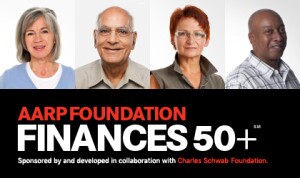 CHARLOTTE — Like the rest of the nation, North Carolinians have historically low personal savings rates that threaten the confidence people have of living securely in their retirement.

AARP has three, new 90-minute workshops to help you build on your good habits and understand what changes you can make to improve your financial situation.

Developed in coordination with Charles Schwab Foundation, AARP Foundation's Finances 50 + helps participants budget and goal set, take charge of credit and debt, develop a savings plan and protect your assets.

"It's an effective way for people to develop an action plan to get them from point A to point B in their financial lives", said Mike Olender, AARP Associate State Director based in Charlotte. "These sessions are highly individualized and structured in a way that will allow anyone – regardless of their personal situation – get on the right track with their credit, savings and spending habits. And the best part about it – its free of charge and completely non-commercial. There's no sales pitch or strings attached, unlike other similar programs out there", he said.

AARP Associate State Director Debra Tyler Horton organized an AARP Financial Freedom conference that took place in Charlotte in November. She has been working with AARP volunteers and Certified Financial Planners to offer workshops in Charlotte

"Upon the completion of the workshops, people develop "road maps," and other resources that allow them to create a clear path forward when it comes to building a better financial future." Debra Tyler Horton said.

The next offering of the Finances 50+ series in Charlotte will take place in consecutive Saturday mornings during September at the Beatties Ford Library. For more information and to register.
About AARP North Carolina