This month, Forbes Magazine named Charlotte and Raleigh as two of the top ten cities in the Unites States people are moving to right now. But whether you are coming or going, moving can be stressful, especially for older adults. This week on "Without Limits," you'll learn more about a great AARP read that can help you move and downsize. You'll also get some tips and advice from Charlotte relocation expert Cindy Greer with Transition with Care.

AARP's Downsizing the Family Home is a must read for those going through a rite of passage almost no one will escape: the difficult, emotional journey of downsizing your or your aging parents' home. Nationally syndicated home columnist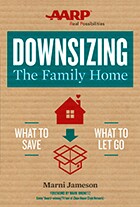 sensitively guides readers through the process, from opening that first closet, to sorting through a lifetime's worth of possessions, to selling the homestead itself. Using her own personal journey as a basis, she helps you figure out a strategy and create a mindset to accomplish the task quickly, respectfully, rewardingly — and, in the best of situations, even memorably.

Cindy Greer will help you think about how to plan your move from start to finish and make your new home feel like home again.

You can listen to this, or any program, live on air or online at 6pm, Saturday, June 25 on WBT Radio, or on the "Without Limits" podcast archives.








About AARP North Carolina