According to Beth Hohensee, the "diva" in Studio Flora Diva, one of Asheville, NC's, most popular floral designers, "Entrepreneurship is not for the faint of heart. Sometimes you're paralyzed with fear, and you move ahead anyway."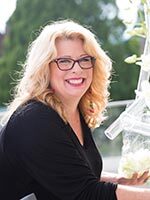 Beth, age 65, is an AIFD* accredited florist specializing in custom floral designs for weddings, special events, and everyday occasions. She started Studio Flora Diva as an encore entrepreneur 12 years ago but has been in the floral design business for 36 years. Like most entrepreneurs' journeys, the path that led to where she is today was windy and not always smooth.

Beth was born in New York into an artistic family and earned her college degree in theater arts. She aspired to become a famous actress on Broadway. But in her words, "I didn't think I had the talent."

After graduation she worked for a while, got married and started her family. When her daughter was one, Beth started working for a company that brought out her creativity and artistic talents. Her job was to select items foraged around her home, yard and nearby woods to design wreaths and candles. She was able to use her imagination and visionary skills for her creations. She was a natural and loved it!

In 1992, she moved to Asheville and began working as a floral designer. After 13 years, she decided to go into business for herself. At that time, Asheville was becoming a destination for weddings, creating a cottage industry for wedding venues, event planners, caterers, and florists.

Beth's timing was perfect, but it was still risky. She was now single, had a mortgage and little savings. "I didn't know how I was going to start my own business, but I knew I wanted to try. I had a few thousand dollars in an equity fund I could use."

She put together a business plan and applied for a $25,000 loan. While waiting for the loan to be approved, an angel investor stepped in to keep the lights on. Her loan came through and off she went.

While her industry has been booming, it has also been evolving, both locally and globally. She started with a small retail store in the Grove Arcade, which she closed over five years ago when grocery stores and big mass merchandisers like Costco started to sell flowers and bouquets cheaper than she could make them.

Beth, knowing this was a permanent shift, refocused her business. The wedding business was picking up, and as a person with a true entrepreneurial mindset as well as a business savvy, she changed her business model to larger wedding, higher budget events.

She wanted to work with event planners and brides who wanted a high level of floral design and appreciated the value and artistry she brought to an event. Her commitment to high quality, attention to detail, and collaborative approach with the event planners and brides-to-be have all contributed to her stellar reputation today.

Pre-COVID-19 (early 2020) Beth had decided to expand her business. In the spring of 2020 she was planning to launch "The Flower Lounge" in the Grove Arcade in downtown Asheville. The new additions were to be classes, private parties and "DIY" events.

COVID has delayed her plans and also negatively impacted her current business as weddings are now smaller and simpler. But, as expected, Beth adjusted to the "new normal" with resilience and fortitude. Today, she keeps her chin up and a positive attitude knowing that better days are ahead.

When I first interviewed Beth, pre-COVID, I asked her why she was successful. Her response applies today as much as it did early in the year. "It takes confidence," Beth said. "While you may not have the answer to a problem right away, you can always figure it out. The joy of having a lot of experience is you have knowledge to draw from. There are situations I have been in that would frighten a new entrepreneur that doesn't bother me because of my experience. There is an answer to every single problem."

As an encore entrepreneur, Beth's goal is to work smarter, not harder. She does a post event debrief on every event to determine what worked and what didn't. "I don't want to be stressed. If there is stress in an event, I want to know what caused it and how do we improve so it doesn't happen next time."

As we were wrapping up, I asked Beth "Tell me one piece of advice for an entrepreneur just starting a business?" She responded, "Work in the industry to gain knowledge before you invest a dollar. Find out who the customer is. Learn from other peoples' mistakes. Be observant, watch how other people are doing it…can it be done better? What do they do well or not so well? Do I need to go to school? Take a class or a workshop? Apprentice? Be credentialed? Find somebody out of your market (in other words, someone who isn't a competitor) whose work you admire, introduce yourself, and ask if you can talk to them."

Beth sums up, "In any entrepreneurial venture, it is going to be harder than you think, and it is going to take up a lot of your time. It is a huge personal investment; therefore, the rewards have to be greater than the PITB (pain in the butt) part of the business."

To learn more about Beth and Studio Flora Diva, visit her website, Facebook or Instagram page.

AARP's mission is to empower people to choose how they live as they age. Support of encore (over 50 years old) entrepreneurs is one way AARP fulfills that mission in the mountain region of North Carolina. According to recent studies, encore entrepreneurs make up the fastest growing age group of people starting a business.

*AIFD stands for American Institute of Floral Designers, the oldest and largest non-profit organization dedicated to recognizing and promoting the art of floral design as a professional career.




About AARP North Carolina