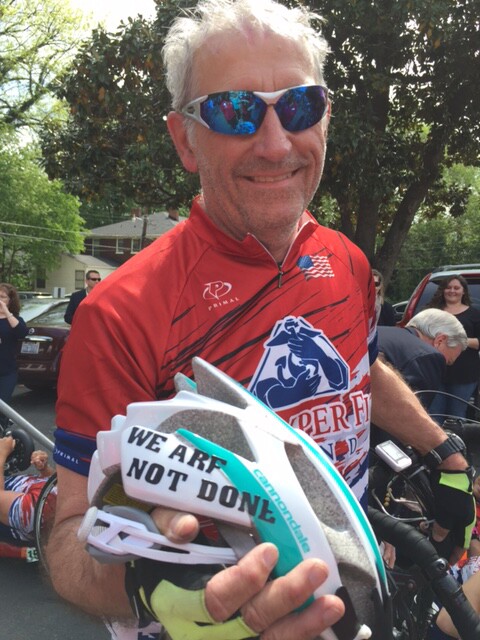 CHARLOTTE - Take one look at Bob Roberts on his bike and you're likely to be inspired. At 69 years old, Bob is an avid rider and, in many ways, a model boomer. He takes care of himself and has an active lifestyle, still works in a rewarding field and shows no signs of slowing down any time soon. But a closer at Bob - and his helmet adorning the phrase "We are not done" - reveals that his passion for life extends further beyond his own personal fulfillment.

This past spring, Bob took part in Sea to Shining Sea, a cross country Cycle to the Sea bike journey where teams of disabled and able-bodied cyclists heightened awareness for military veterans and athletes who are injured, wounded, and/or paralyzed. This year's ride a was a continuous ride where teams peddled in two-hour shifts crossing the country in an extraordinary 10.5 days covering 3,113 miles. They also helped raise funds for the Semper Fi Fund, Independence Fund, and Adaptive Sports & Adventures Program

"We found out about Sea to Shining Sea from the veterans outreach and support folks at Carolinas HealthCare in Charlotte, explains Mike Olender, AARP North Carolina Associate State Director from the Queen City. "I was in awe of their mission and the ride they were going to endure, and was delighted to learn about Bob Roberts and have the opportunity to meet with him. As an AARP member living here in Charlotte, we were proud to sponsor his participation in the ride and offer some support to the whole team."

A military veteran who first began developing his skillset in service, Bob went to school via the GI Bill and began a rewarding career. Bob has lived in the Charlotte area for the last 20 years and has biking since the late 1990s.

You are 69 and you still work. What is your occupation?

I'm the Director of Business Development and Mid-West Regional Manager for Axus Technology, a design engineering company that specializes in building, maintaining, and re-manufacturing very specific machines and equipment that perform precision grinding and polishing of hard and ultra-hard and brittle materials such as silicon, silicon carbide, sapphire, Indium Phosphide, Gallium Arsenide, Ceramics, Glass, and many others. This processing goes down to exceedingly small dimensions such as nanometers, and subsequent tight tolerances into the Angstrom range. These materials are used by semiconductor integrated circuit manufacturers (chip makers) to make the devices that run cell phones, tablets, computers, and nearly every other digital device for commercial, medical, automotive, and military applications. Earlier in my career, I worked for the company that designed and built the polishing machine that spherized the 92" primary mirror for the Hubble Space Telescope. I have been in this field most of my professional life except for five years with a German robotics company during the 2007-2012 recession. My initial training was during my service with the U.S. Army during the Vietnam Era.

What biking events have you taken part in?

A dozen or so MS 150 rides which are called "Breakaway to the Beach" from the eastern Charlotte area to Myrtle Beach, SC. These rides raise money to help try to find a cure for Multiple Sclerosis.
An MS 150 ride from Rock Hill, SC to and around the Spartanburg, SC area.
Several "Cycle to the Sea" (spring) rides which are 180 miles from Monroe, NC to North Myrtle Beach, SC. These rides are organized and sponsored by the Adaptive Sports and Adventures Program (A.S.A.P.) at Carolinas HealthCare System by Jennifer Moore and her team.
A two-day ride named "Undefeated" sponsored by the EOD Wounded Warrior Foundation, for the benefit of returning service men and women needing rehabilitation specifically within the Explosive Ordinance Disposal military occupation specialty.
A "Cycle to the Sea" (fall) ride which is 240 miles from Monroe, NC to Charleston, SC, again sponsored by A.S.A.P.
A Metric Century ride sponsored by the "Cannonballs" bike organization in Charlotte to benefit children's cycling programs in the area.
The "Sea-to-Shining Sea 2016" ride from Oceanside, CA (Camp Pendleton area) to Jacksonville, NC (Camp Lejeune area) which was 3,113 miles to raise awareness and financial support for returning military men and women in need of emotional and physical rehabilitation. This ride was sponsored by the Semper Fi Fund, the Independence Fund, the A.S.A.P., and others.
What inspires you to ride with Cycle to the Sea?

There are two specific motivating events that I can recall. When our first two grandchildren were born, they were born very premature, in fact, they were born on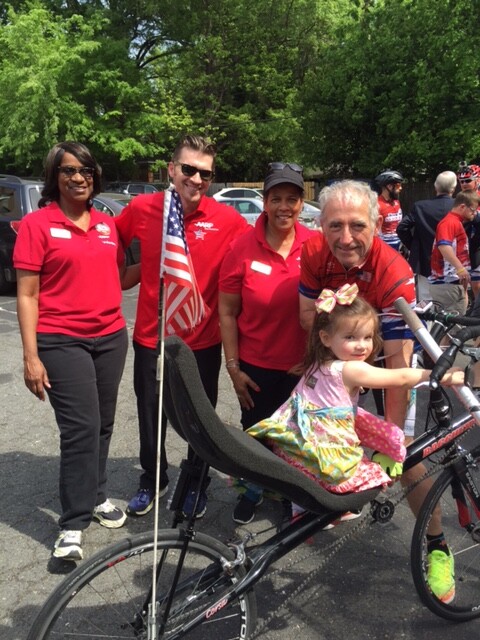 the first day of the 26 th week. They were immediately tagged as being "micro-pre-mees" because one, named Hobson, was 2 pounds even, and the other, Aaron, was 1 pound, 14 ounces. They both have had challenges but it seems Aaron has required more rehabilitation due to the number of and extensive nature of his many surgeries. When he was only about four, I had a chance to be with him when I took him to one of his physical rehabilitation sessions at the Carolina's HealthCare Center in Charlotte. When we arrived and entered the facility, I noticed several large photos on the wall. As I looked at them, my heart was struck by the fact that before Aaron and Hobson came along, for the most part I had been so completely unaware of not just the needs of others which in and of itself was an eye-opening moment, but the incredible determination that I could now see on the faces of the people in these large posters. Their drive to become active again, their drive to take part in life again, their drive to be viable again, their drive to overcome what was otherwise holding them back, clutching them in ways I could not understand, and before this, in my small-mindedness, completely ignored. I just wanted to do something. I became part of the support group that rides with these very credible people every spring for three days in the "Cycle-to-the-Sea," covering 180 miles, and raising funds to help A.S.A.P. in their wonderful work even in addition to the cycling events, such as wheelchair rugby, soccer, basketball, tennis, curling, snow skiing, and water skiing. The support of this concept through the "Cycle to the Sea" program has now become a part of my life, too.

The other incident happened earlier in my life, during what became known as the "Vietnam Era," my being a "baby boomer" and in just the right age group, I was drafted and served in the United States Army Medical Optical Mobile Activity. This was not a dangerous mission by any means, but while in advanced training at Fitzsimons Army Hospital in Aurora, Colorado, just east of Denver, I came into contact with those many returning veterans, young people my own age and younger, who had given so much, who had in most cases, lost their mobility or their dexterity, or their determination, or sadly in many cases, their will to live. I was not a kid anymore by that time, but still, had not experienced these types of realities. Many years have passed since that experience, but I can still see their eyes, and it still tugs at my heart.

I have been fortunate beyond description. I have been blessed with a great family and support network. My career in robotics, microelectronics and semiconductors has taken me all over the world to 43 countries and all 50 states, and has brought experiences and rewards beyond my wildest expectations for a kid out of a tiny little mid-western Ohio town. But some of my greatest rewards and some of my greatest experiences it now is clear to me, lie not thousands of miles away, but just those few inches away when I look into the eyes of my amazing hand-cycling friends. Their eyes show me something different than what I saw in the eyes of those young soldiers at Fitzsimons Army Hospital those many years ago. I do not see despair, but I do see the restoration of pride, self-worth, motivation, encouragement, perseverance, strength beyond my comprehension, and a belief that "We Can Do This!"

What advice do you have to give to somebody who is thinking about riding but does not know where to start?

There are many groups and many worthy causes. My favorite is the A.S.A.P. and their "Cycle-to-the-Sea" ride which takes place every April. Their websites are:

http://events.carolinashealthcarefoundation.org/site/TR/Events/CycletotheSea?fr_id=1721&pg=entry#.V2LuB4-cHIU

http://www.carolinashealthcare.org/medical-services/specialty-care/rehabilitation/community-programs-support-groups

A ride like this can be a goal, a target, something to train for, rather than an initial exploration into longer range bike rides. This ride is divided up into three, one-day segments, where the bikers do 60 miles per day. There are several rest breaks along the way, so usually the segments are between 10 and 20 miles in length. The novice needs to understand and be comforted by the fact that this is a "ride" not a "race." We ride as a team. We rest as a team. If someone gets a flat tire, we all stop until it is repaired. We stay in motels in the evening and there is usually a terrific Master Chef who comes along and prepares the evening meal for us. We have a large celebration in North Myrtle Beach at the conclusion of this ride because it is an event that builds confidence, teamwork, friendship, a sense of belonging, and lifelong camaraderie all of which deserve celebration.

My advice to the first-time rider would be to get a good bike, get it set up by a bike shop so that it fits you and your body. Wear a helmet every time you ride. Work on shorter distances such as 2 miles, 5 miles, 10 miles and when you feel comfortable start doing 20 mile rides. You will hear birds, you will feel the wind, you will see the countryside like you never saw it before. Ride with friends; there are many clubs devoted to bike riders and bike riding, and skill levels run from novice to semi-pro. Someone told me a long time ago, that if you are going to be in a 60-mile ride, then your everyday practice distance needs to be 1/3 of that distance or 20 miles. This formula has worked well for me as I mix in road work with hill work, on sun-shining days, rainy days, cold days, and sometimes, even night rides. But all of that is optional, the most important thing is to get up, get out, and get on your way. Any distance is better than no distance at all.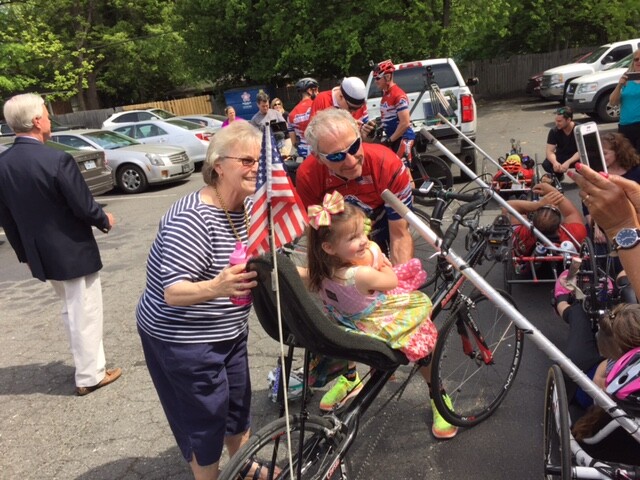 What do you enjoy doing when you're not biking?

I do like to write, especially when an event happens that changes my perspective, or opens my eyes. Playing with the grandchildren is a joy unto itself and I highly recommend it. A few years ago, I set up a small wood studio and I enjoy making small wooden projects. Last year, I made 500 toy wooden pick-up trucks and distributed them at Christmas time through the USO, Toys for Tots, Toys for the Troops, Levine Children's Cancer Center, Hemby Children's Hospital, Centro Cristiano Hosanna, and the Children's Learning Center at Matthews United Methodist Church. I have made several toys for our grandchildren such as four-foot long Noah's Arks, complete with Noah on deck; plus Christmas gifts and birthday gifts for friends and relatives. I have just completed a commemorative plaque for each participant in the Sea-to-Shining-Sea 2016 ride.

For many people, biking is a very difficult thing to do. When you are on a long ride and your body feels like giving up, how do you inspire yourself through it?

I have an unfair advantage. I am older than most people with whom I am riding. I play a little game within my head trying to stay ahead or nudge them along. I hope they take the challenge because then I take their challenge. It is what our philosophy of teamwork is all about when we ride. Hopefully, they will skip this portion and go read the next paragraph so that my secret will stay a secret.

I often talk to myself, saying "Bob, you can do this." This positive self-talk seems to help a lot more than getting mad at myself for not being able to do something. I am blessed with a lot of wonderful life bonuses including my wife who is so supportive of these adventures, and my many cycling friends who always seem to have a positive outlook. Riding as a team, supporting each other along the way, really helps all of us to do better and to enjoy the experience more. Also, on my bike helmet, I stuck the words: "We Are Not Done." I guess that sums up my perspective and motivation.

What do you think about AARP's mission to "disrupt aging"?

Excellent program, much needed from the perspective of 1) recognizing that "We Are Not Done" and 2) giving people in my age bracket the support and encouragement to go out there into the world and make a difference. We can still make a difference! Go out there in the world and be relevant. We can still be relevant. Go out there in the world and contribute. We can still make worthwhile contributions, and mentor, and encourage and share our life experiences. We can have what Noel Tichy describes as "A Teachable Point of View." He said that it is our obligation as citizens of this world, to share our knowledge and our experience with those who are coming along behind us. I would encourage this to be a "teachable point of view" and not necessarily what might be considered an unwanted "preach-able point of view."

We can disrupt aging by being relevant, by being social, by contributing to the health and welfare of others, and by not giving up. Some of us are blessed with good health and energy. Some of us struggle every day just to get up and get through that day. I realize that and I realize how fortunate I am to be in the state of mind and the physical state that I am in today. It could all be different tomorrow and I know that. But I do not want others to put name tags on me or on anyone in my time of life and describe me and describe us as this type of person or that type of person. Those who specialize in demographics and statistics do this all the time and it is their job to do it. That does not mean that you and I cannot take a couple of minutes to get to know each other better, work with each other, and support each other, and in so doing disrupt someone else's mistaken perspective of the aging syndrome, doing it with little hesitancy and surprising vigor.

What do you say to people who say that they "could never do what you do"?

I said the same thing. When a friend suggested many years ago that it would be fun to ride a bike for 150 miles, I probably pulled back and tilted my head a bit, giving him one of those "Are You Crazy" looks, just as so many people have given me similar facial expressions. However, it really does not matter what I am doing. What matters in your life is what you are doing. If walking to the mail box is a struggle, work to walk to the mailbox twice. Do everything in your power mentally and physically to extend what you are currently doing. Work with your doctors and advisors to put together a plan, a program that is best suited for you and your capabilities. Determine where you want to be and what you want to be able to do. Read a book. Study a new technology. If you have to watch TV, watch an intelligent documentary instead of a brainless or braindead program. Eat healthier foods, and eat with someone else instead of eating alone. Drink a lot of water; get those electrolytes up where they should be.

It is not easy, in fact, for many people it can be a struggle every day, just getting up and out of bed. It can be a major struggle. However, I have witnessed first-hand from my experiences and my friendships with the hand-cyclists in the A.S.A.P. program, and from watching and learning from my grandson Aaron as he keeps giving me lessons in his "Teachable Point of View" and keeps extending himself more and more to do things that many of us may have thought impossible for him to do; it can be done. We can do this.

Any final inspiring words to share?

It is true that a journey of a thousand miles starts with the first step. Getting up, rising up, getting started might just be more mind-over-matter than one expects, and you will never know unless you try. That alone can be your foundation. It has always been true that people make the difference. Getting involved at the local level, volunteering to help others, building a support network, learning the concept of self-determination, even if there are limits on physical capabilities, are all valuable building blocks that lead to self-confidence, self-awareness, emotional stability, and improved physical well-being.

As we grow up and perhaps grow out, and maybe grow wiser over time, and as we approach and enter into those years when others tell us that we will need to retire soon, it may be easy to actually fall into a feeling of loss of self, loss of viability, and loss of being able to contribute. I just do not want that to happen to me and I do not want it to happen to you, either. This is my reachable, teachable and keep-able point of view.



You can listen to Bob Roberts talk about his experiences on AARP Without Limits, our weekly radio program on WBT radio.

Profiles of Age Disruption is a new web and social media series that features inspiring people age 50 and older who are embracing aging in new ways. We want to hear YOUR story! Tell us how YOU are disrupting aging and give us the opportunity to share your story! Reach out to us at molender@aarp.org or (704) 359-7407.

Twitter: @AARPCLT


About AARP North Carolina